[
As part of his look at June's NPD numbers, Gamasutra analyst Matt Matthews examines complex software sales trends on Wii -- are third parties still performing as well on the console as last year? And could new Wii software bundles be hampering software sales numbers for the industry overall?
] When we analyzed U.S. console game sales after the release of the May 2010 data, we
noted that
Nintendo's Wii had ceded some marketshare (measured in dollars, not units) while Sony's PlayStation 3 had gained share. Subsequently we
presented some figures
, through calendar year 2009, demonstrating that Wii software sales -– this time measured in units -– were relatively flat in the past two years. On top of that, we noted that Wii software unit sales so far in 2010 were on track for a year-over-year decline. This month, with the figures in for the first half of 2010, we thought we'd look once more at the market because there is one more angle we hadn't yet inspected: the division between first-party and third-party software Wii software sales. As industry watchers well know, there has been an ongoing discussion about third-party software sales on the Wii. Nearly two years ago, Nintendo and Microsoft traded data points and graphs about third-party software sales on their respective console platforms. Using Nintendo's own graphs presented to investors, we took our own whack at the first-party/third-party disparity and demonstrated that after approximately two years on the U.S. market approximately three third-party Wii titles had been sold for each four first-party titles. At the beginning of this year, Wedbush analyst Michael Pachter noted in a NeoGAF forum post that Nintendo's first-party software accounted for 47 percent of revenue and 38 percent of units on the Wii in calendar 2009. Compared to the LTD figures we computed at the end of 2008, the 2009 figures exhibited a ratio of five third-party titles for three first-party titles, a reversal in favor of third-parties. That's a lot of disparate data, but we believe we can summarize it succinctly: Through the end of 2008, first-party software dominated Wii software sales in terms of units. In 2009 the roles reversed, with third-party software outselling first-party in terms of units. Revenue has generally been more evenly split between Nintendo and third-parties due to the higher average price of the company's own software. To our question: How did third-parties do in the first-half of 2010 compared to the same period in 2009? In a conversation with Wedbush's Pachter on this very point, we pieced together the following points: - Third-party unit sales in 1H 2010 were down over 17% compared to sales in 1H 2009. Revenue fell by a more significant 25% - First-party unit sales were up only marginally, 2.9%, while first-party revenue dropped by approximately 14%. - In the first half of 2009 third-party Wii software was outselling first-party by a ratio of 2-to-1. During 2010, that ratio has drifted closer to 8-to-5 (or 1.6-to-1). Given all the previous data made public about Wii software sales in both 2009 and 2010, along with our own estimates, we pieced together the following approximate view of Wii software sales in the first-half of the last two years.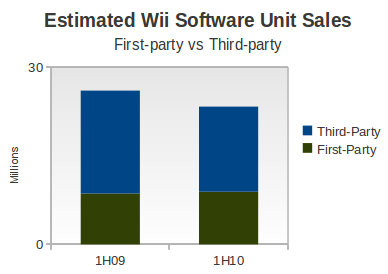 When first asked about the Wii first-party/third-party software situation in 2010 relative to 2009, Mr. Pachter examined the data and commented to us that the data he saw "really tells a story" and that the "lack of Nintendo blockbusters [had] nothing to do" with the decline in Wii software this year. Indeed, provided we have extrapolated correctly, third-parties are responsible for most of the decline in 2010: they are selling fewer units of software and that software is being sold at a lower average price. Some of this is apparently attributable to lower sales of music games (a genre which is a mere shadow of its former self), which have traditionally sold well on the Wii. While Nintendo's own software is likewise selling for a lower price – due in part to lower sales of
Wii Fit Plus
packaged with the Wii Balance Board, it is still notable that it has increased its own unit sales in a year when software sales are down industry-wide. On the hardware side, Wii system sales appear to have been revived by the introduction of the new MotionPlus bundle which includes both
Wii Sports
and
Wii Sports Resort
. For example, as of the end of February 2010 the platform's YTD hardware sales were down an alarming 40 percent. However, Nintendo noted that it was dealing with supply issues at the time and in fact during the March – June period of this year hardware sales of the Wii are flat relative to last year. The following figure makes it clear that Nintendo's real problems were in the first two months of this year while it returned to parity particularly during the second quarter.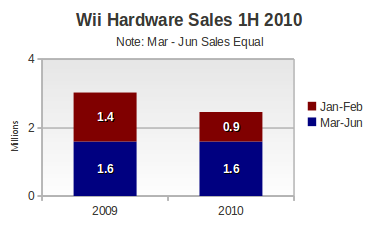 To tie this back into software briefly, it seems possible that the decline in third-party software this year could be tied to the increased popularity of the new Wii bundle. When the bundle was announced, Pachter noted that the inclusion of
Wii Sports
and its successor,
Wii Sports Resort
, could cause the Wii software attach rate to "decline further from its already very low level". While it would take much better data than we have available to us, it is at least worth considering that new Wii consumers in the second quarter of 2010 have declined to purchase new software while they are entertained by the two titles packaged with their systems. With a strong late of software in the back half of 2010, including some notable third-party titles, the Wii should be well positioned to maintain its robust hardware and software sales throughout the year. If indeed new Wii owners are holding off on software for the present, they will have abundant opportunity to purchase new titles as we approach the holiday period.