[GamerBytes editor Ryan Langley examines the performance of September 2009's PlayStation Network debuts, including Turtles In Time and Zombie Apocalypse alongside PSOne Classics like Silent Hill and Final Fantasy Tactics.]
Following
our recent look
at Xbox Live Arcade sales for September 2009, we now look at the top 10 downloadable games for PlayStation Network, using ranked charts supplied to us through Sony's press representatives. September brought seven new PlayStation Network games and six new PSOne Classics onto the scene. In this analysis, we'll see how each of these games performed in light of the Top 10, with extra insight gleaned from available Leaderboard data. This month's Top 10 PlayStation Network titles in North America brings us a surprising amount of new content - fresh PSN titles
TMNT: Turtles In Time Re-Shelled, NBA 2K10: Draft Combine
and
Zombie Apocalypse
have all hit the Top 10, and the reaction on the PlayStation Store is very similar to each game's relative popularity on Xbox Live Arcade. On the other hand,
Battle Tanks
(released late August),
Interpol, Switchball
and
Command & Conquer Red Alert: Commander's Challenge
didn't chart. Here's the North American Top 10 for PlayStation Network games published on the PlayStation 3 for September 2009: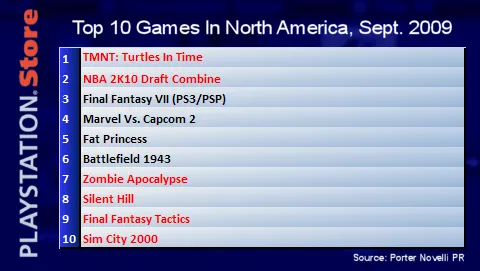 Unfortunately, out of all of the new releases, only
Battle Tanks
has a working Leaderboard. This showed 18,760 players on the campaign mode chart at the end of September. That's not a bad turnout, and it's surprising that it hasn't appeared on the Top 10, even if they're worldwide numbers. Perhaps its release a week earlier in Europe tipped the scales a bit. We can also see that
Shatter, Worms, Wolfenstein 3D
and
Crystal Defenders
have all fallen off the list this month. Still,
Shatter
was still able to add 10,000 new players to its Leaderboards. So while we've been a bit down on PlayStation Network sales in months prior, it appears that September was a decent month all around. Four of the 10 spots on the Top 10 were taken up by classic PSOne titles -- three of them 'new' re-releases, a phenomenon we haven't seen in a few months now.
Silent Hill, Final Fantasy Tactics
-- and oddly,
Sim City 2000
-- made it to the bottom of the Top 10, leaving fresh debuts
Cool Borders 3, Blood Omen: Legacy Of Kain, Syphon Filter 2
and
Tomb Raider III
to sit somewhere outside the chart. Overall, it was a decent month for the PlayStation Network. Next month will include the release of
Critter Crunch, UNO, Mushroom Wars
and
Digger HD
among others, and we'll hopefully have a full list of PSP Minis software in a separate Top 10 as well.