[
As part of his monthly NPD review, Gamasutra analyst Matt Matthews takes a wider lens view of the past few years -- and finds "the industry is actually fairly stable."
] During 2009, we repeatedly looked back not to 2008 but to 2007 for a more reasonable comparison of the monthly revenue figures. The video game buying spree that consumers embarked upon in 2008 carried over at least through January 2009. In fact, February 2009 is the last month in which the industry had reported strong growth. Therefore, instead of comparing January 2010 directly to the year prior, it actually makes some sense to look back two years to the last normal opening of a new calendar year. We should note that publishers did not en masse move titles into the first quarter of 2008 to avoid the November 2007 release of
Call of Duty: Modern Warfare
. In that respect, at least, the comparison of January 2008 and January 2010 could be called ill-suited. The following figure gives some context for the magnitude of the total industry revenue historically recorded in January, going as far back as 2005.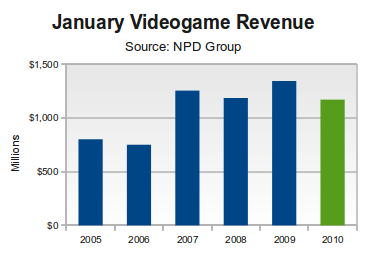 When we break it out into separate segments, the comparison to 2008 seems even more apt. Not only is the total revenue from each of January 2008 and January 2010 similar, but the revenues for hardware, software, and accessories are actually very close.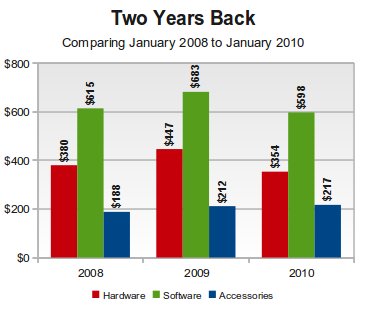 As the figure above shows, when compared to the last normal January, the industry is actually fairly stable. Hardware revenue dropped slightly, but actual hardware units were up 8 percent from 1.52 million in 2008 to 1.64 million in 2009. The drop in revenue, therefore, is completely explained by price cuts, especially on the Wii and PlayStation 3. Again, looking back two years we see that software revenue dropped about 3 percent. However, we would point out that at least some of that revenue in 2008 came from sales of high-priced
Guitar Hero III
and
Rock Band
instrument bundles. Remember, two versions of
Guitar Hero III
made the top 10 in January 2008, as did one version of
Rock Band
. Finally, accessory revenue is up a very healthy 15% in the last two years. While the NPD Group no longer provides accessory sales rankings, comments by Anita Frazier in the past few months have indicated that extra controllers for all systems, as well as Xbox Live points cards, have been top-sellers. Some accessories are actually more expensive now than they were in 2008. For example, the $55 DualShock 3 has replaced the $50 Sixaxis controller for the PlayStation 3, and Nintendo offers the MotionPlus remote for $55 over the original $50 remote. Moreover, as Microsoft has continued to expand its Xbox Live customer base, the demand for its points cards has no doubt increased as well. We believe the exceptionally strong sales in January and February 2009 are part of the reason that many analysts (like Doug Creutz of Cowen & Company and Michael Pachter of Wedbush Securities) are suggesting that the industry will return to year-over-year growth by March of this year. And we believe you can get a sneak preview of those flat-to-modest-growth results expected by the end of the first quarter by precisely the 2008-to-2010 comparison we have carried out above.