[
More than $100 million of April's U.S. game retail downturn was down to video game sales declines, says Gamasutra analyst Matt Matthews, and as part of his monthly in-depth NPD analysis, he explores possible reasons -- from Easter to used games and more.
] On Thursday, NPD released
its April numbers
, and U.S. retail video game sector sales overall dropped to $766.2 million compared to $1.03 billion in April 2009. NPD analyst Anita Frazier noted that this, at 26 percent, is the fourth largest year over year percentage decline ever, "after September 2000, June '09 and July '09." According to our estimates, more than $100 million of the loss in April's figures is down to losses in video game sales, split about equally between consoles and portables. Several explanations have been put forward to explain this, and it's worth looking at each in detail.
Easter –
According to Anita Frazier of the NPD Group, the timing of Easter may have influenced sales. Adults purchasing videogame-related presents for youngsters would have had those sales recorded during NPD's March 2010 reporting period which ended on 3 April, the Saturday before Easter Sunday. Other analysts echoed this sentiment, including Michael Pachter of Wedbush, Jesse Divnich of EEDAR, and Doug Creutz of Cowen & Company. We have access to much fewer sources of data than the professionals above, and generally defer to their expertise. Looking at the data that is available to us, however, we at least entertain some questions. For example, weekly software revenue fell month-over-month during each of the Easter months in 2005, 2007, 2009, and 2010. In three of those years – 2005, 2007, and 2009 – software revenue continued to decline in the period after Easter. On the other hand, Easter month in 2006, 2007, and 2008 demonstrated very strong year-over-year increases in software revenue.
Nintendo Wii –
Following on from that point, EEDAR's Divnich notes that Nintendo's systems benefit more from Easter sales than do other systems, and see steeper declines afterward. Given Nintendo's commanding position in the software market, any loss to their systems will also be felt more generally by the industry as a whole. Accepting this, we would add that Nintendo may have software difficulties that extend beyond just Easter. In comments to us, Wedbush's Pachter suggested the possibility that the Wii installed base could buy fewer than two units of software on average during all of 2010, a low figure that he called "unprecedented". According to Pachter's monthly reports, Wii software has shown negative year-over-year growth every month so far in 2010. With
Wii Sports Resort
now included with new Wii systems, Pachter believes that Wii hardware sales will be bolstered but that software sales could be further eroded by the availability of more pack-in software.
Used Single Player Games –
By far one of the more interesting analyses came from Creutz of Cowen & Company who suggested that some of the decline in April was due to poor second-month sales of March's new releases. NPD's Frazier appeared to agree, noting that new releases declined 75 percent from March to April 2010 while the corresponding figure for March and April 2009 was only 54 percent. However, Creutz goes on to add an angle that we find interesting: that the single-player nature of March's
God of War III
and
Final Fantasy XIII
hurt their second-month sales as consumers opted for used copies (at retailers like GameStop) instead of new ones. He notes that, by comparison,
Battlefield: Bad Company 2
, a game with a very strong multiplayer component and an earlier launch date, saw stronger second-month sales, exceeding April sales of the other two games combined.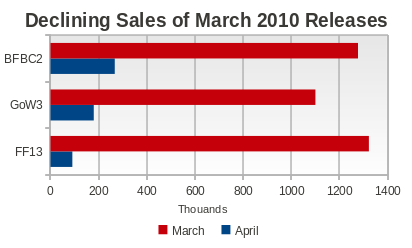 The major weakness in this particular example is that
God of War III
saw its sales decline by 84 percent from the first month to the second while
Battlefield: Bad Company 2
declined 79 percent. We feel the argument would be more robust if the decline in sales between these two titles showed a stronger discrepancy. To these possible explanations for the sharp decline in software sales in April, we'd add a couple of our own.
Nintendo DSi Launch –
April 2009 was the first full month during which the Nintendo DSi was on sale, and according to Nintendo the system sold around 828,000 units of the new handheld during that period. While the new Nintendo DSi XL sold relatively well in April 2010, nearly 600,000 more Nintendo DS systems were sold in April 2009. To that end, we would suggest that at least $20 million in software revenue generated by the Nintendo DSi in April last year was not made up for by new system software purchases this year. That alone would account for more around 20 percent of the loss in overall software revenue and 36 percent of the loss in the portable software segment itself.
Modern Warfare 2 Stimulus Package –
The NPD Group's April 2010 reporting period was bracketed on the ends by the Xbox 360 (30 March) and PlayStation 3 (4 May) launches of Infinity Ward's Stimulus Package downloadable content for
Call of Duty: Modern Warfare 2
. The add-on costs users $15, and Activision announced that it had sold 2.5 million downloads worldwide during the first week, on the Xbox 360 alone. Given previous conversations with EEDAR's Divnich we feel it is reasonable to estimate that 60 percent of those downloads were in the U.S., leading us to a figure of $30 million the five weeks between the two launches. For a sense of perspective, $30 million would be about 10 percent of the total software revenue at retail during all of April 2010, and 25 percent of the decline in software sales from April 2009 to 2010. While the time periods here don't perfectly align, it isn't unreasonable to expect that a consumer who drops $15 for a major add-on to
Modern Warfare 2
will at the very least delay his or her next big purchase, whether at retail or elsewhere. Moreover, we believe that some of the money consumers previously spent on software at retail could now be accounted for under another segment: accessories. The NPD Group estimates sales of console store currencies (Xbox Live Points, PSN money, and Wii Points) as well as Xbox Live subscription cards in this other category. The shift of a modest segment of revenue that was previously classified as software could easily explain why the accessory segment is up 2 percent for the year while every other segment is in the red. And of course, there's the larger online game market as a contributing factor. The NPD's results only track U.S. retail sales -- and do not take into account major online game sectors such as Facebook game microtransactions, MMO subscriptions, and other sectors. This sector has poor to non-existent revenue tracking, due to the closely held companies in the space, but is believed to be rapidly increasing in overall revenue, likely at the expense of retail games. These are just some possible explanations for the significant drop in April 2010 software revenue relative to the figures from a year prior. It is entirely possible – we would actually suggest probable – that some or all of these are contributing factors to the state of the market.