Welcome to 'The Esoteric Beat', the news report that provides new and unusual ways to think about games and culture. This week's column looks at quests, fast food and African gaming.
The Last Convention
Journalist John Walker has spent years wondering why we are so often asked to do minor chores by strangers in RPGs. Walker wonders:
"What are they thinking? Do they ask just anyone who walks past, and I'm the only one daft enough to stop and listen? And when, exactly, was the last time someone accosted you in the street and asked you to complete a quest for them. I decided to put this to the test."
And so he did
- dressed as a wizard and attempting to give a scroll to anyone who would come near him, Walker took to the street and made with the RPG in real life. And, wonderfully, someone did help him - carrying the scroll to its intended recipient and therefore saving the universe. But has Walker also inadvertently saved this gaming convention? I hope not.
Gamevolution!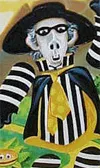 Two things matter to the Esoteric Beat: videogames and healthy eating. As if by coincidence, both of those topics are wrapped up into one large plump bagel of a game by Italian gamer activists
Molleindustria
as they release the new parody,
the McDonalds Videogame
. Yes, it's a game with something of an agenda. But then everything from Molleindustria is something with a message, as they explain:
"We believe that the explosive slogan that spread quickly after the Anti-WTO demonstrations in Seattle, 'Don't hate the media, become the media,' applies to this medium. We can free videogames from the 'dictatorship of entertainment', using them instead to describe pressing social needs, and to express our feelings or ideas just as we do in other forms of art."
And they do just that.
(Virtual) Heart Of Africa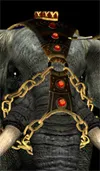 Lastly, I'm not entirely sure what to make of this - least of all whether it's really some kind of vapourware - but
the Africa MMO
looks like an excellent new frontier for gaming. China and Korea have long been evoking their mythologies in designing game worlds, just as Europe and America have filtered Celtic folklore into the modern fantasy tropes we deal with the time: so why not do the same thing for the African cultures? Tracy Spaight, the lead game designer for
Africa
and the Vice President of Research & Development at developer Rapid Reality had this to say about the conception of the project:
"The game began as a lunchtime conversation in January 2005. I found myself seated across from John Sarpong, founder of Africast Global Media and grandson of the late King Prempeh I. He's an extraordinary man with a powerful vision of Africa's future. We struck up a conversation about the power of video games to tell stories, convey ideas, and entertain. Wouldn't it be cool, I mused, to lead a caravan across the Sahara, to visit Timbuktu, to stroll through the Roman ruins at Lepis Magna, and to explore the vast jungles and savannahs of Africa?"
An MMO, of course, was the obvious choice. Set in 13th Century Africa it takes place amongst the varied Kingdoms and tribes of the time, allowing players to join and develop their own amongst the jungles and savannahs. So: awesome concept, great renders of elephants, but will it actually have a game in there too? We wait in anticipation...
[Jim Rossignol is a freelance journalist based in the UK – his game journalism has appeared in PC Gamer UK, Edge and The London Times.]