As part of an
exclusive NPD analysis
, Gamasutra charts how Wii and PS3 hardware installed bases have fared against Xbox 360, which enjoyed a one-year headstart in the current generation console race. While Wii's popularity among mainstream consumers has pushed the system ahead of Xbox 360 in terms of installed base, the PS3 has struggled to catch up. Throughout 2007, Xbox 360 consistently outsold Sony's console. Though PS3 made modest gains for a few months in early 2008, Microsoft's price cuts for the Xbox 360 in September 2008 have since eliminated those gains. Penned by Gamasutra contributor Matt Matthews, the detailed analysis includes exclusive NPD U.S. sales data and in-depth analysis. The following graph covering Wii and PS3 hardware installed base relative to Xbox 360, from November 2006 (when both systems launched in the U.S.) to November 2007. The two consoles started around 3 million systems behind the Xbox 360, represented as a vertical displacement of -3 million on each curve.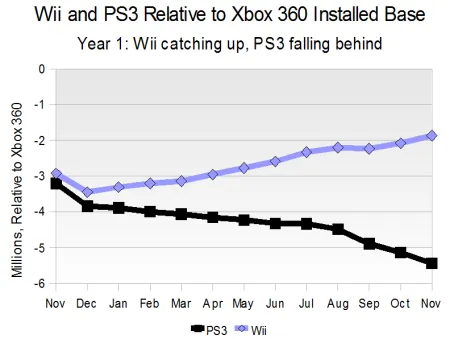 "Starting with November 2006, the PS3 lost ground to the Xbox 360 at a nearly constant rate through much of its first year, with a slowing during July 2007 when Sony first adjusted the prices of the PlayStation hardware. Microsoft's own August 2007 price cuts and strong software lineup then pushed the PS3 further behind through November. At the same time, the Wii was catching up to the Xbox 360, slowed only momentarily when
Halo 3
launched. The next graph, covering the period from November 2007 to November 2008, tells a much different story.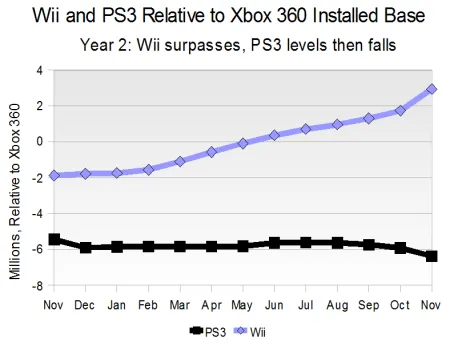 Sony's November 2007 price drop was very effective. Instead of losing ground to the Xbox 360, it actually made some modest gains through July 2008, with a bump from the June sales which accompanied the release of
Metal Gear Solid 4
. When Microsoft cut prices again, this time in August 2008, Sony began to lose ground and has ended its second year about twice as far behind the Xbox 360 as it was when it launched in November 2006. By comparison, Nintendo was still hampered by hardware shortages during Holiday 2007 but then caught up to – and surpassed – the Xbox 360 by mid-2008. This is clearly shown in the graph as the Wii curve passes through zero and up toward a positive 3 million." You can now read the
full Gamasutra NPD analysis for November
, including lots more specifics on trends, hardware and game sales, and prospects for the future.