Datapoint of the Week is a recurring Game Developer series made possible by our sibling company and global research leader Omdia.
Microsoft is betting on gaming to fuel growth of its sprawling server and cloud business. "Gaming is fundamentally aligned with our mission as a company," stated Satya Nadella, CEO of Microsoft in June. Microsoft has big ambitions, but its gaming revenue growth remains modest. Omdia believes that Microsoft's leadership views gaming as an opportunity to grow other parts of its business—namely its server and cloud segment.
Microsoft's "Gaming" segment, which includes revenue from Xbox hardware and content services, generated $11.6bn in 2020 (up 2% YoY); meanwhile, its "Server products and cloud services" segment, including Azure, brought in whopping $41.4bn in 2020 (up 27% YoY), making it the company's largest and fastest-growing segment.
Although 2020 was a bumper year for gaming because of the pandemic, Microsoft's Gaming segment was only able to achieve a meagre increase. This has further supported Microsoft's newfound focus on pursuing new commercial opportunities with leading game companies, including Ubisoft and Roblox, which in most cases are expansions of pre-existing Xbox relationships.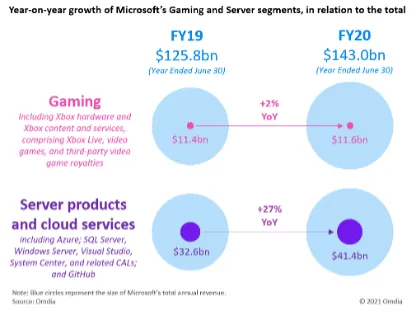 Undoubtably, Microsoft's huge investment in cloud gaming is accelerating the whole industry's shift to cloud gaming, which is set to benefit Microsoft in many ways. As more publishers, game makers, and device manufacturers make moves in this space, Microsoft will be well-positioned to offer solutions across the whole value chain to aspiring cloud gaming providers.
Find further reading here.