[
As part of his monthly look at NPD results, Gamasutra analyst Matt Matthews finds Sony's PlayStation 3 notably increasing its U.S. retail game share -- jumping from 25% of the market in March 2009 to an estimated 41% in March 2010, thanks to PS3 hardware turnaround and God Of War III.
] With
seven titles in the top 20
software list for March 2010, Sony's PlayStation 3 finally appears to be coming into its own. While its two key rivals, Microsoft's Xbox 360 and Nintendo's Wii, have outsold Sony's flagship system for many months there is some evidence that PlayStation 3 software sales are accelerating. Regrettably, the top 10 and top 20 software lists provided to us each month are an imperfect tool for analyzing software sales. As part of an extended analysis, we can reveal that Sony's PlayStation 3 had an increasing share of the top 50 titles in the first two months of 2010 and likely had an even bigger share in March. (Final information for March 2010 was not available as of this writing, but will likely be included in a first quarter analysis later this month.) From that data we have seen, it appears that 12 PS3 titles placed in the top 50 SKUs for the month in January 2010 and 14 PS3 titles in the top 50 SKUs for February. These titles accounted for a growing share of the software unit and dollar sales in those two months. For context, we estimate that the top 50 titles in each month can account for between 30 percent and 40 percent of all software units sold in a given month. Given that seven PS3 titles placed in the top 20 in March 2010 and that sales of existing titles probably continued to do well throughout that month, we believe that the PS3 took an even greater number of titles in the top 50 for last month. Estimating dollar sales for the seven titles already known to be in the top 20, it would appear that PlayStation 3 software in the top 20 for March 2010 generated more revenue than the 14 PS3 titles in the broader top 50 for February. For Sony, this has been a long time coming. The last time it could point to a single-month million-seller like March's
God of War III
was in June 2008. Even then,
Metal Gear Solid 4: Guns of the Patriots
reached a million units by combining software-only copies with the copies bundled in with a special edition of the PlayStation 3 hardware. Recall that precisely one year ago, in April 2009, the only PS3 title published by SCEA with unit sales in excess of 1 million units was
Resistance: Fall of Man
, a launch title from November 2006. Only
LittleBigPlanet
had surpassed 750,000 copies at that point with other key titles like
Uncharted: Drake's Fortune, MotorStorm
, and
Ratchet & Clank Future: Tools of Destruction
falling well short of that figure. Were we to rank sales of more recent games, we'd list
Uncharted 2: Among Thieves
with sales in excess of 1.15 million and
God of War 1 & 2 Collection
with sales topping 650,000 units, both from late 2009. Titles from 2010 that have done quite well on the PlayStation 3 are the first-person shooter,
MAG
, which we estimate has now topped 350,000 units and
Heavy Rain
with sales over 325,000 units. Third party software has also continued to do well on the PlayStation 3, with
Assassin's Creed II
likely to pass the 1 million mark in the next few months and
Call of Duty: Modern Warfare 2
already past the 3.5 million mark. One way to view Sony's software success this year is to compare current-generation console software revenues from March 2009 with those for March 2010. Recall that
Resident Evil 5
launched on the Xbox 360 and PlayStation 3 that month. The Xbox 360 got
Halo Wars
as an exclusive while the PlayStation 3 saw its second month of
Killzone 2
sales. Wii Fit and Wii Play were the leading Wii titles that month. According to comments made by Michael Pachter, an industry analyst for Wedbush Securities, we estimate that the total current-generation console software market (not just the top 50 discussed above) broke down in the following way for March 2009, with respect to dollars of revenue.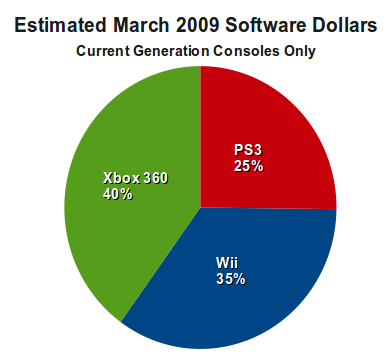 With the turnaround seen in the first quarter of 2010, the momentum has shifted to the PlayStation 3. We might well consider software sales in March 2010 the best possible situation for Sony, one in which they have a million-selling title leading the software chart and several other strong first- and third-party releases just below it. In that nearly ideal situation, here is what we estimate for the software dollars among the current-generation systems.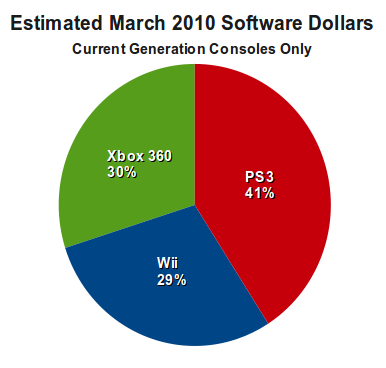 Given the hardware installed base differentials (the PlayStation 3 is trailing and will always trail the Xbox 360) one probably can't expect software to favor the PS3 any more than this. After the stumbling after the PlayStation 3 launch, Sony's mission shifted from leading (which it had done with the PlayStation 2) to keeping pace as best as possible and making its platform as essential as possible for the profitability of cross-platform games. This is why games like
Final Fantasy XIII
and
Battlefield: Bad Company 2
exist on both the Xbox 360 and PlayStation 3. Third parties can maximize their investment in these expensive games by reaching out to an audience of 32 million users rather than just a single-platform subset. Having established that continuing support, Sony has been freed to some extent to focus on distinguishing its platform with its own exclusive software like
God of War III
and
Heavy Rain
. In this light, the software growth on the PlayStation 3 has to be seen as making the best of a difficult situation.