Welcome to 'The Esoteric Beat', the news report that provides new and unusual ways to think about games and culture. This week's column looks at body-peripherals for VR, behaviour trainers and rocketships.
Vibrotactile Stimulus
Off in the realms of research there are still some people working on the '90s dream of creating believable virtual reality environments. One such project is being shared by a number of technology labs across the world, with input from Worcester Polytechnic Institute, MA, and Japanese researchers at Meiji University and ATR International's Media Information Science Labs. The
research has been published in a paper
that describes the project to create a wearable peripheral that would allow the user to 'feel' virtual environments:
"This paper presents a development history of a wearable, scalable vibrotactile stimulus delivery system. This history has followed a path from desktop-based, fully wired systems, through hybrid approaches consisting of a wireless connection from the host computer to a body-worn control box and wires to each tactor, to a completely wireless system employing Bluetooth technology to connect directly from the host to each individual tactor unit. Applications for such a system include delivering vibrotactile contact cues to users of virtual environments, providing directional cues in order to increase situational awareness in both real and virtual environments, and for general information display in wearable contexts."
Of course the 'wearable contexts' are still fairly limited. Where are the home virtual reality units we were promised a decade ago?
Human Factors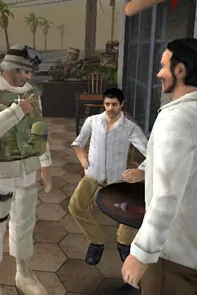 Outside of entertainment there are few people making good use of what videogame-type systems can actually accomplish. One of these is the U.S. military, who are continuing their wide-ranging program of using interactive technologies as training tools. One of these is '
Tactical Iraqi
', which uses processes gamers would recognise from RPGs to teach soldiers how best to interact with local people when on duty in Iraq. The website explains:
"Tactical Iraqi consists of a breakthrough combination of advanced technologies -- including artificial intelligence, interactive-animation simulations based on computer games, and speech recognition -- and advanced educational and human factors methodologies."
In other words, using all the strengths of videogames to make real life situations easier to digest. Perhaps it's these kind of teaching tools that some developers should be looking at to make megabucks, rather than trying to ape another hit action or RPG game.
Crimson Skies?
Finally we've learned a little more about the real-life videogames of the
Rocket Racing League
this week - a forthcoming aerial racing league in which pilots race specially designed rocket craft around a low-altitude desert track. It seems that the league is even more videogame-like than we'd first assumed, with the pilots having to navigate round an augmented reality course, thanks to 3D hoops projected onto their view via their visors. Sounds incredible - but we'll have to wait to 2007 to see it, and maybe that videogame tie-in...
[Jim Rossignol is a freelance journalist based in the UK – his game journalism has appeared in PC Gamer UK, Edge and The London Times.]