I finally updated my card-battling boardgame. Twice! Everyone can now experience the new interface and earn medals.
PathWrath 2 is in the same genre as Culdcept, but there are lots of mechanical differences and new decks can be created with XML. It's multiplayer-only, but check it out.
Tech Tree is a list of links about developer activity in BYOND Strategy, a guild run by unpaid volunteers on a game/development portal and software engine called BYOND. Those curious about notes or YouTube videos I've cut out can view the original version.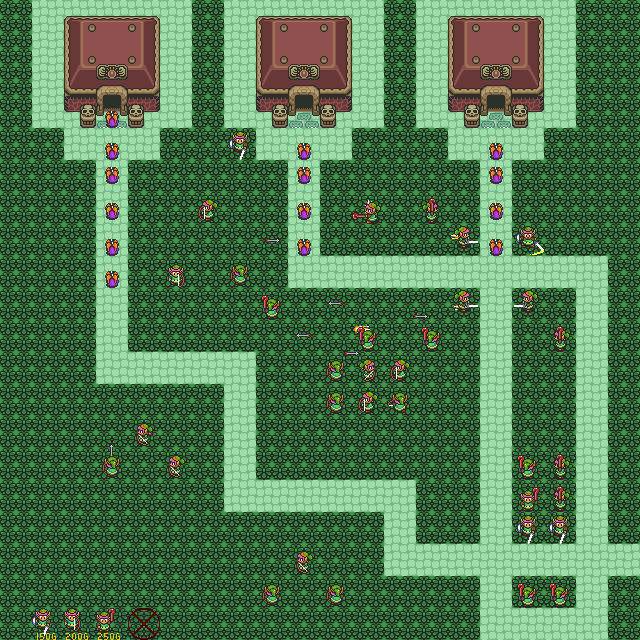 Ganing's defense fangame, The Legend of Link, has been added to the guild. There are 37 waves and 3 different class types. Fixes, difficulty levels and bosses were added this week. Players can currently earn 7 medals and more are planned... "'cause [Link's] that awesome".
The Magic Man has posted more progress reports for R.T.S Game. True to his word, he has been concentrating on maps and new units. Players should now have access to Alchemists, Warlords, Prophets, Pyromancers, Assassins, Dark Knights, Paladins and Murderers.
Gamemakingdude has been working on an RTS for a while. It is now called The Path To Glory. He's currently requesting that potential alpha testers contact him.
He's also welcoming ideas for the banner. I'm happy just to have something without trademark-infringing content in it. I've been cutting DOOM's Lost Souls and the Scream mask out of the Gamasutra version of Tech Tree for weeks. ;)

Blafblabla is looking for a team to help with an untitled strategy RPG. Players will choose fantasy races and gain NPC followers to take over cities. Alliances with other players will be allowed. I'm a bit nervous about anything involving permanent level gains, but the territorial conquest and diplomacy could be nifty.
I'm still not sure what the Efencea team is working on, but Tayoko has posted more avatars. Could they become the faces of post-apocalyptic tribe members in the team's turn-based strategy project, Codename CQ? I don't know. I'm reaching.
Elsewhere, BYOND Strategy Bishop/former King IainPeregrine was motivated to create pictures of himself at two different ages.
Now that the PathWrath 2 update is out of the way, my next project is Genetic Fork. It's a 2-player tactical game sort of like my daemonic boardgame, Flesh and Drone, but it decreases the number of unit types, adds a dynamic board, and uses a mad scientist theme. The plan is to test the digital version of the game with BYOND before offering an analog version with The Game Crafter.