[GamerBytes editor Ryan Langley examines chart and leaderboard data on the latest titles on Xbox Live Arcade extrapolating which titles were hits or misses during October on the service.]
Xbox Live Arcade's Game Feast has ended, but a lot of big-hitting titles were released during October regardless --
Sonic 4, Comic Jumper, Pinball FX 2
and more. This month also came at a price for chart-watchers. With Microsoft being so busy with the upcoming release of the Kinect peripheral, Xbox Live's Major Nelson, aka Larry Hryb, was unable to reveal any Top 20 lists. This means several titles such as
Costume Quest
were unable to be followed by any means at all. Still, we've done our best to show just what went well and what fell to the ground, and how publishers and developers alike can help make their games do better on the Marketplace.
Not All Smiles
The first title in October was
Comic Jumper: The Adventures of Captain Smiley
developed by Twisted Pixel, the studio behind big Xbox Live Arcade hits
The Maw
and
'Splosion Man
. With such "indie credibility" and the backing of a promotion like the Game Feast, you'd hope for high sales, but
Comic Jumper
appears to have hit a little below expectations.
The Maw
, two years later, currently sits at about 160,000 players total on its leaderboards, while
'Splosion Man
sits at 330,000. In four weeks since its launch,
Comic Jumper
has been able to garner 40,129 players. Even if you consider that
Comic Jumper
was $5 more than either of those two titles, it's still a little down -- although its longevity may yet redeem it.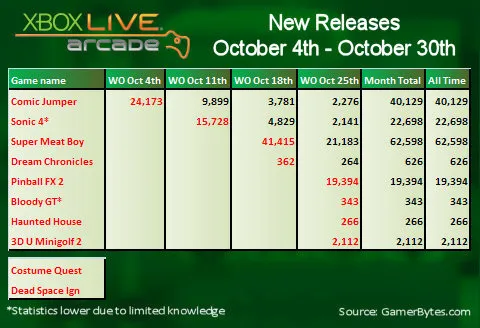 Sonic Ignition
Week two showcased two new games – Sega's
Sonic The Hedgehog 4
and Visceral's
Dead Space: Ignition
. Neither title was able to give us a good indication for their sales via Leaderboards, due to their Leaderboard implementation –
Sonic 4
has Leaderboards for every level, but they're only ever uploaded when a player checks the Leaderboards themselves. Same with
Dead Space
– Leaderboards are only shown per level if the player plays the level by choosing it via the Leaderboard menu. Still,
Sonic 4
was able to add 15,728 players in its first week for a total of 22,698. The sales itself would be quite a bit higher -- potentially two or three times, we might guess -- considering the requirements.
Dead Space
was too difficult to tell, and it's a shame that we don't have the Top 20 to deal with. This week was also meant to be the release of
Pinball FX 2
, but that was delayed for two weeks.
Costume Of Meat
Usually when Microsoft has a promotion, nothing else is allowed to release at the same time. This year their hand was a little forced, meaning the second-to-final week of the Game Feast was host to three new titles. Team Meat's
Super Meat Boy
was released to
critical acclaim
and a temporary "first players" discount for the first month to $10, down from $15. In its first week it added more players than
Comic Jumper
did in the whole month, and in two weeks had added 62,598 players to its Leaderboards. It's not quite
Limbo
numbers, but it's certainly a swift pace, and nothing to sneeze at for the two-man development team.
Dream Chronicles
was pretty much the opposite of
Meat Boy
in every way. Very few people knew of its impending release, and almost nothing had been said of its existence since February. It's also the
third worst rated XBLA game
on Metacritic, behind Namco's
NBA Unrivaled
and the free
Yaris
title. That allowed the game to only get 626 players to appear on the Leaderboards in the first two weeks. It's no wonder Hudson kept quiet on the title. Publishers need to be cautious on what they pick and choose on the digital front. Not just anything will do, and I'm not sure what Hudson saw in bringing the game over to the XBLA. Double Fine and THQ's
Costume Quest
is an unfortunate title for us in terms of tracking. It's received
positive reviews
, and was released just before Halloween, but we can't examine sales at all. The game contains no Leaderboards whatsoever – something that had previously been a requirement of all games on XBLA with a few exceptions.
Costume Quest
now joins
Watchmen: TEIN
and a couple of others as a game with no ability to tell your friends that you own the game. Since we also didn't get any Top 20 statistics, we don't know how it did in any regard.
Four Games Enter, One Game Leaves
In a very rare move, four new titles were released on the week of October 25th – but only one game truly had awareness before its release. Zen Studios'
Pinball FX 2
was released in a very odd package. Those with the original
Pinball FX
could simply import all their old tables for no charge, so they didn't have to actually pay for anything. The four new tables were available in a package for $10. For the new package, we saw 19,394 new players -- more on this in the dedicated section below. The three other titles were
Haunted House, Bloody Good Time
and
3D Ultra Minigolf 2.
All three had been announced but no date had been set – Microsoft's promotional team didn't even know that ImaginEngine/Atari's
Haunted House
and Outerlight/Ubisoft's
Bloody Good Time
were even releasing this week. In fact, both titles came out a day afterwards for unexplained reasons.
Bloody Good Time
only has Leaderboards for ranked games, so the statistics are far lower than these show, since it's a game based so much on player matches. But it doesn't look that good. Ubisoft barely did anything to promote the game, and such a unique and strange game needs that support – it's what the publisher is meant to do. It's no
Battlefield 1943
or
Monday Night Combat
, but it should have got a better shake than it did. Notably, few major websites
got around to reviewing it
.
Haunted House
also got no publicity before its release, much like Atari did with its previous release of
Blade Kitten
. The game currently has a
47 on Metacritic
, so it's not surprising that it didn't do well. The Wanako-developed
3D Ultra Minigolf 2
, again, was similar in that it was barely talked about prior to launch, this time Konami didn't do enough to promote the title. Only a single website that Metacritic follows has even
reviewed the game
, and that's a failure on both the developers and the PR department. For its first week it added 2,112 players to the Leaderboards.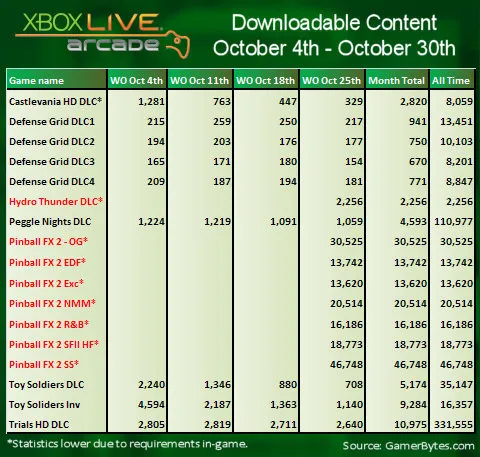 The Pinball FX Effects
So with the release of Zen's
Pinball FX 2
there was the ability to import your old tables from
Pinball FX 1
into the new version. These statistics include both the people who imported from the original and those who picked up the DLC right now. There were 19,394 people who played the new tables for
Pinball FX 2
in the first week, but
Pinball FX 2
also contains the "Superscore" function – which shows anyone and everyone who bought anything within the application. That shows 46,748 players having either bought or imported something from
PFX1
and
PFX2
. 30,525 players imported or bought the
Pinball FX 1
tables. All the original DLC tables were bought or imported as well in the new app -- ranging from 13,000 to 20,000 users in each.
Pinball FX
currently has over 400,000 people on the Leaderboards, and you'd think many of them would at least try out this new application - but maybe they'll migrate over time. On other new DLC,
Hydro Thunder Hurricane
also released its first piece of downloadable content. Only 2,256 players show up currently, but for them to show up they need to be played in single player, and this requires you to unlock all other tracks beforehand.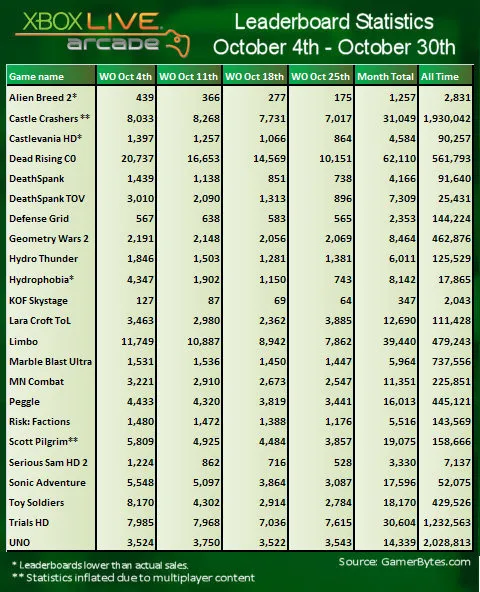 Others To Watch
Without the Top 20 for October, all we have is our own statistics for the Xbox Live Arcade Leaderboards. There wasn't even an XBLA-based Deal Of The Week either. Bigger winners for the month were
Sonic Adventure
, which was able to cross the 50,000 player line. We also saw a smaller increase for
Lara Croft
thanks to the addition of online multiplayer, but it wasn't a very big bump. It seems that people who bought it back in September haven't given it a shot online yet.