[Courtesy of sister site GamerBytes, which is dedicated to downloadable console games, Ryan Langley examines April 2009's Xbox Live Arcade debuts, from OutRun through Flock and beyond, to find out what flew and what fell to earth.]
This week, the NPD Group will reveal the top-selling titles at retail during April 2009, and at GamerBytes, we take a look at what they don't cover -- Xbox Live Arcade and the PlayStation Network. We're analyzing the weekly Top 10 Xbox Live Arcade game purchase list released by Microsoft through
the Major Nelson weblog
, checking out leaderboard data for games when available, and seeing what new releases have done well, and ones which have fallen off the map. For April, there were 7 new digitally downloadable game releases for the Xbox Live Arcade on Xbox 360. All but two of them were released at the new premium prices (1200 Microsoft Points [$15] or more), but as we'll see, it worked for some, and not for others:
Three Tier Week
April began with the release of Capcom's
Flock
for 1200MSP and
Puzzle Quest: Galactrix
at 1600MSP. This was also the week where
Penny Arcade Episode 1
was a part of the Xbox Deal of the Week, and retailed for 800MSP – 50% off its standard price. Despite a lot of last-minute online advertising from Capcom,
Flock
did not catch on at all, not even making it into the Top 10. We haven't seen such a poor-selling first week game since
EXIT 2
was released. It did end up getting its fair amount of average reviews, alongside some more positive ones, but to bomb like it did is unexpected. Capcom has not had the best of luck when it comes to their downloadable games not based on previous franchises.
Flock, Age Of Booty
and
Rocketmen: Axis Of Evil
(technically based on a constructible strategy game) have fallen below sales expectations -- at least according to the Top 10 lists we can see -- compared to
Mega Man 9, Commando 3
and
1942: Joint Strike
. With
Marvel Vs. Capcom 2
the only digital title announced from Capcom this year, we'll see how they proceed with original IP going forward.
Puzzle Quest: Galactrix
did make it into the Top 10, but only it to 5th place. This is a little misleading in terms of financial success, as its higher price point means it likely grossed more revenue than the titles above it.
Galactrix
was able to squeeze into the Top 10 for its second week, scraping in at No. 10, but it disappeared right afterward. Unfortunately, due to the way both
Flock
and
Galactrix
leaderboards work, we are unable to get any numerical leaderboard data to true up the games' sales with the Top 10 list.
Magical Sound Shower
The second week had
OutRun Online Arcade
released for the low price of 800MSP. Sega had taken almost a year off of releasing any games on the Xbox Live Arcade, but
OutRun
was able to do very well, topping the charts in its opening week. It held onto second position for its second week, and dropped to 7th in the final week of the month. Due to
OutRun
having multiple routes and not counting online modes we're unable to determine a definitive player amount from the leaderboards, but we can see that well over 32,000 players have played through Route A in single-player modes -- not a bad start.
Taking A Virtual Lode Off
Despite the fact that
Lode Runner
brings back a classic franchise to a new audience, it appears not a lot of people were very interested. The game debuted on the 3rd week of the month in 4th place, with the Journey mode leaderboards showing a little over 10,000 entries thus far. This might be another case of right game, wrong price. The game was accidentally released at first for 800MSP, but a few hours later it was corrected to its 1,200MSP ($15) price point. Despite being filled with a lot of content -- certainly enough to warrant the higher price point -- it wasn't quite as successful as title such as
OutRun
. The game is set up for a lot of downloadable content -- with more puzzles and levels due soon. Perhaps it might have been a better option to release the game at 800MSP and therefore get more owners to potentially buy the DLC? The final week of XBLA releases had 3 titles –
Virtual On, Banjo Tooie
and
Sorry
for
Hasbro Family Game Night
. Unlike the week of
Flock
and
Galactrix
, both major titles did very well at a high price points.
Virtual On
hit the top spot, which may be surprising for a relatively niche mech fighting game. But if you check out the leaderboards, you'll find a lot of people from Japan whose Achievement lists show this game specifically -- It has quite a few hardcore fans, apparently. Meanwhile, Rare's
Banjo Tooie
was 2nd, with roughly 20,000 players on the leaderboards to date. The original game was released free for those who pre-ordered
BK: Nuts & Bolts
, so the chance of
Banjo Tooie
doing as well may be lower. On the other hand, less people ever played or finished
Tooie
compared to the original, so it might continue to sell well.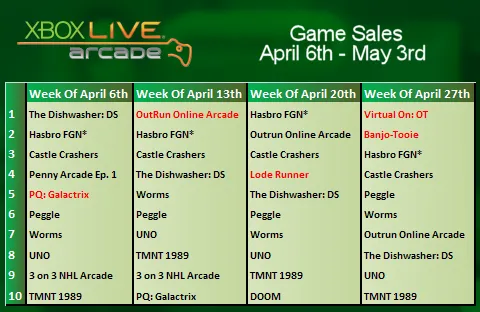 The State Of XBLA DLC
We did see some new downloadable content for
The Maw
in April. According to the leaderboards, over 95,000 have played the game online, but the first DLC level has garnered a little less than 10,000 plays despite being available for 12 weeks. The second piece of DLC has had over 5,000 people play over 8 weeks, and this week's DLC garnered over 2,000 players on the leaderboards. While this totals a decent amount of cash for Twisted Pixel, it's interesting to see the conversion rate from full game to its DLC. There are several examples of why they might not have sold as well as hoped. Twisted Pixel themselves have said that calling them "Deleted Scenes" had put off people, with some gamers thinking that they were getting already completed levels that the developer had cut out of the game just to charge for. Another reason would be that add-on DLC gets easily taken off the list of the list of latest downloadable content, thanks to each week's Guitar Hero, Lips and Rock Band songs, which are listed individually -- and there's no obvious in-game way to inform customers that
The Maw
now has new DLC.
Games We Just Can't Quit
March was host to a lot of releases on Xbox Live Arcade, and three of them have stayed in the Top 10 throughout that whole time.
Peggle
has continued to stay near 6th place throughout April, and
The Dishwasher: Dead Samurai
did well above expectations in its third week and continued to hold on throughout the month, slowing to 8th place -- and will likely drop off in May.
Hasbro Family Game Night
continues to sell very well, but its place on the charts is a conglomeration of all the
Hasbro
games together. Despite
Sorry
making its debut in the package in the final week, it didn't seem to affect the compilation's place in the rankings.
Castle Crashers
continues to sell incredibly well. Looking back at the data provided by Major Nelson's blog, it has continued to be in the Top 10 since its release 8 months (34 weeks) ago – and in fact, has never been lower than 4th place.
Worms
has also continued to be in the Top 10 since its drop to 400MSP over 20 weeks ago. In addition,
3-On-3 NHL Arcade
finally bowed out this month after 10 weeks of being in the Top 10, while
Teenage Mutant Ninja Turtles
has made a sudden resurgence in the past 6 weeks after a long hiatus, with no particular reason for its return to the charts. Finally, we've been going back through the archives of Major Nelson Top 10 lists to see just how well
UNO
has sold.
UNO
has been in the Top 10 116 times out of the 122 weeks Major Nelson has been following them. (This doesn't include the 21 weeks that were not disclosed by the Major Nelson blog,
UNO
's 4 months on sale before the Major Nelson charts started.) It has done remarkably well -- far better than any other XBLA game to date. Next, we will be discussing the PlayStation Network sales. Due to the delayed release of the Pulse program which reveals PSN charts, the analysis will not appear until next week.