Xbox's push into the expansion of accessibility resources for game developers got a small shot in the arm this year. The company debuted an update to its Xbox Accessibility Guidelines with new resources for considering players' mental health, as well as guidance on reducing motion sickness, on-screen text legibility, contrast, and input guidelines.
Developers can also now access the Gaming Accessibility Resource Hub for more tools and talks on expanding their games' playability.
Microsoft also debuted a new American Sign Language Twitch channel and other community-focused initiatives to further center accessibility for players. They can now search for accessible games on the Xbox store or create accessible environments in the educational edition of Minecraft.
These are relatively smaller pushes that build on Microsoft's efforts from the last few years, but they're also decent indicators of where the Xbox team wants to take its accessibility work in the years to come. Anita Mortaloni, head of accessibility at Xbox, told Game Developer that the company is encouraging developers to talk directly to players, and create new bridges to help determine where it can expand accessibility next.
Listening to devs who listen to players
To hear Mortaloni tell it, Xbox's recent accessibility efforts have been a bit of a reactive effort (in a positive way). New features like ASL/BSL integration into Forza Horizon 5, and updates to the Xbox Accessibility Guidelines that focus on mental health are driven directly by feedback from the disability and developer communities.
The mental health updates make for an interesting addition because the bulk of Xbox's previous accessibility efforts have been in accommodating physical or sensory disabilities. Mortaloni said that these latest updates were aimed at recognizing that "there's a relationship between gaming content and the player experience."
Mortaloni explained that the new mental health guidelines cover two fields: the depiction of in-game characters who suffer from depression or other mental health disorders, and the categorization of game content that might trigger players who suffer from disorders like PTSD.
These might include customization options that let players remove or skip certain scenes, or options that provide relevant content warnings. Mortaloni added that Xbox wants to help developers also avoid harmful stereotypes.
Feedback from the community on preparing these resources also led Xbox to include a content warning right at the top of its Xbox Accessibility Guidelines. "The best practices for mental health [discuss] topics around traumatic events and phobias and other triggering content," she explained. "It's a good reminder that even something as simple as a best practices guide can be inclusive and provide that information at the beginning."
What specific triggers should developers be looking out for? Mortaloni declined to directly recommend any particular insights, advising developers to begin thinking of these needs from the ground-up, and discussing with prospective players what their needs might be.
For its part, Xbox has responded to player feedback by adding a wide variety of accessibility tools that go right down into the workings of the Xbox itself. Mortaloni highlighted the fact that Xbox owners can disable the beeping noises the device will make, which can be sensitive to some users with auditory disabilities. "All of that feedback funnels into new features, and all those features make it so more people can enjoy playing," she said.
Players can solve accessibility challenges too
In our chat, Mortaloni made note of the fact that Xbox's goal is to invite players to think about accessibility as well, and not just have it be a series of tucked-away features that players without disabilities can ignore. These latest accessibility improvements also include a game world for Minecraft: Education Edition called BuildAbility. This world isn't so much about improving access for disabled players, but about teaching players how accessibility intersects with everyday life.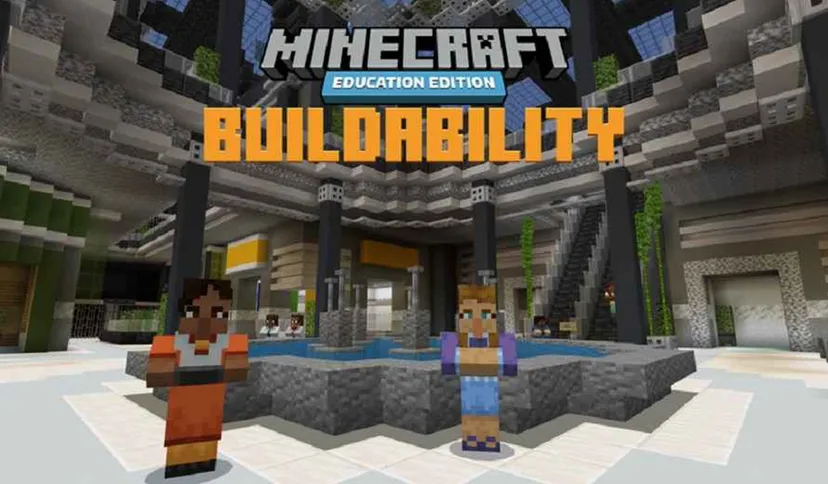 This was a particularly neat project first cooked up with assistance from Ontario's Peel District School. In this game world, players encounter a number of characters with different disabilities who struggle to access the building around them. Players are then tasked with making changes to the space that ensure equal access.
"The thing that I love is part of the experience [is that] they then get to extend their learning into the real world, and identify barriers in their own school or community," Mortaloni said. "Whether they end up being game creators or whatever they end up growing up to be, they have this insight that they can take from the BuildAbility world...and hopefully create [elsewhere.]"
Features like the BuildAbility world highlight the Xbox team's long-term thinking on this topic. Even Mortaloni admitted that a fully accessible video game environment won't happen "overnight," but she hopes that "all those small things add up," and more players who want to engage with video games can do so without unnecessary barriers getting in the way.