Okay, here's the rundown:
What's the latest with the Activision Blizzard deal?
Microsoft is attempting to leap over a series of regulatory hurdles in a bid to seal its proposed $68.7 billion acquisition of Activision Blizzard.
To convince regulators it's prepared to play nice with competitors, the company recently signed a binding agreement with Nintendo to bring Call of Duty to its platforms for the next decade should the deal gain approval, promising that Nintendo players will gain access to upcoming titles on "the same day as Xbox [players] with full feature and content parity." It has also penned similar 10-year deals with cloud partners including Nvidia, Boosteroid, and Ubitus.
Sony, meanwhile, has yet to accept a similar agreement offered by Microsoft, and recently suggested it's being harassed by the Xbox maker over the merger. Those comments were made after Microsoft attempted to subpoena PlayStation officials in relation to the Federal Trade Commission's (FTC) lawsuit against the deal, which Sony described as "obvious harassment." Commenting on Sony's hardball approach while attending an EU hearing in Brussels in late February, Microsoft vice chair and president Brad Smith said the company was "hoping the future never arrives" by opposing the deal.
As it stands, the Activision Blizzard merger is being investigated by regulators such as the Competition and Markets Authority (CMA) and FTC in the United Kingdom and U.S. over concerns it could harm competition by allowing the Xbox maker to turn lucrative Activision Blizzard properties into platform exclusives.
Notably, the CMA recently published its preliminary findings after investigating the deal for months and said the move "may be expected to result in a substantial lessening of competition" within the game industry. Although those findings aren't set it stone, the UK regulator suggested Microsoft would need to make some concessions in order to push the deal through.
The European Commission also met with a delegation from Microsoft and Activision Blizzard on February 21, 2023, in a closed-doors hearing to hear why the deal should be approved in the EU. The outcome of the EU's investigation is expected by April 11, 2023, but fresh reports indicate European regulators might be willing to sanction the deal in the wake of Microsoft's recent licensing blitz.
Despite being met with resistance in some regions, the deal has gained approval in a few countries such as Brazil and Saudi Arabia.
How did Microsoft and Activision Blizzard get here?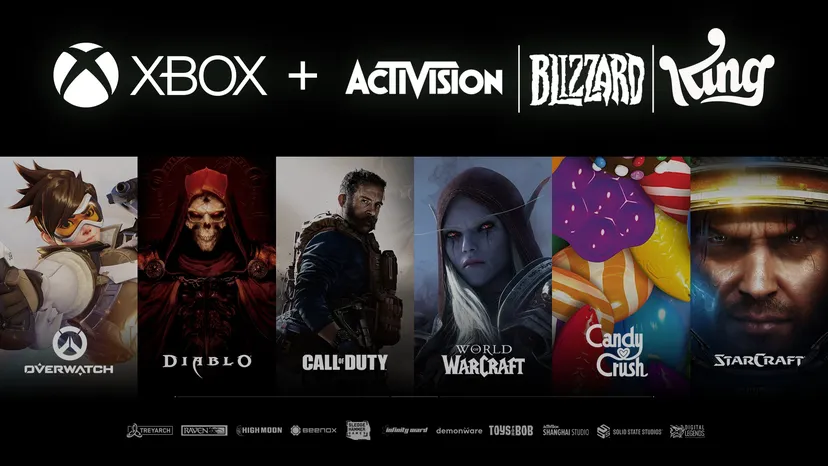 The colossal scale of Microsoft's Activision Blizzard deal might've caught some by surprise, but the writing has been on the wall for some time. The Xbox maker has thrown down the M&A gauntlet in recent years, taking charge of major franchises like Minecraft, Fallout, DOOM, The Elder Scrolls, and their respective developers in a deluge of deals worth billions.
The Xbox Game Studios family currently comprises 23 studios, and that number could rocket skyward if the company manages to seal its purchase of Activision Blizzard, with the deal potentially bringing mobile powerhouse King into the fold alongside numerous other studios–including publishing, tech, and QA divisions.
When announcing the deal, Xbox boss Phil Spencer expressed hope the move will help usher in a future where "people can play the games they want, virtually anywhere they want," referencing the company's push into the world of subscription-based, play-anywhere gaming via services like Xbox Game Pass and Xbox Cloud Gaming.
Why does Microsoft want to buy Activision Blizzard?
If completed, the deal will significantly bolster Microsoft's first-party credentials, inducting key franchises like Call of Duty and major studios such as Blizzard Entertainment, Infinity Ward, and Sledgehammer Games into the Xbox Game Studios family. The move isn't purely about expanding Microsoft's console game and cloud streaming offerings, though.
Speaking on The Verge's Decoder podcast in November 2022, Xbox chief Phil Spencer also suggested the acquisition would allow the company to become a major player within the mobile industry. During the chat, Spencer said that Microsoft is currently "irrelevant" on mobile, noting that "anybody who picks up their phone and decides to play a game would see that on their own."
It was a pretty candid appraisal from Spencer, and while it would be far-fetched to suggest that Microsoft is purely focused on nabbing Candy Crush developer King, there's no denying that the move would provide a huge shot in the arm to Microsoft's mobile game business.
What next for Microsoft and Activision Blizzard?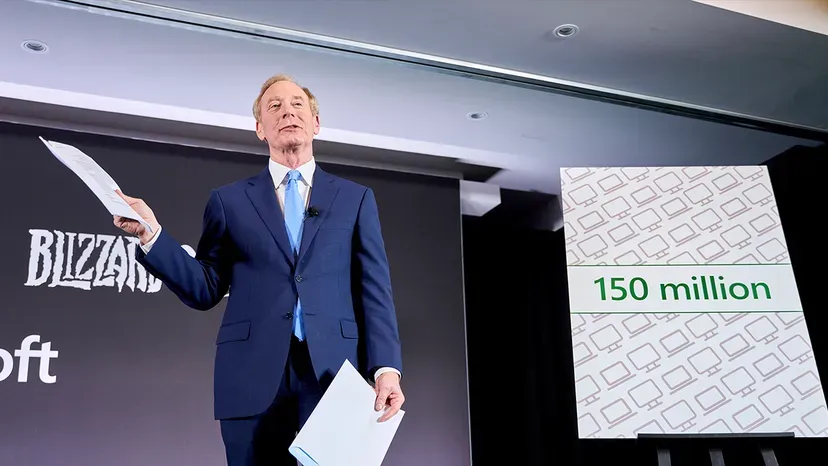 Microsoft will hope that it's recent deals with Nintendo and Nvidia, the latter of which will see it bring Xbox PC games to Nvidia's streaming service, will help convince regulators that it's more than prepared to play nice with its rivals.
The company has also worked to paint itself as inferior to Sony, which it has repeatedly described as a market leader and a company that's more than capable of expanding its own business in response to the proposed deal–as shown by its $3.6 billion purchase of Bungie in 2022.
With Microsoft focused on appeasing regulators and quashing the arguments of its rivals, we expect to hear more opinions from all parties involved before the outcomes are made public. At this point, Microsoft will be waiting the hear the final outcomes of the investigations being conducted the EU and CMA, both of which should have been made public by the end of April 2022. The company is also working to fight the FTC's lawsuit against the merger.
So, will Microsoft actually acquire Activision Blizzard?
That question is nearly impossible to answer, but in our opinion (note that word very carefully) Microsoft will need to agree to some concessions if it wants to emerge from its current regulatory nightmare with more than a shred of hope.
Earlier this year, UK regulator the CMA indicated it would consider approving the merger if Microsoft agreed to remedies including the "partial divestiture" of Activision Blizzard, which would see key franchises (Call of Duty) or business segments sold off. Alternatively, it added that prohibiting the merger outright–a.k.a. shutting it down completely– would also represent a "comprehensive solution."
Given the drastic nature of those proposed solutions, it's difficult to see how the regulator will budge in the space of a few months, with the CMA's final report expected by the end of April 2023.
Making the situation more complicated is the fact regulators in other important regions such as the United States and European Union also remain unconvinced that the deal, in it's current form, wouldn't cause irreparable harm to the game industry and Microsoft's rivals. Sure, Microsoft is offering Call of Duty to its competitors for 10 years, but it's hard to imagine that alone will sway regulators who appear to be incredibly skeptical.
In short, then, if the merger gains approval–and right now that looks to be an if of colossal proportions–we expect it will be in a new-look format that won't allow Microsoft to put all of Activision Blizzard's golden eggs into one basket.
The key headlines (or the rapid fire version):
–January 18, 2022 // Microsoft buying Activision Blizzard in $68.7B deal
Microsoft announced that it would be purchasing Call of Duty and World of Warcraft developer Activision Blizzard in a gigantic acquisition. Notably, the company said Bobby Kotick would "continue to serve as CEO" of Activision Blizzard.
–April 28, 2022 // Activision Blizzard shareholders approve Microsoft acquisition offer
Activision Blizzard shareholders overwhelmingly voted to approve Microsoft's $68.7 billion acquisition offer. The investors who controlled 98 percent of shares in the company collectively gave a thumbs-up to the proposed transaction, letting it advance to the regulatory approval stage.
–June 13, 2022 // Microsoft signs labor neutrality agreement with CWA
Microsoft entered into a labor neutrality agreement with Communications Workers of America (CWA), the largest media labor union in the United States, ahead of its high-profile Activision Blizzard acquisition. The agreement will only take effect at Activision Blizzard 60 days after Microsoft's acquisition closes, but will allow workers to "freely and fairly make a choice about union representation." It was a move that brought the CWA on side.
–August 22, 2022 // Saudi Arabia voices "no objection" to Microsoft's Activision Blizzard acquisition
Saudi Arabia's General Authority for Competition became the first regulatory body to approve the $68.7 billion acquisition, with the agency declaring it had "no objection to completing the process of economic concentration between Microsoft Corporation [and] Activision Blizzard, Inc."
–September 01, 2022 // UK regulator says Microsoft's Activision Blizzard deal could "harm rivals"
The Competition and Markets Authority (CMA), the UK's competition regulator, said Microsoft's planned $68.7 billion acquisition of Activision Blizzard could harm its rivals, and suggested it could investigate the deal further.
–September 15, 2022 // Xbox's Activision Blizzard deal to get in-depth probe by UK regulators
"On the information currently available to it, it is or may be the case that this Merger may be expected to result in a substantial lessening of competition within a market or markets in the United Kingdom," wrote the CMA, announcing its intention to probe the merger.
–October 06, 2022 // Brazil gives Microsoft-Activision acquisition its full restriction-free approval
Brazilian regulator, the Administrative Council for Economic Defense (CADE), granted the merger its "unrestricted approval," becoming the second global regulatory agency after Saudi Arabia in August to sanction the acquisition.
–October 19, 2022 // Microsoft says UK regulator's concerns over Activision Blizzard deal are "misplaced"
Microsoft responded to UK regulator the CMA by describing its concerns as "misplaced. The Xbox maker said the CMA's overarching concern that the merger will allow it to drive competitors out of business is "unsupported" and based on "self-serving statements by Sony."
–November 08, 2022 // EU announces investigation into Microsoft's Activision Blizzard deal
The European Union announced its own plans to conduct a full investigation into Microsoft's bid for Activision Blizzard, and said that by purchasing the Call of Duty publisher, Microsoft could gain the ability to "foreclose access to Activision Blizzard's console and PC video games, especially to high-profile and highly successful games."
–November 23, 2022 // Sony fears impact of Microsoft acquisitions on PlayStation business
In a letter to the CMA, Sony pushed back against the merger and said it would be at risk of "losing significant revenues" if Microsoft was allowed to become the owner of franchises such as Overwatch and Call of Duty.
–December 07, 2022 // Microsoft pledges to bring Call of Duty to Nintendo platforms
In an apparent attempt to ease regulatory concerns, Microsoft committed to bringing Call of Duty to Nintendo platforms for the next decade if its acquisition of Activision Blizzard is approved.
–December 08, 2022 // The FTC sues Microsoft to block its Activision Blizzard merger
U.S. regulator the Federal Trade Commission announced plans to block the merger on the basis that it would harm competition. "Today we seek to stop Microsoft from gaining control over a leading independent game studio and using it to harm competition in multiple dynamic and fast-growing gaming markets," wrote the FTC's Bureau of Competition director, Holly Vedova, at the time.
–December 23, 2022 // Microsoft and Activision Blizzard respond to FTC's acquisition lawsuit
Both Microsoft and Activision Blizzard responded to the FTC's lawsuit, and suggested the regulator's belief that the deal would somehow disrupt the game industry was misguided. "The acquisition of a single game by the third-place console manufacturer cannot upend a highly competitive industry, particularly so when the manufacturer has made clear it will not withhold the game," wrote Microsoft at the time.
–January 05, 2023 // UK regulator extends deadline for investigation into Activision Blizzard deal
With the debate surrounding the merger heating up, the CMA extended the deadline for responses to its investigation into the deal to March. It also moved the statutory deadline to publish its final report into the potential risks of the deal to April 26, 2023.
–January 23, 2023 // Microsoft looks to Sony for help in its defense against FTC lawsuit
Microsoft decided to subpoena its competitor in the hopes of building a defense against the FTC, asking for details about the scope of Sony's game production in a bid to prove the PlayStation maker is the current market leader.
–January 30, 2023 // Microsoft claims Sony is misleading EU regulators
A week later, Microsoft accused Sony of misleading EU regulators over the potential impacts of the deal, with Microsoft communications lead Frank X. Shaw suggesting Sony had been wrongly telling people in Brussels that the Xbox maker would be unwilling to offer parity for Call of Duty if the merger was approved.
–February 08, 2023 // UK regulator knocks back Microsoft's Activision Blizzard deal
Publishing the provisional findings of its investigation into the merger, the CMA said it believed the move would harm Microsoft's rivals and "result in a substantial lessening of competition." Proposing solutions, the CMA indicated it might be willing to approve the deal if Activision Blizzard was divested

–February 21, 2023 // CWA wants European Commission to approve Microsoft-Activision merger
The CWA continued to encourage regulators to back the merger, with group president Chris Shelton asking the European Commission to approve the deal between the two game publishers because it would "help make history in rebalancing power in labor markets."
–February 21, 2023 // Microsoft signs "binding" contract to bring Call of Duty to Nintendo platforms

Microsoft set its 10-year agreement to bring Call of Duty to Nintendo platforms in stone, signing a "binding" contract with the Switch maker that will give it continued access to the franchise should the deal gain approval.
–February 22, 2023 // Microsoft: Sony "hoping the future never arrives" by opposing Activision Blizzard deal
During press conference in Brussels, Microsoft vice chair and president Brad Smith said the company has yet to reach an agreement with Sony where Call of Duty is concerned, but suggested the company is simply "hoping the future never arrives" by opposing the merger.
–March 02, 2023 // Microsoft granted access to internal Sony documents as part of FTC lawsuit
Sony's bid to quash or limit a subpoena it was served by Microsoft as part of the latter's ongoing legal battle with U.S. regulator the Federal Trade Commission was denied in part, and granted in part, giving Microsoft access to some crucial documentation, including select files from Sony's in-house antitrust lawyer, Greg McCurdy
–March 02, 2023 // Report: EU to approve Activision Blizzard merger after Microsoft licensing blitz
Reuters reported that Microsoft's willingness to offer licensing deals to rivals such as Nintendo and Sony might've persuade EU regulators to approve its Activision Blizzard merger. The company has since followed up those deals by penning similar 10-year partnerships with cloud game platforms including Nivida GeForce Now, Boosteroid, and Ubitus.
[Updated on March 15, 2023 ]