Game development was once reserved for the experts. A vast amount of programming knowledge was imperative to make even the simplest of games. Nowadays, the case remains very near the same, with one rule-changing software, Project Spark.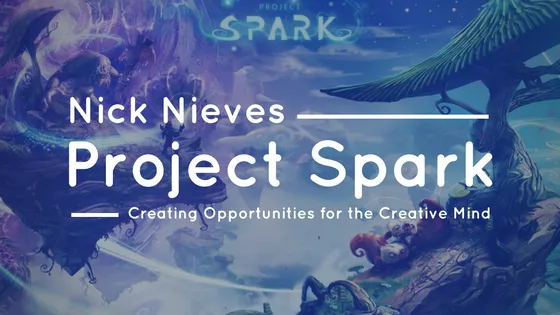 First announced at E3 in 2013, Project Spark generated a lot of interest in the months proceeding its release. Gamers everywhere finally had the chance to create what they loved, to use the ideas that had been in their minds in the form of dreams since childhood and they were excited, very excited.
This revolutionary software (available on Windows 8.1, Windows 10 and Xbox one) simplified the development process by introducing drag and drop elements and code-free programming. Would-be developers could now take the ideas from the back of their minds and give them life and do so without one iota of coding knowledge.
Project Spark users are presented with a blank canvass on which to build their games, opening up endless possibilities to the average person. Gone were the days where you needed a degree in Computer Science or hundreds of hours of spare time to learn the basics of game development. The days of game development accessible to every man and his dog were upon us. With a tool as powerful as Spark and the creativity of the masses of people drawn to it, it was inevitable that greatness was going to happen, and happen it did.
Many, many games (or levels) have been created using this software, so many it would be nigh on impossible to showcase every creation I deemed notable. Instead, I have selected a few of my favorites to write a little about in order bring you a clearer picture of the immense capabilities the 'game' has to offer. Ranging from the simple and quirky to the in-depth masterpieces each one holds outstanding merit to its creator:
The Elder Scrolls V: Skyrim - Project Spark: This game would never give Bethesda a run for their money, but this indie recreation of the best-selling title does a great job. The mission I found myself in required me to go up a mountain, battle some undead troops and retrieve a golden claw. I was delighted to find so many similarities to to it's multi-million dollar counter-part. Wielding a sword, I climbed a snowy mountain to its very summit where I was greeted with undead hordes (well, when I say 'hordes', there was 5 of them). Shooting fireballs from my left hand whilst swinging my sword around like a madman I -eventually- managed to send them back to the Underworld. The actual battle process was smooth, easy to pick up and a very enjoyable experience. On my way to the coveted claw, I found many Skyrim-inspired placements. Chests were dotted around containing gold and livestock wandered freely (for handy meals on-the-go). All in all, it really did feel like a budget Skyrim only with a 'different' feel, and for that, I love this game.
Snake: The much-loved (and often hated) craze of the late '90s, Snake was ultra-addictive. A lot of this was down to the fact that we were amazed that you could play a game on your phone but mostly it was down to the shear simplicity and pick-up-and-go gameplay. Creator (or re-creator) DonSjonnie, knew exactly what he was doing when he chose to recreate this absolute classic. It was great back then, it's even greater now.
Little Big Plan it: A cleverly named and beautifully executed Little Big Planet-inspired masterpiece. This game has everything you loved from the original with added indie-game charm. Little Big Plan it also supports mutliplayer which adds even more sprinklings of brilliance to this super-cute remake.
As apparent, Project Spark has opened up a whole world of opportunities for people otherwise beyond reach of their dreams. It goes without saying that it wouldn't be possible to make the next Call of Duty with Project Spark, but to make a difference in the wonderful world of gaming? Very possible.
If you would like to try some of the many great indie games available then head on over to G2A where you will find a huge selection of indie games. You can get a further discount using a G2A coupon.