When you have been one of the lucky ones to have created a hit mobile app, the next key challenge is to keep that game in the hands of your users: People who have constant alternatives put in front of them and many distractions in the form of playable ads and new app store recommendations.
It is hard to get the hit but it is even harder to extend your app's lifespan and to increase the key product metrics of retention, session length, and achieve the holy grail of building its LTV. Here, Vera Rabkina and Pavel Hasanov, Product Manager at Gismart, provide their top recommendations to help improve the lifespan of consumer mobile apps and games.
The challenge with building any mobile experience is that you don't want it to be too complicated. So, to boost product metrics, you have to be a good chef with the right recipe, adding only the necessary ingredients. The tricky part is that to create simplicity is one of the hardest things. In this article, we will share a few methods that have shown us great results and could be introduced to other mobile apps and games of various genres.
Gamification
Gamification is a strategy to consider for apps of all kinds. There are so many ways to apply gamification: from introducing mini-games to keep your customers entertained and to help them earn rewards (see task management app Habitica or eCommerce mogul Aliexpress), to creating a whole new gaming narrative like 'Zombies, RUN!', a running app with a creative soundtrack that encourages you to run faster because zombies are chasing you.
Gamification can be the pinch of salt that adds flavor to almost any app. It can be a powerful tool for creating electronic music, such as in music Beat Maker Go, inspiring meditation in Music Zen, or even engaging users with a simple utility app such as Metronome.
With the bar set high by a rapidly growing industry, it's always better to not only help the user to fulfill their task, but to keep them entertained while they do.
Social interaction
Anybody with a mobile phone knows how 'timesucking' social networks are. So, by integrating your own social features, you can inspire that same magnetic magic within your application.
There are two main strategies you can employ - Collaborative and Competitive:
Collaborative strategies have been successfully adopted by the match-3 superstar app Toon Blast, which has been rocking the charts for the last few years. In it, you can invite your friends to team up with you to play tournaments in which you share Lives, as you need them, to play the game.
Competitive strategy is much more common, as there is nothing more rewarding than beating your rival in a trivia or casual game. There are many examples of how this strategy has been adopted. See, for instance, QuizUp, where you compete to answer questions across a range of topics. Or, SongPop, where you compete to see who can guess the famous song quickest!
Collaboration & community
Another challenging task for any ambitious app is not only to be entertaining or to deliver exceptional service but to grow a community of devoted users. Although this is difficult to fulfill, it can definitely pay off. Having a strong community not only boosts retention but also provides you with priceless insights into your app. You can see what features matter and what functionalities you might be missing.
Building community around a common bond is the best way to start: at Gismart, many of our apps are all about music - something that has brought people together for centuries. We genuinely love how rapidly the community around Beat Maker Go is growing with users sharing tracks they've created via our app.

The best part of this is that as the community grows, users encourage each other to spend more time with the app before sharing the results of their creativity. This means that, after a while, you don't have to be the only ones working hard to grow your community.
Live Ops
Content is key to the hearts of many users. And, if something is only available for a limited time, it furthers their interest, as you are playing into that natural instinct of FOMO (fear of missing out). The most common application of this approach can be seen in RPG & strategy mobile games. Think of in-game artifacts, such as a unique weapon or outfit that's available for only 24 hours. Here is where Live Ops come in handy. It helps to manage promotions and offers in a personalized manner, as an individualized approach definitely pays off. Think of games like Clash of Clans, or social casino gaming, that individually tailor promotions and create unique gaming experiences.
Product ambassadors
We have all seen how product ambassadors have become a vital medium to deliver a message to your audience. In an era of Instagram Influencers, Beauty Bloggers, and YouTube stars, there are a myriad of choices - some obvious and some not so obvious that influence any gender or demography.
The mobile market is glad to tie famous faces to their apps and games, and the results are pretty impressive. See, for example, Kim Kardashian: Holywood, by Glu Mobile, which now boasts more than $1mln in monthly earnings. Or, the meditation app Calm, which made its breakthrough by inviting an English actor, comedian, and writer to narrate sleeping stories within the app.
Strategically aligned partners, that match product and gamer profiles, can help to deliver extra value and additional content, as well as boosting user engagement and activity levels. We had a brilliant partnership with the world-famous electronic dance music duo The Chainsmokers, who provided samples for our app Beat Maker Go and shared their insights on the app with their fans.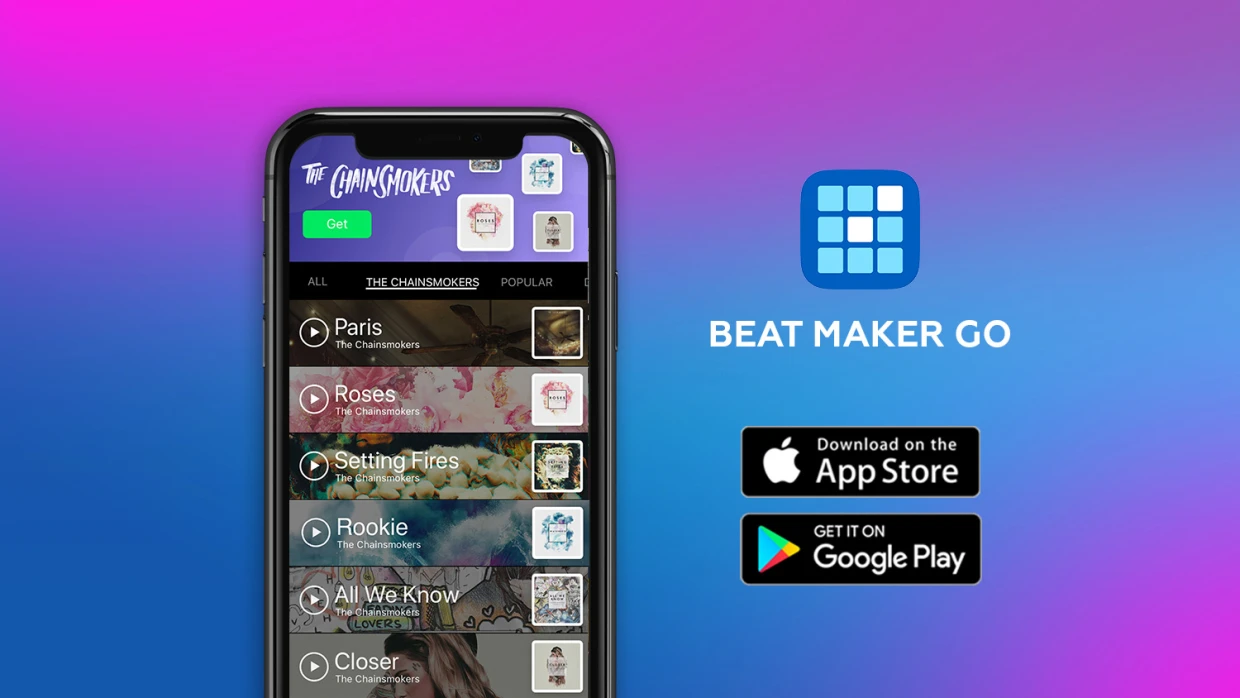 It not only showed excellent results in user acquisition but also inspired our community to create even more tracks in an attempt to reach the same level as the iconic duo themselves.
Conclusion
When you create your hit app or game the work has only just begun. Don't make the mistake of solely focussing on UA strategies: keep and reward loyal users and players by adding value, creating buzz and engaging their interest with different tactics. There are plenty of ways to re-engage users to improve your app's lifespan, and, even better solutions lie in taking an individual approach to each product. Just like you might have a favourite meal it would be boring if you ate the same thing every day. Be the master chef who knows your audience and serve up experiences that make them want to come back for more!