Retro Game of the Day! The Punisher (Arcade)

The Punisher by Capcom, originally released in the arcade in 1993 and ported to the Sega Genesis a year later.
Ever hear of a little beat'em-up game called Final Fight? Me neither, but apparently it was a pretty big hit for the Capcom, guys who developed it; because after it's huge success they really capitalized n it and churned out several titles which aped the gameplay to a T. Lots of other studios did the same, but of course the Capcom games (Aliens Vs Predator, Cadillacs and Dinosaurs, Captain Commando to name a couple) were a some of the very blatant ones. Also in that list, would be this game.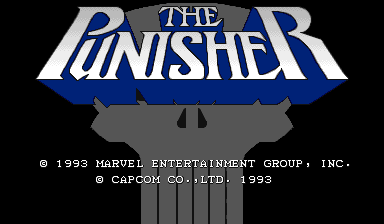 For that matter, ever hear of a guy called Batman? Me neither (ok, this is getting old) but apparently in the 1990s the charater was pretty big and he revolutionized the comic book industry (it's happened a few times!) Rival publisher took a few cues from this and tweaked one of their own characters to make him a lot more Batmannish, in some ways (excessively dark, gritty) as opposed to how colorful and spectacular/fantastic comic super-heroes had been for decades. Thus, the Punisher was often referred to as "Marvel's answer to Batman."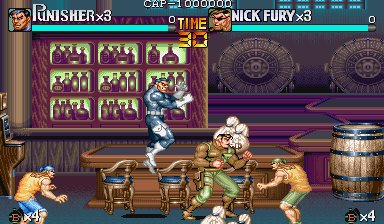 Fitting, then, that during the period the character should grace a few videogames and mooch off the franchise a bit. The Punisher actually lent itself very well, stylistically, to a game (and still would) but the franchise has never properly transcended its' source material. Still, they tried, and marrying the character with the Final Fight engine during those peak times was not a bad way to go.
Ultimately, the result was sort of a "Super Final Fight" style game, with less-than-colorful Marvel characters (Punisher and Nick Fury.. why not!) The gameplay and art style were strikingly familiar, they may not be much to look at now but in those days, gamers would gobble this stuff up and ask for more.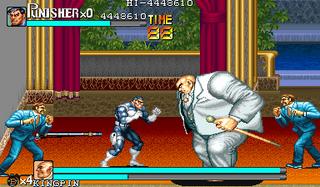 Unknown to me until now, it appears a console version was released for the 16-bit Sega Genesis as well sometime following the arcade original. It looks like they probably captured the essence of the gameplay pretty well, but with a heavy hit on the visuals. This was part of the charm however, so I don't think you had too many people rushing out to scoop up the home port.