Retro Game of the Day! California Games (Lynx)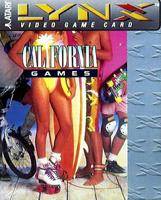 California Games by Epyx, for the Atari Lynx. Released at the system's launch in 1989.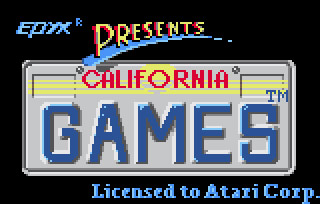 Now, here we have what I consider to be an amazing game for many reasons. Without getting too elaborate, I'll say this - the multiplatform "Games" series (Summer Games, Winter Games, etc) was one of software developer Epyx' most popular in the 1980s, and of those California Games was absolutely the most successful. So when it came time for the developer to create their own handheld system, it made sense to capitalize on their biggest-name product - though prior to release, it seemed a strange game to include as a pack-in (considering GameBoy had Tetris packed-in, and a Mario Land game available from the outset)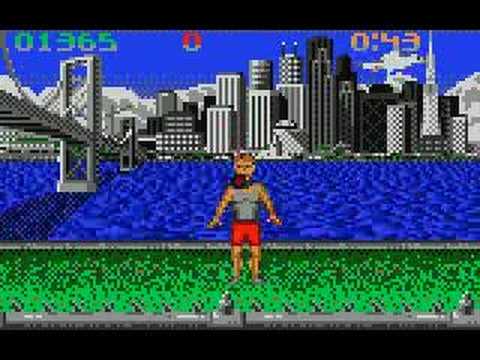 Well, when I finally got my paws on the game, all of my fears were immediately put to rest. I was a decent enough fan of the Sega Master System version of the game, but the new (different) Lynx version blew that one away.. or at least felt different and fun enough to stand on its' own ('cause I still have to admit, the Sega one was pretty good!)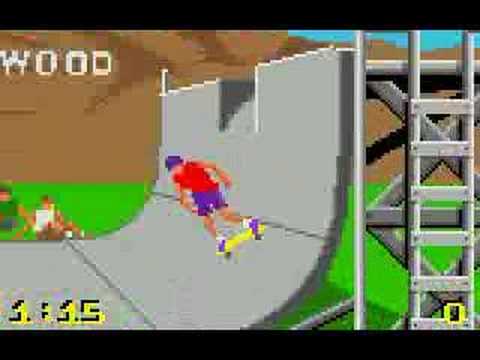 Lynx had 4 events - Halfpipe skateboarding, BMX bike, Foot bag, and of course Surfing. Each game was its own mini-game, but very well-assembled and none of them felt like they were rushed or sloppy. Each game had it's own set of rules and technique, even tricks unique to each - and the audiovisual presentation (and special effects) were nothing short of spectacular, given that this was compared to 1st generation GameBoy games. This looked better than many full-sized NES games even, with elaborate smooth scaling effects!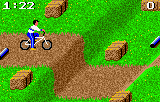 What's more, they made all of the games 4-player simultaneous compatible, such that if you had up to 4 buddies with the system you could all "link up" (hence the system's moniker) and compete in realtime versus one another, each with your own view of the action, something that was a huge novelty at the time. This was something not often appreciated (I only knew one or two other people with a Lynx) but the fact that they supported it so strongly was very respectable.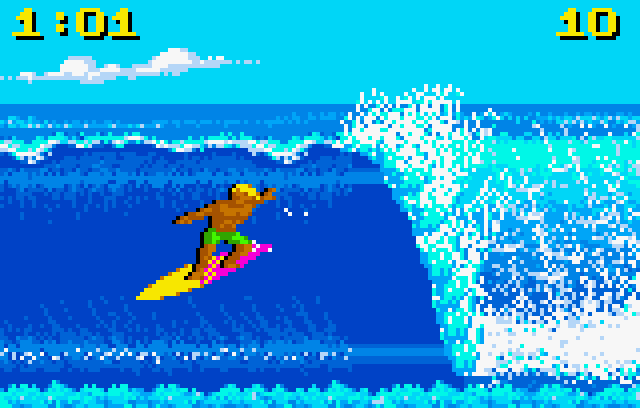 California Games is a very old game, built at a low resolution and intended for a very different audience than would receive it today; and yet, each of the games components are still quite fun and addictive, and the whole package drips with liveliness and quality. If there's ever a game to celebrate what's happy and exciting about summertime in California, this Lynx game does a very wonderful job of it and it holds up quite well today. It's still a blast fighting for high scores in the different events!