I'm writing this postmortem exactly two months from the release of République: Episode 1. Now that everyone at Camouflaj is back in the office and working hard on Episode 2 and the PC and Mac version of the game, it's been hard to find the time to sit down and reflect on the ten major lessons learned from the production of this game. A big thanks to Gamasutra for this opportunity, and Christian Nutt, in particular, who has been incredibly patient throughout this process.
This postmortem identifies the ten things that went right and wrong in building an independent company and shipping our first game – an ambitious, crowdfunded iOS game called République. You'll find the lessons learned to be common: things took longer than expected, we should have scoped more, we crunched more than we would have liked to, Unity is great, as are playtests, and damn, does it feel good to ship. While neither groundbreaking nor original, I hope this postmortem serves as a basic framework for game startups and Kickstarter hopefuls.
What Went Right #1: Starting Camouflaj
About three years into development of Halo 4, I decided to leave Microsoft to start an independent game studio. While it was hard to leave the project, the generous compensation, and the team that I was instrumental in building, I needed to get away from the demands of corporate Battle Royale. I finally wanted ship a game on my own terms, and to prove to myself that I could help create a game that wasn't built off the backs of billion-dollar, decades-old IP. It was time to put up or shut up, and maybe even make a game that would help push the industry in a positive direction.
From the beginning, I knew I wanted to help launch a game studio that challenged traditional notions of how a studio should operate. Looking back at documents I wrote in the spring of 2011, it's great to see that Camouflaj has developed into a studio that is remarkably close to our original version: "A boutique game studio focused on quality, meaningful games for an international audience." We've worked hard to keep our team's focus on positive aims, instead of looking in the rearview mirror, obsessing over what we didn't like about previous companies.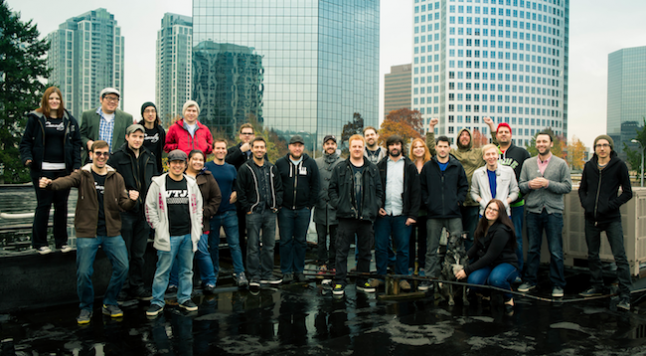 One aspect I didn't anticipate properly was how much time I would stay away from the game itself, focused squarely on managing and building a healthy team. That time was well spent, however, as we've gathered an incredible team of professionals. Camouflaj team members are loving, self-starting, and motivated by altruistic goals. We all want to raise the bar on game quality, tell stories that impact people, and be good industry citizens. In other words, Camouflaj is a crappy place to work at if you're all about job titles, cashing out, or having a bigger office than your neighbor.
We make our own rules and stay flexible. We stay humble by working out of a dumpy, leaky building. Where we lack in high salaries and benefits we make up for in team comradery and a love for what we're doing. I love working at Camouflaj.
Our little studio is far from perfect, however. An office full of twenty young, idealistic game developers is a fun environment to make a cutting edge game like République, but it isn't necessarily equipped with the maturity and expertise that it takes to run a real company. That's why one of our biggest wins was teaming up with ex-investment banker, business professor and close friend, Jeffrey Matthews. Acting as a sort of "dad" to the studio, Jeff was instrumental in working through all the personnel and financial challenges that most startups encounter. I look back at partnering up with Jeff as one of the few smart decisions I made in this entire endeavor, and often recommend to other startup friends that they find their own Jeff.
Another friend we've been working with is Gavin Carter, former Fallout 3 and Halo 4 producer, who parachuted in at the tail end of Episode 1 production to run a proper team postmortem. You'll see a number of his findings have informed this article – many of which were big wake up calls for me. While there are plenty of things we did wrong in our first two years, I'm proud that we executed on our goal of creating a healthy studio environment. Here are the main positives that Gavin reported on:
Respect & Trust
Willingness to Help
Openness & Transparency
"Individuals were trusted in their commitment to certain features and felt empowered to make feature-level decisions during implementation. Many members cited many positives, including humility and the absence of individual blame for problems. All team members felt informed throughout the project in terms of the state of the team, the project, and Ryan and Jeff's views on the company health. Ryan comes across as honest and approachable in meetings. Team syncs were widely cited as beneficial and well run."
Seeing this put a smile on my face, as it hasn't been easy to start a studio from scratch. That warm feeling quickly dissipated, however, once I dug deeper into Gavin's report. You'll see that the project was a lot more troubled than I initially thought…
What Went Right #2: That Whole Kickstarter Thing
Kickstarter is the best thing that ever happened to République. While it was anything but easy, as detailed in my postmortem on our crowdfunding campaign, our spring 2012 Kickstarter campaign forced us to commit to a clear vision and essentially go through a process not unlike shipping. It was a great testing ground for our new team. Most importantly, Kickstarter provided a half million dollars that was neither debt nor equity. Outside of staying at Microsoft for a decade or winning the lottery, Kickstarter was our only path to gathering enough capital to retain complete independence and control over our own destiny, especially in our fragile early days.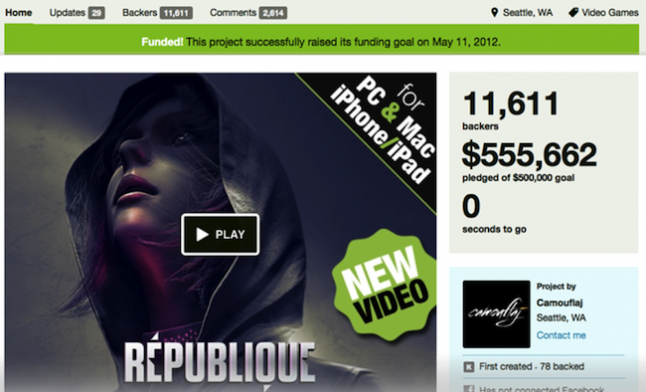 Prospective crowdfunding hopefuls oftentimes forget that it's not all about the money – our photo finish Kickstarter put République on the map of almost every gamer, games journalist and publisher around the world, and provided an instant community of over eleven thousand people. We instantly embraced our backers, and began sending them detailed monthly development updates. Not only did our backers love the transparency, but it also forced us to stay accountable – an invaluable exercise for a young team without a publisher or investor to answer to. We treated our backers like micro investors, and we took the responsibility seriously. When we missed milestones, our backers were the first to know and they appreciated the honesty.
I can't emphasize enough how positive our Kickstarter experience has been. As you'll see with the rest of this postmortem, the development of République was riddled with problems. Put simply: we tackled an extremely difficult vision, especially for a new team. We plugged away for over a year on a game that just didn't work. I'll present that story in full at GDC this March, but I went home feeling like a failure for over five hundred nights on this project. If République had been developed inside a traditional game company, it would have been canceled six times over.
Thanks to our creative and financial independence, we were able to focus on solving the core issues instead of suffering a slow, "death by demo" demise. We are forever indebted to Kickstarter, our friends and family who supported us during the darkest hours of our campaign, and most importantly, the eleven thousand backers who believed in us.
What Went Wrong #1: Development Doldrums
Many teams struggle with mid-development doldrums – a critical period between the euphoric high of conceptualizing the game and the elation of shipping. A certain funk permeates through the team as individuals struggle to piece together a fun, playable game. I've seen many teams struggle with it on previous projects, which is why I wasn't surprised when Camouflaj entered a period of low morale last spring.
In the case of République, our development doldrums lasted from late March to early August – a long time for the team to wrestle with the anxiety of working on an unfinished, un-engaging game with no end in sight. A lot of factors contributed to this anxiety:
Ambiguity over key design issues (Hope AI, cameras, combat, OMNI View)
Ambiguity over our monetization strategy amidst the freemium boom
Ambiguity over our financial future as Kickstarter funds started to run out
However, the number one source of anxiety was the feeling that we weren't making progress. At the root of that was the sense that we tackled too much game for a team of our size. I usually do a pretty good job of rallying the team and focusing on positivity, but even I was having a hard time wrestling with the idea of delivering five episodes by the end of the year. (For the record, we barely shipped our first episode by Christmas.) While I think my ambitions were legitimate, my overzealous nature was undermining the team's belief that we could ship any episodes at all, let alone five of them.
By the end of March 2012, we had something we called our "vertical slice," based on the spec for Episode 2. Looking back, it's still quite impressive and it showed well at GDC meetings, but it was a far cry from a true vertical slice. Despite that, the deliverable energized the team and we got to work on developing the rest of the episodes. Unfortunately, we wrongly assumed we knew everything we needed to know coming out of our fake vertical slice.
One of the most important meetings we had at GDC was with Fireproof Games' Barry Meade, the lead on the highly successful, The Room, mobile series. He told me that one of their secrets to success is scope, focusing on small deliverables and relentless polishing. It's no wonder The Room does so well – it's easy to talk the talk, but very few actually walk that painful walk of true scope discipline. After nodding my head in agreement to everything Barry said over sushi, I left the meeting and told Jeff, "OK, Barry's right… We're going to focus the team on only the first three episodes!" I still wasn't getting it.
What transpired over the next four months was a well-intended, but ultimately foolish push to concept, write, design, and mass-out five episodes worth of content. We shifted the team's focus to the first three episodes while I worked on the design of the fourth and fifth episodes with external designers to avoid distracting the team. Much to the credit of these highly professional designers (Ron Millar, Patrick Wren and Ben Ferris), we were able to mass out most of the game by summer. Meanwhile, the core team tried to piece together three episodes worth of content.
E3 2013 was probably the lowest point for me. It was three months after our GDC build and the game looked and played dramatically worse. I had a build on my iPad but refused to show it to any friends I bumped into at the show. For most of that week, I hid in Bryan Intihar's house and watched E3 stage presentations of polished games. I remember going out on Bryan's porch, Skyping with my girlfriend and confessing for the first time in two years that I was burnt out. I just didn't have the urge to work that day. She encouraged me to take the day off and get my mind off the project. That was good medicine.
A few days later I flew back to Seattle committed to righting the ship with the help from my friend, Mark MacDonald. I convinced Mark (co-owner of 8-4, Ltd.) to take a two-week detour through Seattle and help bring clarity to the République project. What transpired was two solid weeks of scope and refocus. I asked Mark to be hyper critical of everything we had and refocus the story and design flow of a single part. Finally, after over a year of stubbornness and dreamy ambitions, I focused the team on only Episode 1 to ship by the end of the year.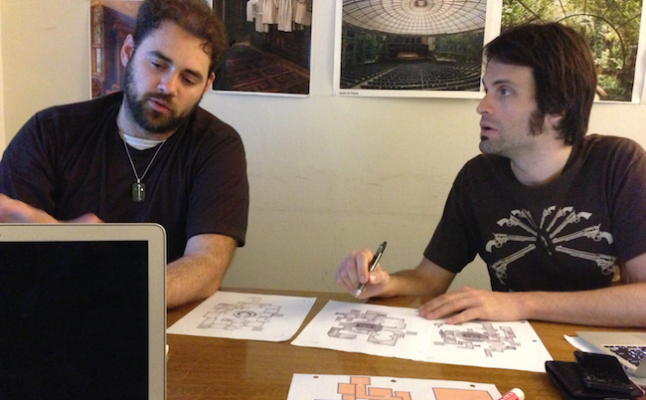 The post-E3 work culminated in an epic presentation to the team on July 7 where we officially stopped working on anything unrelated to Episode 1. I reviewed the studio and game vision with the team, we printed out maps of the first episode and posted them on the break room wall. We scoped the feature list down (putting off non-EP1 features) and split the team into strike teams to encourage more ownership over specific development areas. We presented a new development calendar that was, in retrospect, totally unrealistic (shipping in September), but the renewed focus and clarity supercharged the team. Finally, after nearly four months of a cloudy development climate, we were finally driving towards a realistic goal.
What Went Wrong #2: Uneven Crunch
For most of development, Camouflaj experienced an identity crisis regarding the sensitive issue of crunch. We wrestled with the question: Are we going to embrace crunch like many other studios? (Who also happen to make our favorite games.) Or are we going to be more progressive and figure out how to ship quality with only eight-hour days?
Much of this waffling occurred under the guise of an industry-wide rethinking of the whole concept of crunch. What began with game developers publicly questioning whether crunch was healthy or not, evolved into an issue that hardcore gamers are becoming increasingly aware of. As we saw last year with the controversy surrounding the Ryse team's pre-launch crunch tweets, developers and gamers have to be increasingly sensitive to the topic of work hours. Meanwhile, many ignore the fact that crunch-heavy studios are oftentimes behind the most critically acclaimed games like The Walking Dead, Dark Souls and The Last of Us, just to name a few.
Camouflaj began as a very crunch-heavy studio. Leading up to our Kickstarter debut, we worked days, nights and almost every weekend for four months. We pulled all-nighters, slept in the office, and quickly ran ourselves into the ground. Coming out of GDC 2012, many team members vowed to never crunch again – they were exhausted and began to cite indie developers' GDC quotes, "If you're crunching, you're doing it wrong." At that time, I agreed. We were ruining peoples' lives with crunch, so Camouflaj was going to help blaze a trail and prove that you can ship a high quality independent game without imposing crazy hours.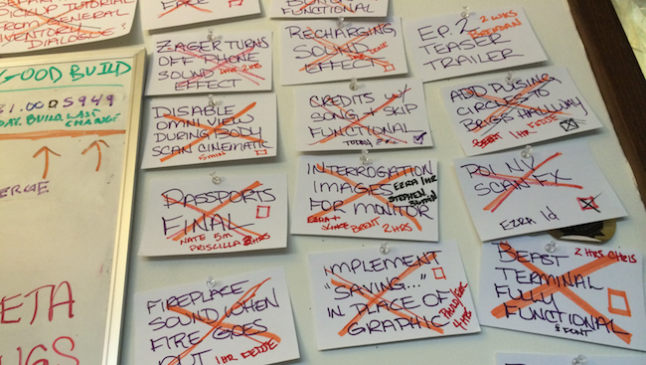 Throughout the development of République, our anti-crunch principles were shaken by the reality of our circumstances: we were a startup, we had to deliver what we promised to our Kickstarter backers, and from a cash flow perspective, we needed to ship by the end of the year. We also never seemed to hit our deadlines, which caused the team to lose confidence in our ability to ship anything at all.
To further complicate things, I, along with a number of colleagues, began to quietly question our whole anti-crunch philosophy. As we got deeper into development, many of us swung back to the warm embrace of crunch in order to get the game out the door. We actually increased productivity, increased morale and shipped a game we were proud of in large part due to the brief but intense periods of crunch. On the negative side, a schism remains within the Camouflaj team between those who adamantly avoided crunch, and those who built a strong bond by pushing to get Episode 1 out. The situation only got worse when non-crunchers forwarded internet links to the team about how unproductive long hours are.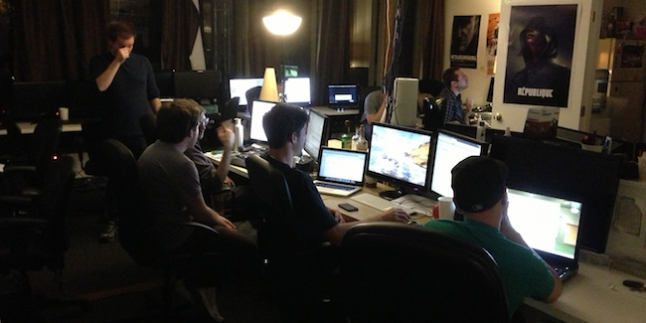 Despite the division, we powered through. After an all-nighter, we finally submitted our build the morning of Thanksgiving. Tired and exhausted, the team retreated to their families and took a well-deserved four-day rest. I, personally, drove down to Oregon for the holiday, worried that our submission build wasn't good enough. My suspicions were validated when I put the build in front of my best friend from back home. He said he liked the game, but noticed a significant lack of polish. It was then that I made a tough decision, as reported in Gavin's postmortem:
"A big demoralizing moment was when we crunched straight through into the morning of Thanksgiving. We all thought we were done, but then we had to come back in and crunch again for resubmission."
On the Monday following Thanksgiving, I was back, rested, and ready to push through dozens of new fixes. By resubmitting, we were jeopardizing our chances of shipping before the App Store closed down for the year, but I was willing to take that chance. After our arduous Kickstarter campaign, after two and a half years of hard work and all the money we invested, I just couldn't let that Thanksgiving build be our first product as a company. I pushed for another ten days of intense work, and the team suffered from the crunch double dip.
Despite a tumultuous final month of development, I'm proud to say that République's crunch was mild compared to most game projects I'm familiar with. We were respectful of people's time and personal circumstances, and never demanded anybody come in on the weekends. Even still, crunch remains a sensitive topic. As we get deeper into Episode 2 development, the issue of work hours is something we're going to have to tackle head on.
What Went Right #3: Liberation via Unity
The decision to develop on Unity was one of our smartest decisions we made. Put simply: the ubiquity of Unity enabled us to make République exactly the way we wanted.
When industry friends look at the end credits of Episode 1, they often ask how we found the five or six million dollars it would take to build a team of that size. When I tell them that République was made for a fraction of that, with a core team of twenty-five (and only ten of whom had previous industry experience), they don't believe me. It really comes down to pairing passionate people with the usability and global proliferation of Unity.
During the production of Episode 1, we brought in a number of intern-level people, put them in engine and watched them fly. Having worked on multiple projects where the game engine was a scary black box that only the most senior people understood, I felt completely liberated with Unity. It was easy to find young, passionate people who wanted to get involved in professional game development and get them to be productive, fast. Many of our new recruits were students from local colleges like University of Washington and Digipen. Balancing half of our studio with young talent kept us young and agile, and many of our former interns have come on as full-time, highly efficient team members.
Greg Raab, one of a few of our ex-Monolith developers, likes to point out that one of our greatest strengths was our young, fearless team. Oftentimes, we'd pitch the team on complex features that wouldn't pass muster with veteran developers, yet our younger team members were highly motivated to try anything. When playing République, it's clear that we have no shortage of daring new mechanics – it's a true testament to our fearless staff and Unity's ease-of-use.
While Unity was certainly great for ramping up young, local developers, Unity also opened the door for dozens of collaborations with veteran developers from around the world. Whenever we got into a pinch, it was easy to connect our veteran staff members like Stephen Hauer with freelance Unity developers that were familiar with tech art, UI, and even low-level mechanics. We were able to work with many talented developers around the world and easily plug in their work. One of our biggest success stories was Yusuke Ikewada, a veteran UI designer and Unity professional. When I told a friend of mine that we were in desperate need of UI help, he recommended Yusuke. Within days, Yusuke was in our source control, working remotely from Tokyo, and implementing brilliantly designed UI into our game. This is definitely the future of video game development.
What Went Wrong #3: Unclear Quality Bar
Following the submission of Episode 1, Gavin partnered with Darci Morales, our amazing in-house producer, and gathered anonymous feedback and get an honest report on all the great and miserable things we did as a development team. One of the most common areas of frustration was about the unclear quality bar:
"The quality bar was never really defined beyond 'playable,' and that was always vague."
"I felt like it was always 'not good enough, try again,' and 'oh, here are five new things to do.'"
The team felt that the quality bar was never firmly established, and that it wasn't clear when a given task was declared done. Most of the time, features didn't move into the "done" box, but were rather placed into a strange purgatory where they awaited their fate: "done" because there was no more time left, or "in progress" because I wasn't done tweaking.
This sort of indecisiveness contributed to unnecessary stress on the team, who never felt like they could check anything off their list of accomplishments. The whole method of "I know what 'done' looks like when I see it, but here's the deadline", just didn't sit well with most people, especially when they worked hard to meet a deadline, only to have the deadline extended once the work wasn't deemed good enough.
Much to my chagrin, the development of République ended up mapping closely to the Japanese style of game development that I vowed never to do again. For instance, we prepared dozens of features, threw them together near the end of development, and then tried to connect all the desperate parts together into a cohesive experience. As much as I wanted to iterate on our core gameplay loop for the better part of 2013, we only got serious about iterating on what we had in October, just two months before ship. Our method: rigorous playtesting.
What Went Right #4: Disciplined Playtesting
On October 14, I picked up designer Paul Alexander from the airport, scolded him about his annoying Twitter feed, and then explained to him why I flew him to Seattle for two weeks. Much like Mark MacDonald's visit, I needed help focusing the production on what's most important: pummeling the game into submission. We were going to be République's worst enemies by becoming hyper critical, prioritizing what needs to get fixed, and rallying the team to the finish line.
Our spirited push began and ended with vigorous playtesting. Thanks to Paul, Natedawg and Aly, we got into a rhythm of hosting nightly playtests with over fifty local Seattleites who graciously volunteered to play through the entirety of Episode 1. (Which usually took between three to four hours.)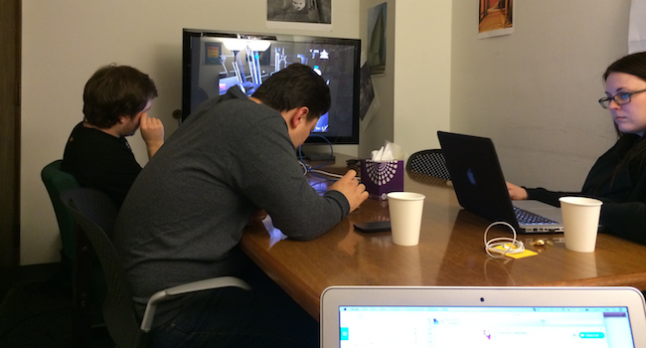 For each playtest, we hooked the iOS device to the big screen and recorded the playthrough. We would then quietly watch the playtester struggle through the entire game, never talking unless the playtester asked a question we could answer. (Which was rare.) Instead, we asked the playtester to pretend like we weren't in the room and to give us an audible stream of consciousness.
On average we logged about 300 issues a night, half of them bugs, half of them ideas on how we could improve the game. From there, I would take the playtest video and chop each issue up into twenty second clips and log them in our bug database. By the time the team got in the office the following morning, their bug list was filled with dozens of mini video clips and short text descriptions of the problem. It was critical that we relied on video to remove any ambiguity about the issue.
After a rough first week, we got into a nice groove logging and solving thousands of issues. I woke up at around 5 a.m. every morning to give myself enough time to log the bugs before everybody got to the office, and most of team members worked late nights to clear their bug queues. The bigger issues were brought in to our triage "tribunal" while I filtered minor issues to individual team members. The most common issues I logged were related to awkward camera changes and erroneous Hope cover moment. I sent most of my bugs to Vincent Loiseleur, who smashed as many as sixty or seventy bugs a day.
As with most things, there wasn't a silver bullet that instantly fixed our game. However, with regular, disciplined playtests and an amazingly smart and efficient team on the receiving end, we were able to take polish bird by bird and transform République, in less than two months, from a total embarrassment to an experience that many critics applauded for its polish and attention to detail.
What Went Wrong #4: Ryan Payton
In many ways, Camouflaj is an attempt to create an environment that solved many of the things we didn't like about big companies. Among those: creative directors. I found that team members didn't like working with creative directors on previous projects, mainly concerning how close-minded, unapproachable and flat-out wrong they oftentimes were. I remember being guilty of that at Microsoft, and so I set out to create an environment that would foster more team-wide creative ownership. While I think we made significant gains, I regret that I ended up being much more dogmatic on Episode 1 than I initially wanted to be, resulting in a lot of unnecessary stress on the team.
On paper, a flat-structured team like Camouflaj sounds great, but there remains a core problem with this concept that I haven't been able to reconcile: our company has a founder, and this person has the responsibility of making final decisions and keeping the lights on. At Camouflaj, that responsibility rests on yours truly, which brings me back to one of the more regrettable aspects of Episode 1 development: I wielded my creative power in ways that demotivated and disempowered employees. So much for my dream of fostering a creative and collaborative utopia…
Early on with the project, I was happy with what I brought to the team: a clear vision of a different type of game. We started off more top-down than I intended, but I came to realize just how important strong vision is, especially early in the project. Now, if there's a model solution for how to create a complex, innovative game in a totally flat org, I'd love to hear about it, but I simply found that our team needed a champion who could steer the creative ship. This is a core reason why, I believe, Valve acquires all of the design of its game properties (Portal, Left 4 Dead, Team Fortress, DOTA, etc.). That is absolutely not a knock against Valve (one of my favorite developers), but simply recognition that even flat organizations need a few individuals to really push the project in the right direction during the critical inception phase.
For the first year of the project, I tried to be a positive contributor. At every opportunity, I would remind the team of our vision statement: "Use your iOS device to help a mysterious woman escape from a secret Orwellian nation." I would quiz them on the game's core pillars: "One Touch," "Stealth Survival" and "Keep Hope Alive." (Sorry, the fourth pillar is still secret.) I also came up with creative ways to help the team wrap their head around the game we were building. For example, I partnered with now-Double Fine employee Christopher Lam to storyboard our combat system. The team found these to be very helpful: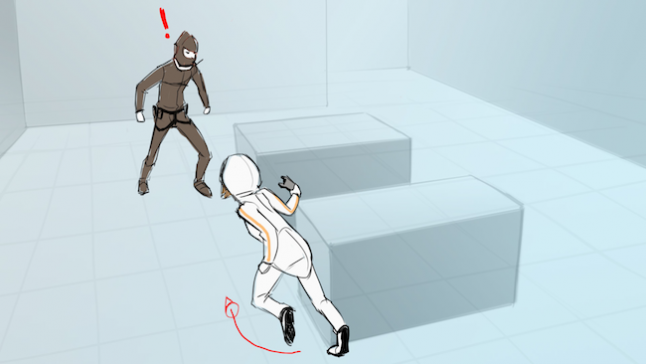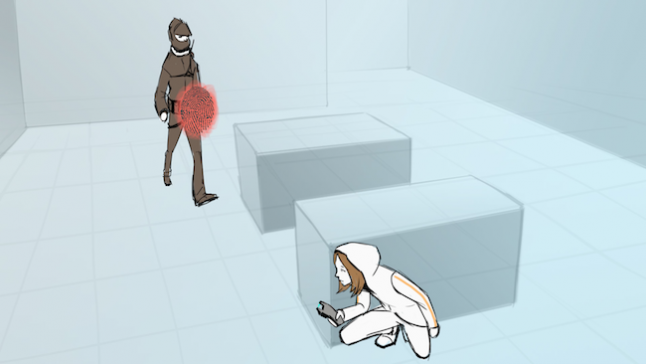 For the majority of the project, I mostly stayed out of the way of the artists, animation and audio folk, but I increasingly s