iPhone App Game Development Blog #28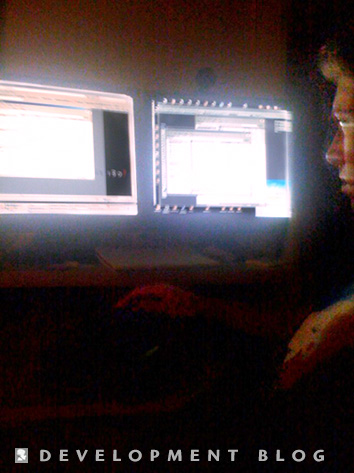 Time for another update from the land of Heads, Cases, and Games.
180 for iPhone - Right, so our game is 2 weeks on the Appstore now. How about that, right? It's actually been a pretty wild couple of weeks and there's a lot to say (and a lot going through my head on the matter). I'll keep it brief - basically, I am extremely pleased with the reviews we've been getting on iTunes as well as the discussion in the main TouchArcade thread. Both point to a lot of very satisfied customers.. I love logging onto the openFeint leaderboards and watching more and more new people signing up and seeing their scores rise as time passes. I love hitting the top 20 or so players and checking their profile, and it says "last played 180, last played 180." It is very satisfying to have all these people who I don't know sucked into the addiction of our little game!
We've been getting a little coverage online, Jorge at oldschooljunkie.com was nice enough to do a video review of 180, and the dude went above and beyond the call of duty by posting a nice interview with yours truly. Cheers!
Gametrailers.com was awesome to us as well, and posted a hirez upload of our 180 demo trailer for all to see. The trolls chewed us up, but at least we got good several hundred hits off of that.
So overall, things are progressing fairly well. I wish the sales were moving along better, because that is what is really gonna make or break everything. We have a really solid game here and it's not terribly difficult to sell, it's just getting people's attention long enough to even give a look that's such a hurdle. There is such a steady flow of good-looking quality product streaming steadily through the scene right now, and unless you have the tech/brand power to loom above it, it's just a tooth-and-nail battle every step of the way.
As usual, here is where I pipe up about how important it is that we get support from our community. I know a few of you out there are reading this - be proactive! If you really appreciate our game, help us out by doing something. Give us a rating and review on iTunes (this is huge, and every one counts, believe it or not!). If you've not been to our TouchArcade thread, definitely hit it and give us some praise in there. If you have done that already, chime in about how you're still enjoying the game or perhaps some features you'd like to see implemented. Fostering conversation is key! Otherwise, tell your buddies that they need to get this game as well - everything helps, and you guys are all we have got :)
The next step, for us, is to get the Free version out there, and from there we can start hitting everyone from our end. Free is what will be most tempting to the average consumer, and hopefully from that taste they will want the full experience. That's the plan! Free has been in submission for several days now, hopefully it won't stretch into weeks before it sees a release. Time will tell.
Lastly, the biggest thing we can hope for is to get featured on the App Store. This is a tall order and it's not something that comes easy, especially to tiny devs like us with a simplistic-looking puzzle game. If we can get some noise out over there, it would be huge, because I have seen that happen - but it's a long shot. If we do get that, then we are in like flynn!
Bizdev - not much else to report otherwise. I am extremely busy planning promotions and trying to keep the momentum going, which is difficult as more time passes (rubbing two sticks together!) I have some excellent plans for a promotional contest which could potentially bring us some pretty good attention. I am going to wait for Free to become available and share the press, but it should be very cool and I think a lot of folks will like what we have planned. Otherwise, I am busy (still) trying to get another project wrapped up.
What Else is Going On - I am pretty zoned out of the news in general right now, my brain is actually pretty fried from all that has been happening. All I know is that E3 is in a couple of weeks and there's a huge amount of things that I must accomplish before that time comes. I still am not sure in which capacity I will be attending the show, hopefully I can make it out onto the floor like usual. I am excited to try and connect with other indie folks, whatever press guys I can, and just be sociable and get my game seen. If you're gonna be in Los Angeles for the show and would like to meet up for whatever reason (developer, media, or just a fan) then drop me a line!
What Have I Been Playing? -yeah, I am slacking on gaming recently. I play a lot of my own game (yeah, still!) and of course Drop7 is the other main culprit, eternally. I've downloaded a bit of new software to my iPhone lately, maybe I'll do a few reviews over the weekend of that stuff.