Released by Supercell in 2012, the Clash of Clans franchise has generated over $ 5 billion in revenue and continues to dominate the US App Store. Want to replicate Supercell's success? Here's how to make a gaming app like Clash of Clans – and how much it will eventually cost you.
---
Key factors behind Clash of Clans' success
Clash of Clans is a freemium mobile game that enables players to build towns using the resources seized from other players. The game incorporates elements of strategy, Tower Defense and city-building simulation and allows players to receive and donate troops and create clans (up to 50 people) in order to participate in clan wars.
Here's what made the game successful:
Fine balance between the sophistication of video games and triviality of popular mobile gaming titles;
Multi-player component (which, in its turn, drives user engagement);
Clever monetization strategy (free to play, pay to unlock new features faster);
Elaborated gameplay (which evolves over time and…never ends);
Soft launch (that is, a controlled release of a mobile app outside a publisher's target market that involves through KPI monitoring and continuous feature set optimization);
Experience (before Supercell achieved mainstream success, they'd built and scrapped 14 games).
5 years on, Clash of Clans remains the top-grossing game on the US App Store with over $ 1.9 million daily revenue.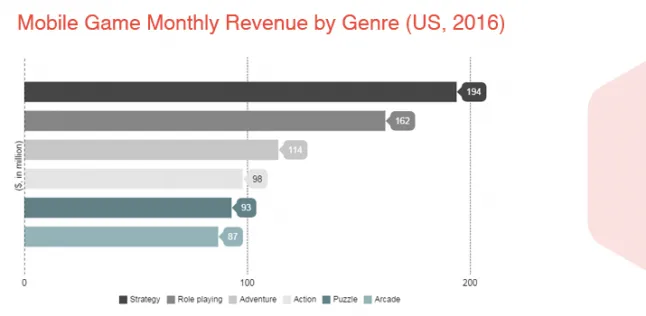 Building games like Clash of Clans: dev tips
From Density to Space Miner Wars, there are dozens of Clash of Clans clones. In order to stand out from the competition, your game should have an original gameplay and settings/mechanics.
That being said, Clash of Clans' game mechanics is fairly simple:
You build a town and train your barbarians;
It's time to attack someone (or protect yourself);
The engine calculates the battle's aftermaths and presents the data to you. You can't affect the battle's outcome – and few Clash of Clans' clones even bother to visualize the fight.
The rest of the game is limited to social engagement: in order to raise the profile, players have to build bigger bases and attack as much towns as possible.
As a result, game developers often copy certain Clash of Clans' elements and fail to bring fresh ideas to the table.
In fact, it is the opportunity to build towns and repel attacks offline that makes Clash of Clans (and some of its copycats!) an instant hit. If you introduce arcade elements to the gameplay, for example, players will have to devote a lot more time to the game (and hardly anyone has much free time these days). Game vendors who focus on the city-building feature, on the contrary, can't compete with SimCity and City XL which have been around for years and are pretty good at what they do.
Ways out?



Pavel Shylenok, CTO at R-Style Lab, believes it is the original story and social component (cooperation) that will boost your chances of success. He further brings example of The Witcher, a popular video game franchise based on the novels of Andrzej Sapkowski. Provided you create a well-thought-out alternative universe similar to the Middle-earth (Tolkien) or Alamut (the Persian fortress from Bartol's novel which became the settings for Assassin's Creed), you'll have no difficulty in engaging your target audience.

How much does it cost to make a game like Clash of Clans?
A Clash of Clans clone's dev budget will feature such provisions as graphic content, software development and marketing; however, you should allocate additional $ 5-10 thousand per month for ongoing maintenance (server costs).
On the whole, coding will account for just 30% of the game dev process; the remaining 70% of time will be spent on crafting high-quality graphics.
Graphic content
Icons. Even if you create your game in 3D entirely (3ds Max and Maya), you'll need to hire experienced 2D designers to draw icons for every character, upgrade, building, artefact and tool. The original, for example, features over 1 thousand icons – and each of these icons should be sketched and drawn by hand and in vector;
Playing fields and characters. Clash of Clans is a city-building game; once a player upgrades to the next level, he expects to find his assets altered (even if not significantly). As a result, you need to craft high- and low poly models of each building for each of your game's levels and texturize them (at least 500 items). Also, there are units and characters. And don't forget about animations.
In the end, a Clash of Clans' clone visuals will cost you at least $ 200 thousand (with $ 60-70 thousand spent on developing character and game setting concepts).
Software development
A mobile game like Clash of Clans features both the server-based and client-based components:
Server-based part. A server (which has to be highly scalable – and deployed worldwide) keeps track of each player's building, military and spending activities, synchronizes user requests and supports player interaction. In order to ensure the game architecture scalability and reliable performance, you should choose the right tech stack for your project (NoSQL, Node.js, PHP, MongoDB, etc.) and invest in server infrastructure ($ 5-10 thousand monthly). Maintenance costs aside, the server part will cost you $ 40 thousand;
Client-based part. While servers handle decision-making, it is the client-based component that generates requests and creates the ultimate user experience. The software costs at least $ 80 thousand to develop.
All in all, coding will consume up to 40% of your entire dev budget – that is, $ 120-130 thousand.
Story pitch
We've already cited an original gameplay as the key factor behind your game's success. However, you also need to pitch your story the right way. Between clash attacks and town-building, players might want to explore the alternative universe by checking characters' background information and spying on their rivals. Since no one bothers to read text descriptions, you've got three options here:
CGI film. A short clip created with the help of visual editing software (aka "computer-generated imagery") will cost you up to $ 40 thousand (which is too much for an aspiring game developer);
Comics. Here the term refers to partially animated images created in 2D (Adobe Illustrator and After Effects). Such clips may feature a soundtrack and cost 50% less than CGI visuals;
Partial character animation. The approach is often taken by Japanese animation studios that operate on a shoestring. What they do is create several 2D sketches of each character reflecting a wide range of their emotions. Once characters confront each other (or interact with an unanimated object), explanatory text pops up on the screen.
Supercell builds "games that people will play for years", so the number of explainer videos in a Clash of Clans clone can be close to infinity.
If you want to engage users and show your masterpiece in a good light, make sure to invest at least $ 50 thousand in story pitching.
How much does it cost to create a game like Clash of Clans: summing it up
Marketing and maintenance costs aside, we've arrived at a figure close to $ 400 thousand – and that's the very minimum budget for a long-lasting hit like Clash of Clans.
Once again, among the features that may propel your game to the top of the charts we should list player interaction (that's what modern challenge-focused gaming apps lack) and a well-developed story.



Provided you address a reliable offshore iOS/Android app development company and come up with a flexible business model that presupposes gradual gameplay and feature set evolution, you may start with a $ 200 thousand budget and continue the dev process after the game release.
However, mobile app users aren't here for another stillborn Clash of Clans clone – and $ 200 thousand may not be enough to breathe life into it.