I have been developing games for quite a few years now. I started out on the Amiga, and have worked on various different types of game, from casual sports games, through to FPS, retro games, racing games, puzzle games, and it is always a wonderful experience creating a new concept and taking it through to release.
My latest game though, in creative terms, is something rather unique. It is called 'Best Buds vs. Bad Guys', and I created the game with my son Lucas, who was 10-years old when we began (he is now 11, fast approaching 12!).
We both love playing games, and I have managed to get Lucas to appreciate the joys of classic gaming, and now he is a big fan of Mario, Sonic, Castlevania, Mega Man, and quite a few more! One day a few months ago we were chatting, and decided it might be fun to create a game together.
We actually call each other 'best bud' in real life (or 'best' to keep it short). We are also both on the autistic spectrum, so we see the world in a slightly unique way. We wanted to get the message across that having a condition like Asperger's doesn't prevent you from making your dreams and ambitions come true. Truth be told though, Lucas doesn't like to talk about that too much, so we haven't made too much reference to it in the game. We wanted the game to be about fun, and, well - shooting lots of nasties… we are gamers after all!
We have been developing Best Buds, off and on, for about 18-months. We are getting close to completion now, and we just launched a Kickstarter too, which you can take a look at here:
Best Buds vs. Bad Guys is best described as a retro run'n'gun, a game about teamwork, battling bad guys and using stupidly powerful weapons and power-ups to do it. A game about good over evil and about friendship, overcoming difficulties, and kicking bad-guy butt!


So, what was the creative process like?
It was a lot of fun, chatting over ideas together, right from the very beginning. Before we started doing any concept art we brought ourselves a nice brown leather notepad from Waterstones, it had to be special, no ordinary paper notepad would do!
We began by chatting about ideas for weapons, puzzles, power-ups and making lots of lists of ideas to include. We then started thinking of level ideas and enemies we'd like to see - we wanted each level to be really different to the next, and to have the enemies themed within each level. Lots of variety, loads of secrets (I am obsessed with adding secrets and hidden areas).
You can see a page from the notepad here, with highlighter marker for the levels I worked on first…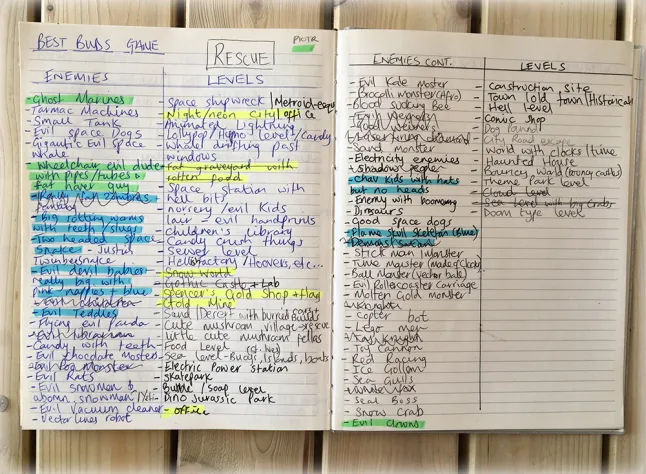 From there, Lucas started to sketch out various enemy designs, and he built several enemies out of Lego. It was really exciting to see the new designs, and to take those and start to create the pixel art versions.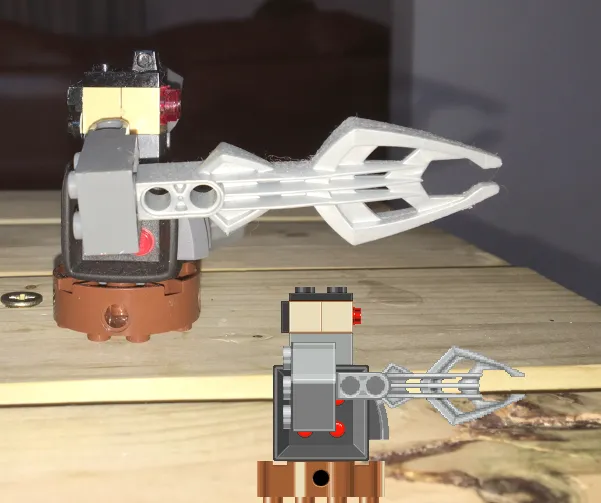 For some of the pixel art, stuff like character animation which I'm not so hot on, we worked with a couple of freelance artists. So for the buds, we got Claire (or Mum to Lucas), to take our photos. We sent those over to Piotr and he pixelated and animated us. I also made sure we had no ordinary weapons to hold, we needed something far better – so Lucas is holding a NES Zapper, and I am holding a Super Scope.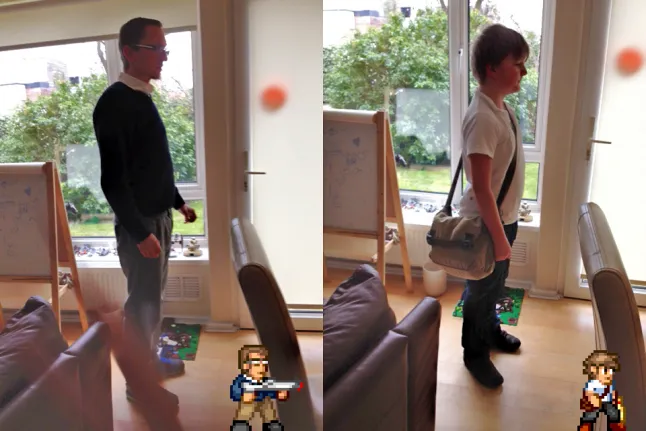 The Development Phase
At this point, we needed some code! We already had our base project to work from, which was the Life of Pixel engine. We used Unity, and Steve, our coder, adapted the Life of Pixel code-base to add the additional functionality we needed for the Best Buds design. We needed to add new enemy AI, shooting, an inventory system, various weapons and new power-ups.
Meanwhile I started putting together level tilesets, and began to piece together the levels in the Tiled Map Editor program. We wanted to create an authentic retro experience, and part of that was putting in plenty of hidden and not so hidden references to classic 80s/early 90s arcade machine games like Contra, Ghosts 'n Goblins, Green Beret, Mega Man, Bionic Commando.
This was quite a long process, creating the levels and the various enemies (I ended up doing most of these myself as we could only afford a couple of freelance art sprite sets). This was the bulk of the development time, as you would expect, but it certainly took longer than we hoped. We've now got to the stage where most stuff is done, but we could really use some fresh blood for some of the boss/final enemy artwork, and a new soundtrack. Hence we decided to Kickstart to help with this.
How did the game shape up?
I tried to incorporate as many of the ideas we had for levels, enemies, weapons, etc. Inevitably you have to make some sacrifices, time and resources force your hand, so a few of the level concepts and enemy ideas didn't make it in. We're both pretty chuffed with how it has shaped up though, we stayed true to our original ideas, and we have made something with a lot of love and care. Although Lucas does like to tell me about the bits I missed!
Working with Lucas was brilliant, and I would certainly recommend to any other Dads or Mums to try it. Chatting over ideas, making them take shape, it is very exciting. We even got our photos taken by the local Cornishman newspaper this week, so we are hoping to see ourselves in the paper!
Best Buds will be released on PC, Mac and Linux, on Steam and other stores, hopefully late August/early September.