[this article is cross-posted from the Untold Entertainment blog, which is awesome]

i write a lot about violence in video games, and i've spoken to the press a few times about it. People who are anti-game-violence are always looking for that smoking gun - the kid who shoots up his school, and leaves a note at home that says "Halo made me do it."

i've never claimed the effects of murdering hookers for 40 hours straight in Grand Theft Auto are 1:1. i don't think that murdering video game hookers means you're going to go out and murder a real hooker. i do however believe very strongly in the garbage in/garbage out concept: playing violent games may not turn you into a rampaging murderous psycho, but it's not very far-fetched to believe they may turn you into a bit of a dick. Cutting people off on the highway, treating wait staff poorly, raising your voice more often ... i think these are the results of practicing aggression and putting your brain on constant offense.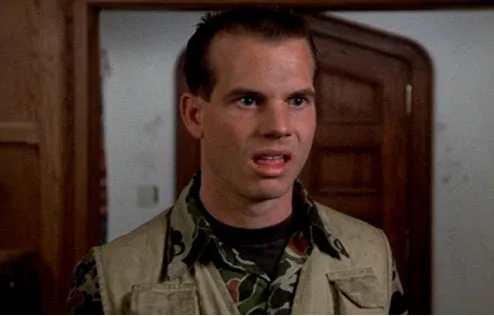 True story: i keep pictures of Chet from Weird Science on my desktop for whenever i write blog posts about a-holes.
Four Dead in O-Hi-O
It looks like i may have my smoking gun to back up my wild claims. A study out of Ohio State shows that playing calming games may make you a better contributor to your society, while playing aggressive or violent games may make you more of an asswipe.

During the first experiment, participants were asked to compete against another player -- who did not actually exist -- in pushing a button as quickly as possible. The winner would be awarded a small financial sum; the loser would be punished with a brief noise blast. Before each trial, participants could determine how much their competitors would receive if they won, and how strong a noise blast they would receive if they lost.

"Those people who had played violent games punished their partners the most and rewarded them the least," Bushman said. "Those who had played relaxing games gave the lowest levels of noise and most amount of money."
Before you go all knee-jerk on this (as gamers are wont to do), chill out: no one's going to take your crappy violent games away. You may still freely choose the way in which you feed your brain. It's very satisfying to me, though, to have a study that not only extols the virtues of gentle fare, but also demonstrates the real risks involved in meditating on aggression.