Nowadays almost every mobile casual game comes with a saga map, to indicate the level progress, and create a world that the players could immense into.
Last time I wrote an article about how to write saga map specifications -the general project definition. And you know, a game always has many map zones (or worlds). Every zone has different story to tell and different appeal.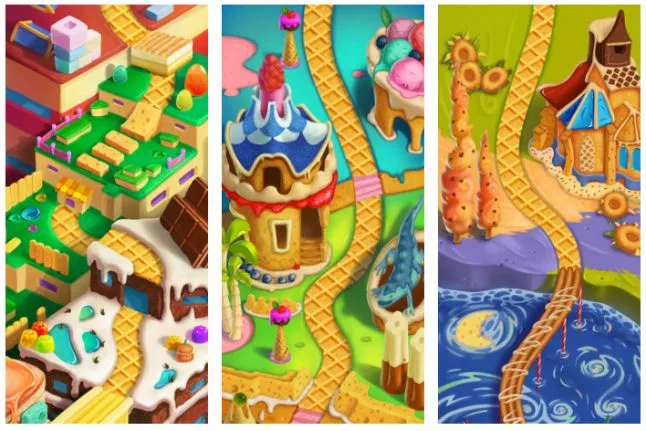 So, in addition to the general specs, for the art designers to begin work, we need to give them zone descriptions. Especially if you're hiring external artists to work on the maps, you would have to provide well written documents of general map specs plus zone descriptions.
Here I sum up what should be included in the zone description document, from the experience of our previous projects.
Usually we have one separate document for each zone.
Please note, the map samples in this article are not necessarily our works.
1. General description of the zone
For example, the general description of this zone in the Match 3 game Pastry Party goes like this: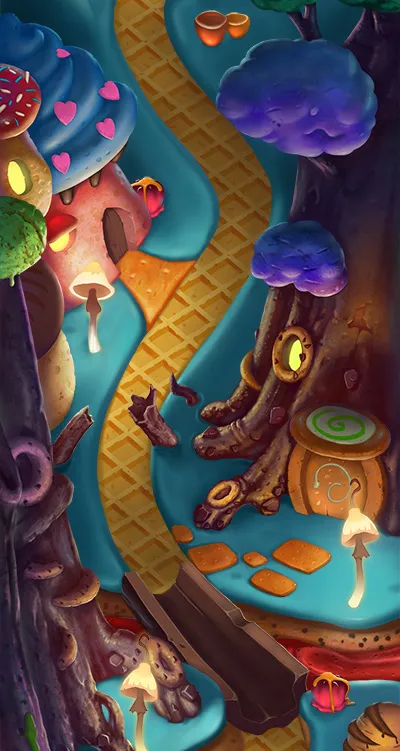 This is a gnome's village deep in the forest. We can see hobbit style dwellings burrowed into the ground, and mushroom houses, tree houses. There are river and small bridges. On two sides of the map we can see big tree roots of the forest- for the gnomes are much smaller than human, the regular roots appear to be giant. (reference artworks attached below)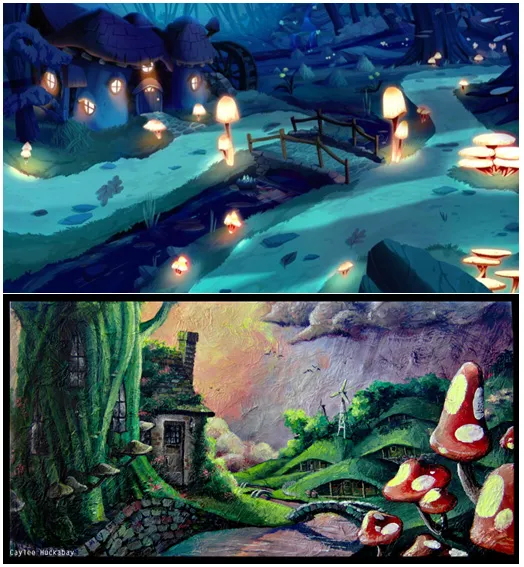 2. Descriptions of the terrain/ground
You may not expect all the zones have flat ground, that would become tedious; A bit of design would bring magic: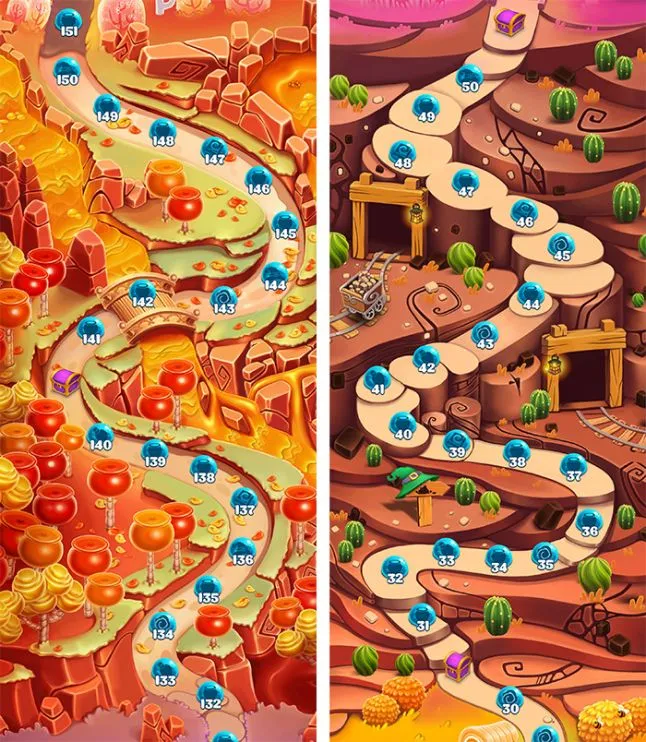 3. List/Descriptions of the main elements in the zone, you may attach reference photos and artworks
For example, for a Caribbean themed zone, elements could be listed in this manner:
1) Tropical tree type A,
Refer picture 1; Refer picture 2…
2) Tropical tree type B,
Refer picture 1; Refer picture 2…
3) Village house type B,
Refer picture 1; Refer picture 2…
4) Village house type B,
Refer picture 1; Refer picture 2…
5) Pool,
Refer picture 1; Refer picture 2…
6) waterfall,
Refer picture 1; Refer picture 2…
You may specify the relative size, importance, and general placement of different type of elements.
For example for this map: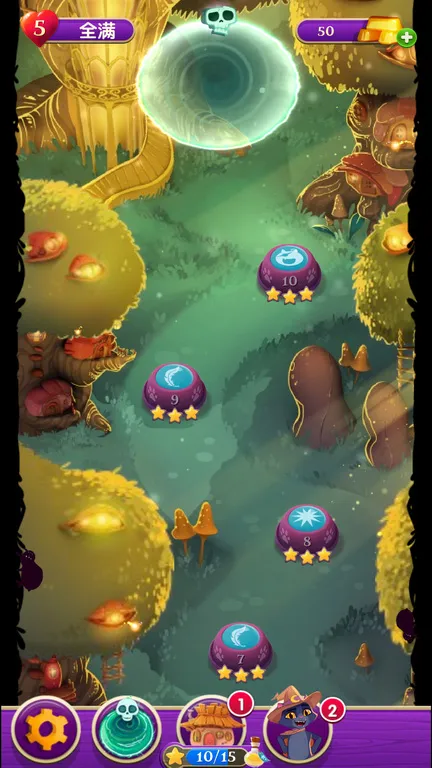 The tree houses are big, they line up the two sides of the road; The peanuts shaped rocks are less important, they scatter sparsely across the map;
4. Bottom to top layout description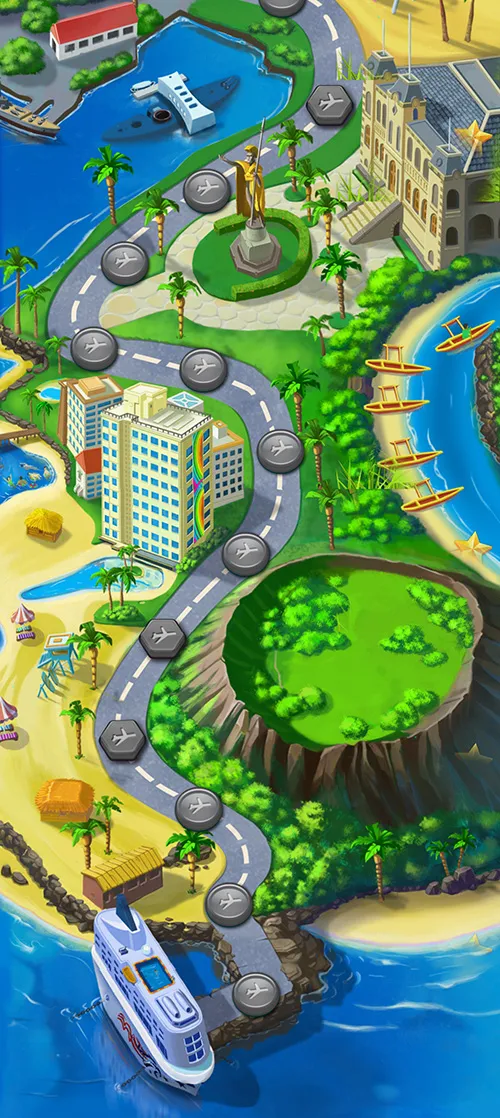 This is a zone from the Match 3 game Jet Set Go. It's inspired by Oahu island. It needs specific layout and space order of elements. For this map, you should specify: Harbor first, then the giant crater, the modern buildings and canal go after the crater, and then the governor's mansion, etc etc.
5. Boss level description
Some games have boss levels, this must be a very important feature, so you should put a lot of attention, giving enough words and reference pictures: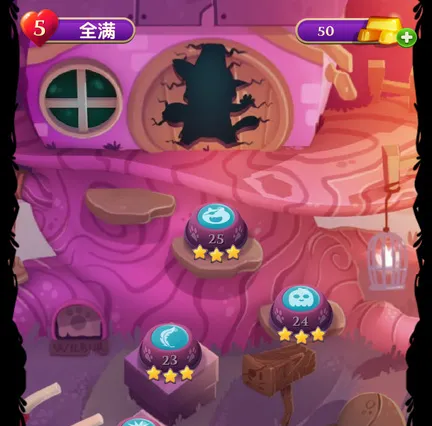 6. Climate/lighting description/color palette
Many games use uniform lighting scheme and climate although the whole game, so no need to stress this from map to map. However, some games may use different lighting from zone to zone. That the description should include: Climate/season, time of the day, key light position, general mood.
Sample map description:
Here is an actual working map description, you can check out how the above points are included.
I would post regularly--about game and art production.