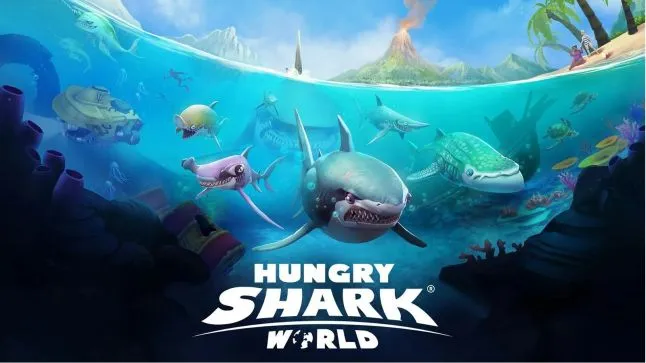 As the evolution of the smartphone continues, the meteoric rise of game apps for mobile phones and tablets has created a highly competitive market – something that will be evident to anyone who spends their mornings and evenings commuting on public transport. Major software and game developers are targeting this market for an ever-growing portion of their sales.
Most recently, the Future Games of London studio released the fifth leg of its Hungry Shark series, Hungry Shark World, which stormed to over 10 million downloads within its first week. FGOL is owned by video game powerhouse Ubisoft, which announced the success of Hungry Shark World as part of its recent full year 2015-16 sales and earnings press release.
For mobile games developers looking to tap in to the success of Hungry Shark World, here are five lessons this blockbuster game provides.
1. Engage Free-to-Play Gamers
One of the most evident changes in the newest edition of the Hungry Shark series is its more arcade and cartoon-style look, combining with simple gameplay to create a vibrant world with rules unlikely to frustrate the more casual F2P gamer. Simply put, the game is fun!
The user enjoyment in playing Hungry Shark World comes from the ease with which players can rack up points by eating everything from swimmers and scuba divers to turtles and fish. The game also provides a simple but effective rewards system, which includes a softer currency, gold, and a harder currency, gems.
The treasure can either be earned over time or – more easily – purchased in-app, with hoards of gold coins or gems ranging in cost from $4.99 to $99.99 USD. Initially, the player can have a lot of fun just by investing a little extra time and not relying on IAPs.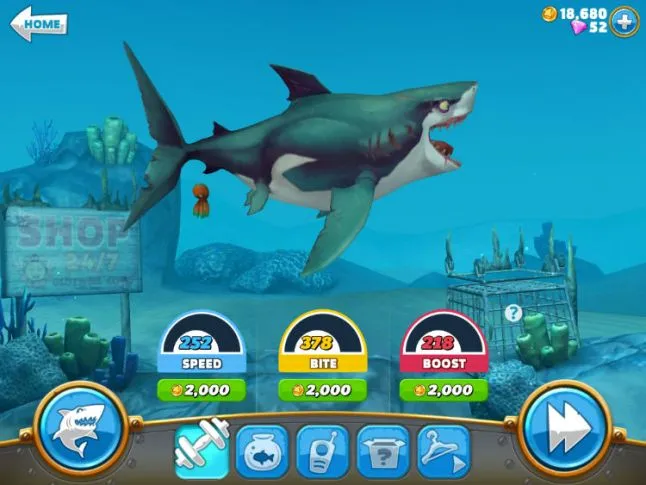 Coins and gems are used to upgrade and improve the character, enticing the buyer to spend in order to win faster
2. Cross-Sell to F2P Gamers
Another simple way that Hungry Shark World keeps casual gamers happy is by providing them with multiple ways to regain their life after they die from sources including starvation, swimming into a mine, or being eaten by a larger shark. To avoid starting again from the beginning, players can choose between spending a few gems to regenerate, or watching an advertisement for other game titles – a good way to reward engaged players and cross-sell into the bargain.
However, there's a maximum of two video-driven revivals, and the gem cost increases every time a player's shark dies. The subtle increments create an on-boarding journey that gently prods the free player in the direction of IAP while they increase their game time and investment. Plus, the ongoing option to watch ads in exchange for bonus treasure incentivizes all players to seek out more game products.
3. Allow Users to Customize Characters
Along with the more cartoon-style look, another new feature in Hungry Shark World is the ability for users to customize their shark. Players can choose from between 17 different sharks, 16 of which must be purchased with gold coins and gems – a Great White costs $60 USD for those wanting to pay upfront. Users can also deck their shark out in everything from wigs and hula skirts to pets that help boost the player's point totals.
4. Maximize In-App Purchases
F2P games are notorious for their attempts to bait-and-hook users into making in-app purchases. The majority of problems with this method arise when users are inhibited from making game progress early in their journey by being forced to purchase in-game currency almost instantly.

Add-on items, lives, upgrades and more – there are opportunities to monetize from every angle.
While Hungry Shark World does follow the standard baiting model, the users have the ability to make it quite deep into the game before their progress is hindered, making them more likely to be invested enough to continue playing and – ultimately – to make in-app purchases.
5. Create a Live Events System
One of the most innovative changes in the Hungry Shark series comes with its Shark Tank social area, where gamers can show off their in-game rewards as well as take-part in daily challenges and missions, which dole out a range of rewards and allow gamers to show off their success to fellow players online through social media platforms. The social aspect of the game makes it more competitive and increases user motivation for progressing up to larger and fiercer sharks, also making it more likely for gamers to make in-app purchases.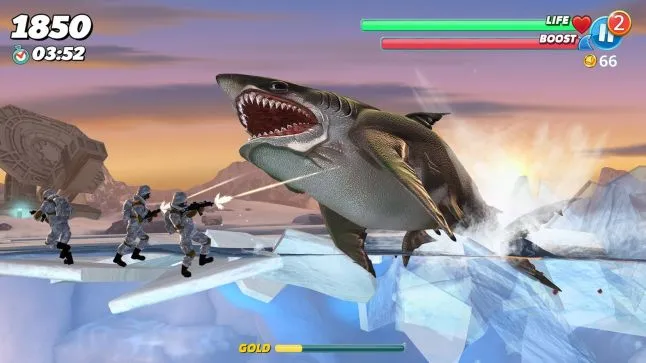 Detailed & stunning graphics: the Hungry Sharks' game inspires user-generated social sharing
Takeaway – Still Room for Improvement
Those looking to make their game perform as successfully as Hungry Shark World would do well to heed some of the five takeaways listed above. The market still has plenty of room for innovation in these areas. Between the advancement in high speed mobile internet, the evolving software on both the iOs and Android systems, and the increased availability of fairly inexpensive phone deals, user numbers are tipped to increase in the future. Consequently, there is a massive opportunity when it comes to creating multi-player and competitive gaming options in games such as the Hungry Shark series, an avenue left untraveled in this latest instalment.
The initial success of the game makes Hungry Shark World a good place to look for design and development inspiration, but whether it becomes an F2P game-changer remains to be seen.