Tatiana Vilela dos Santos is an indie game designer and interactive artist. She makes games with alternative controllers and render interfaces, all part of her interactive multimedia project MechBird. In March 2018, she gave a 60 minutes long talk at the GDC titled Game Design Beyond Screens & Joysticks about tools she uses to analyze and design this specific kind of games. This article discusses details of this talk.
When I give my UX Design classes, whether it is to middle-schoolers or Master students, I always start by addressing the issue of alternative interfaces through the Human-Machine Interaction (HMI) loop. This loop illustrates the communication between a user and a computer. The user interacts with the machine through control interfaces while machine answers by giving back information through render interfaces. Based on these new data, the user can update his behavior, and so the cycle goes on...
If game design usually only involves the computer pole of this loop, designing a game with an alternative interface requires taking in count all of these poles. It also means that one can design games by altering this loop. Let's take a closer look at alterations of each of these poles and analyze the consequence this has on the game experience. For each pole I'll start by giving an example of game with an altered loop and then dissect it.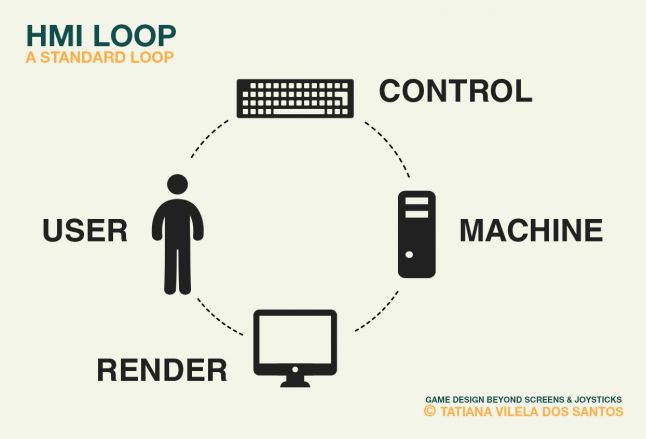 Alternative control interface
Isochrone is a single player game based on a standard monitor and a simple alternative controller: a box featuring four buttons. Four nested 2D geometries are displayed on the screen. A dot is automatically moving along each line. Dots and buttons are visually related. There's a black one, a white one, a black one with a white outline and a white one with a black outline. Pressing a button will else speed up or slow down the related dot, depending on its position. Dots on the smallest shapes can be decelerated while dots on the widest shapes can be accelerated. Players' goal is to align the dots for a full turn.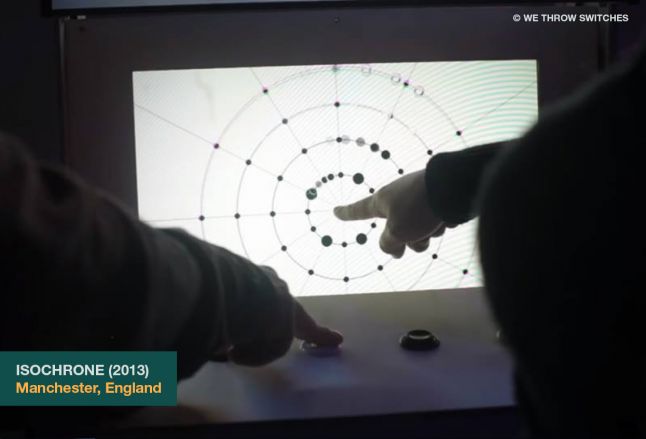 Buttons are placed on the controller so that, on launch, their position matches the one of the dots. But as the dots are moving in circle sometimes their position is similar and sometimes it's inverted. Players thus need to indulge in mental gymnastics to avoid being misled by this constant change. This confusion is greater at each level for the shapes are more and more complex. To add further confusion to this already fooling gameplay, players have to coordinate their fingers as each button is related to a different action. Even so no guidance is provided regarding how to use the controller, they usually dedicate one hand to each action: left to speed up and right to slow down.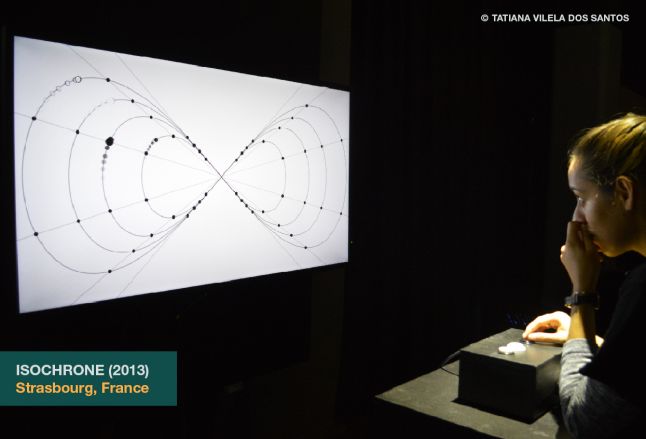 Isochrone is a typical example of an alternative controller game. On its HMI loop, only the controller has changed and this unique gamepad has a direct impact on the game experience. It's still featuring a human communicating with a computer answering through a screen. But the way the player speaks to the machine is constrained by a special device whose ergonomics and appearance are stakeholders in the experience.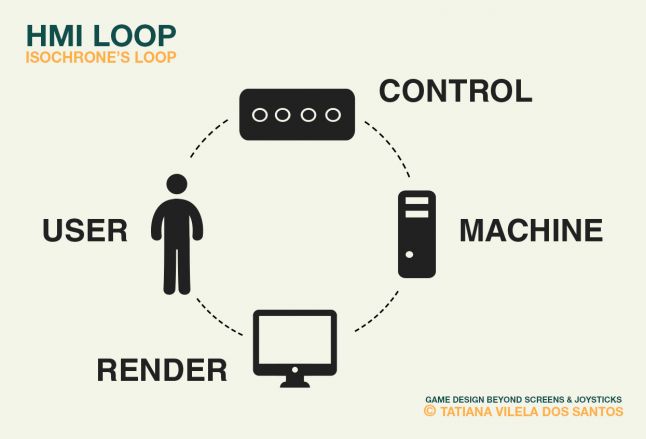 Alternative render interface

Tango is a single player game based on both an alternative controller and an alternative render interface: five small pillows including a flat vibrating motor and a pressure sensor. Each pillow vibrates at a different intensity randomly changing over time. When the correct pressure is applied on a pillow it'll progressively cease vibrating. The more a pillow is vibrating the stronger the pressure needed to make it stop shaking will be. Players' goal is to calm down all the pillows by mastering the pressure they apply with the different part of their hands.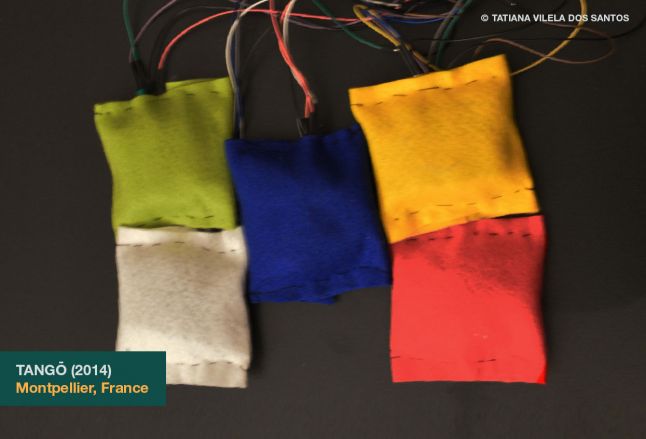 This game interface is designed to exploit exclusively players' sense of touch. As players can't rely on visual and sound signals as usual, they have to make an extra-effort to concentrate on the vibrations tickling their fingertips. Most of them close their eyes as they play to better focus on their tactile sensation and coordinate the movements of their hands. This game provides a really internal and sensual experience when you really enter the dance of the machine.