[Gamasutra contributor Ryan Langley examines September 2012's Xbox Live Arcade debuts and continuing successes, with charts and Leaderboard data showing the performance of titles like Joe Danger 2, Mark of the Ninja, and Rock Band Blitz]

This September we've seen a ton of new content come to the Xbox Live Arcade -- from big names like Rock Band Blitz, to classic remakes of Jet Set Radio, to unique indie titles like Mark Of The Ninja. We've seen it all, and with retail in its quiet period, what was the Xbox Live Arcade able to release at the same time?

We've pieced together Leaderboard statistics and Metacritic ratings from every title released in August where available, which allows us to determine how new games have sold and how well they were reviewed. We also look at several older titles that continue to do well, as well as specific downloadable content for games that support it.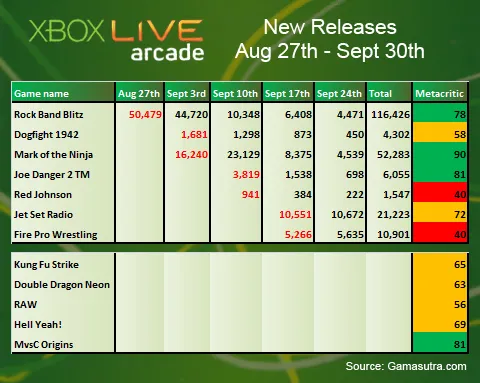 Ballroom Blitz
Rock Band Blitz got a week all to itself in the first week of September, and ended up making itself the best selling title for the month. Just over 50,000 players were added in the first week, and now we have 116,426 players over the 5 week period. Nice to see that something within the music game business is doing well, and I'm sure they sold a ton of additional music packs from previous Rock Band games alongside it, which we can't follow.
Ninja Kung Fu 1942
Week two had three new titles – Kung Fu Strike and Dogfight 1942 came out on the Wednesday, while Klei's Mark of the Ninja made it out on the Friday, beginning the Friday release trend for the month.
Dogfight 1942 was apparently going to be a retail release, which was then shoehorned into an Xbox Live Arcade title. It terms of promotion, almost nothing was known about the game prior to it's launch, and for most of the month the game didn't even have the four reviews necessary for a Metacritic rating. It appears that very few people purchased it at all.
Kung Fu Strike was in a similar situation, and also received some middling reviews. The game unfortunately didn't have Leaderboards we could follow, but as of its second week it wasn't in the Top 20.
Mark Of The Ninja on the other hand got rave reviews – citing it as an amazing example of stealth gaming in which we haven't seen in years, but had some issues with Microsoft seemingly not promoting it much, despite publishing it themselves.
The game started off with an okay set of sales, and ended up selling better in its second week once word had spread. The game has now sold over 50,000 copies, which is reasonably good for an Xbox Live Arcade game, and hopefully will continue to sell thanks to its Metacritic rating of 90 – the best for the month.


Danger! Dragons!
On the third week we had another three releases – Red Johnson and Double Dragon Neon on the Wednesday, and Joe Danger 2: The Movie on the Friday.
Red Johnson came out on the PlayStation Network back in April to poor reviews, and returns here with the same response. Only one review as of writing this, so both gamers and press ignored it completely. Only 1,547 copies were sold for the month.
Double Dragon Neon got a lot of press thanks to developer Wayforward and the nostalgia surrounding the Double Dragon name, but ended up receiving middling reviews. We couldn't follow the Leaderboards as they only update once a player completes the game, but it was 11th place on the Top 20 in its second week.
Joe Danger 2: The Movie was equal second for best reviewed title of the month with a Metacritic of 81, but it unfortunately seems to have fallen on deaf ears, selling quite poorly. Only 3,819 players were added in the first week and 6,055 players for the month, which is not even the amount that the original game made on XBLA in its first week back on December 2011.
When we were doing our PSN analysis's back when the first Joe Danger came out on 2010, the game added 68,455 players in its first month – which is more than Joe Danger and the sequel have done on XBLA in total. Whether the cartoony style just doesn't resonate with Xbox users compared to PSN users, or that the XBLA exclusive Trials titles, which are million sellers themselves, are all the motor biking action they need, we don't know. Hopefully the release of Joe Danger 2 on PSN in October will help the fellows in Guildford, UK continue to make games.
Sweet Soul Brother
Week four of September gave us a Wednesday with Sega's Jet Set Radio HD and Focus Home Interactive's Realms Of Ancient War, and a Friday with Spike and Microsoft's Fire Pro Wrestling.
Jet Set Radio was the best selling title of the week, but wasn't a massive hit. Filled with great graphics but the original's love-it-or-hate-it gameplay, the game added 10,551 players in the first week and 21,223 for the month. It could continue to sell rather well over time.
The game was also released on PlayStation Network and PC on Steam during the same time, so the overall sales are probably pretty good. We were able to check the PC Leaderboards, and there were 8,207 players currently on there.

Fire Pro Wrestling tied with Red Johnson for worst reviewed title for the month with a Metacritic of 40, and ended up selling 10,901 copies for the month. We were unable to follow Realms Of Ancient War as the Leaderboards had some issues.
The Dream Is Dead
The final week of the month had the last two titles – Hell Yeah! Wrath of the Dead Rabbit from SEGA and Arkedo Studios, and Marvel Vs. Capcom Origins, a collection of Marvel Vs. Capcom and Marvel Super Heroes.
Unfortunately we could not follow either game – Hell Yeah seems to be having weird issues with its Leaderboards, and MvsC, like a lot of fighting titles, only follow online ranked games, which is only a small amount of people overall.

Hell Yeah may seem to have a rather low review score, but the game has proved to be incredibly divisive with as many positive reviews as there are middling reviews. Marvel Vs. Capcom was reviewed well, and likely sold to a good amount of players.

Pinball Of The Dead
So some cool new bits and pieces this month for downloadable content – a new Pinball Table and some deals we could follow.
The new Plants Vs. Zombies table for Pinball FX 2 was released and added 9,810 players in its first week – roughly on par with their last pack of licensed tables (Marvel Pack 3), while better than the previous single board pack (Epic Quest). It added 17,300 players for the month.
We also saw some sales on for some Marvel based tables – Captain America, and packs 1 and 3. All got a nice boost in sales for the week.
Peggle and Peggle Nights also were on sale for a little bit, and got a nice boost overall. Peggle is also just about to crack one million players too – good on PopCap.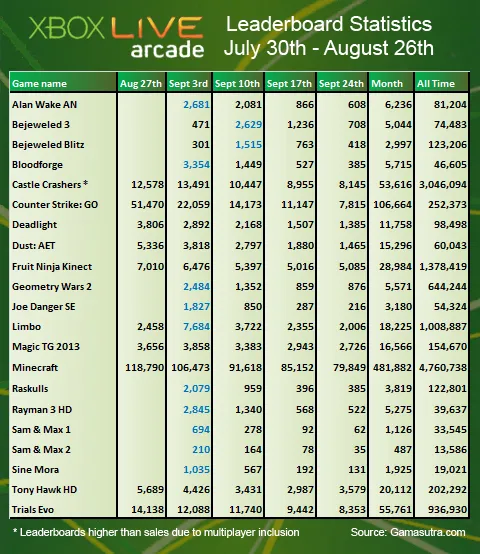 Sales Sales Sales!
September was a big month in terms of cheap Xbox Live Arcade titles – were were able to follow 12 different games which took a price cut during the month. All seemed to do rather well outside of the Sam & Max packs, which were still set at a rather high price, even though they were on sale.
Minecraft continues to sell, but is now less than 100,000 players added per week. Counter Strike: GO also sold well with an additional 106,664 players in the month and is now over quater of a million in total, not counting PSN and PC users. Limbo has also crossed a million players, and Tony Hawk HD has cracked 200,000.

Some Old And Some New

October is going to be an interesting month for releases, mainly because of the large amount of them! With the Wednesday and Friday release schedule seemingly in full swing, we've seen Sonic Adventure 2, NiGHTS, Worms Revolution, and Serious Sam 3 and Zombie Driver HD among others.

Most interesting is Happy Wars, the first "free" Xbox Live Arcade title with microtransactions. How this game ends up doing might change the face of the Xbox Live Arcade in 2013.