This article has been delayed by a bit, thanks to some personal business with these articles as well as my decision to go all in for this one -- sit down, this'll take a while.

Last year we looked back at all the new games for 2011 in a more overarching sense -- this year on the other hand, we've looked further into the game publishing criteria for Xbox Live Arcade games.

We've taken the big digital publishers, like Sega, Electronic Arts, Konami and Square Enix and looked at each directly, seeing what they worked on bringing to the system this year and how they're outlook is for 2013. We also take a look at the latest "indie" developed games on the platform, other Xbox Live exclusive titles, as well as how the three promotional points -- Summer of Arcade, Arcade Next and House Party, helped those games involved.

We also have a look back at games release prior to 2012. Overall 308 games are shown here with Metacritic scores and Leaderboard numbers. If you wish to see the complete list of games in alphabetical order, check that out here. Let's get started, shall we?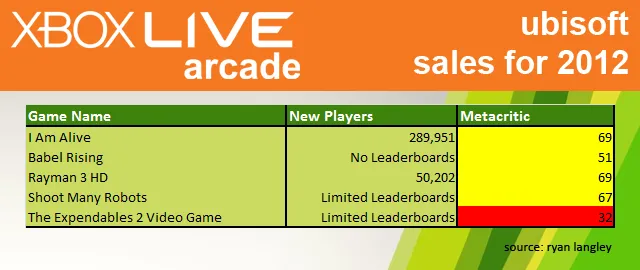 Ubisoft
Back in 2011 Ubisoft made a big splash in digital spaces with games like From Dust, Outland and Might & Magic: Clash Of Heroes HD, and their unique selection of games continued into 2012.
In 2012 the company published Shoot Many Robots, developed by Demiurge Studios, a HD remake of Rayman 3, a 3D, Kinect-enabled remake of the mobile game Babel Rising, The videogame for the Expendables 2 film and I am Alive. Three of those games were also released in the same month, which highlights some of the Xbox Live Arcade's scheduling problems.
Now I Am Alive was meant to be a retail title, announced back in 2008 by a different developer. At some point the game wasn't coming together as a full retail title, so they game switched to be a digital download affair.
I Am Alive ended up receiving middling review scores, but did surprisingly well on Xbox Live Arcade – 289,951 players were on the Leaderboards for the year, becoming the 8th bestselling title for 2012. Not bad for something that almost didn't come out.
Their other internal title, Rayman 3 HD, seemed to come about after Rayman Origins was turned into a retail title in 2011. A little odd too since the third title is usually forgotten compared to the second game. The game, based on the PC version of the original had a relatively short development cycle, added 50,000 players for the year.
We were unable to follow Expendables 2, Babel Rising or Shoot Many Robot. None of them were breakout hits, but I don't think they expected to. Expendables 2 was also one of the worst reviewed games of the year with a Metacritic of 32, so that seems like it was a poor choice for Ubisoft.




Electronic Arts
This year's EA game output for XBLA consisted of NFL Blitz, Shank , Warp, and by proxy of PopCap, Zuma's Revenge. In 2011 they were known to release some unique internal games like Fancy Pants Adventure, Bejeweled Blitz and NBA Jam: On Fire Edition.
Of the games Warp was the one to get into an Xbox Live Arcade promotion, being part of the House Party in February . The game, developed by Trapdoor, added 44,077 players for the year, which isn't all that good for a game in a promotion. Shank 2, developed by Klei Entertainment, added just over 50,000 players. Both were available on PC and PlayStation Network as well, so overall they've probably sold okay.
NFL Blitz was only available on XBLA and PSN, but we weren't able to follow the Leaderboards. It was not one of the best sellers of the year, despite the retail Madden always breaking new records.
Zuma's Revenge, sequel to the first title that came out on the Xbox 360's launch day, was itself a port of the 2009 PC-only title. The XBLA version seeing 48,864 players by years end. All the while their 2009 XBLA release Peggle was one of the top selling XBLA games for this year.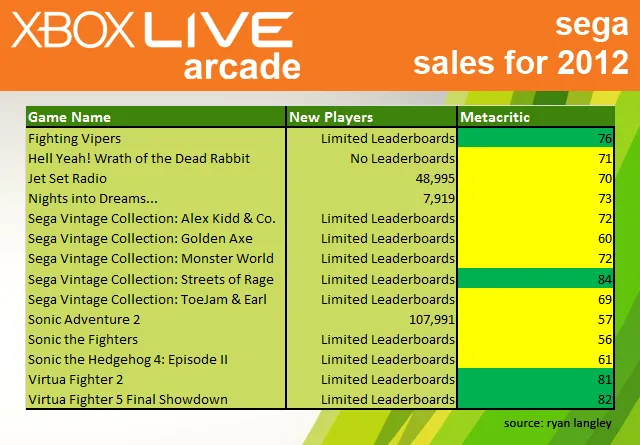 Sega
Sega's declaration to move away from the retail space and focus more on the digital front was clearly seen in 2012. No less than 14 games were released by the publisher on XBLA, and that's not including the few PSN exclusives like House Of The Dead 4 or PC exclusives like Spiral Knights
The types of games they released can be split into four types. First was the digital packages which consisted of 2 to 3 Arcade, Master System or Genesis games for $10. Here we saw the Streets of Rage Trilogy, Golden Axe Trilogy, a pack of Alex Kidd, Super Hang On and Revenge of Shinobi, and a Duology of Toe Jam & Earl.
These games we weren't able to follow due to their Leaderboard implementation, and they seem to have not have sold all that much based on the Major Nelson Top 20's. They have been noted for their excellent emulation quality, and were probably quite cheap to produce, so I expect to see more of these in the future.
The second type was the HD Remake – taking a classic 3D Sega title and making it widescreen, adding features and releasing it on Xbox Live Arcade, PlayStation Network and PC for the first time. The three titles were Jet Set Radio, Sonic Adventure 2 and NiGHTS into Dreams – the latter two ported by Sega's chinese studio, while Jet Set Radio was ported by Blit Studios.
Sonic Adventure 2 was a huge seller for Sega on Xbox Live Arcade with 107,991 players on the Leaderboards , which is not so surprising considering the original Sonic Adventure has sold just as well. Jet Set Radio added 48,995 players which is okay overall, but took much more effort to bring over to the HD era. NiGHTS into Dreams, despite being thought of as a cult classic, added very few players at all – only 7,919 players on the Leaderboards.
These packs were much better examples of HD remakes compared to Sega's previous "Dreamcast Collection" series, and I'd expect Sega to continue to do this in 2013. One has to think that they might run out of good games to HD-ify at this rate of release.
The third type was more classic ports – Sonic The Fighters, Fighting Vipers, and Virtua Fighter 2. These were ported by the AM-Convert team in Japan and were released rather bare-bones for $5. These converts seem to have done on par with the classic packages, and were noted for their quality emulation.
Then there's everything else – Virtua Fighter 5: Final Showdown, Sonic 4: Episode II, and Hell Yeah! -Wrath of the Dead Rabbit, each being their own interesting test for Sega. Virtua Fighter 5 has previously been a retail title, but this new revision of the Arcade game came out as a bare-bones battler on XBLA with the extra costumes available for an additional fee. It did well at release, only behind the current sales juggernauts, and probably did even better on the PlayStation Network.
Sonic 4 Episode II was the sequel to the lacklustre 2010 original, trying to fix some of the issues with the first while adding a new twist. The game didn't review too well with a Metacritic of 61, but was a high seller on its week of release. We're not quite sure of the actual sales. It was also released on PSN, PC, iOS and Android, so it probably did okay just based on the game's overall reach.
Hell Yeah! was Sega's single third party published game this year, developed by Arkedo Studio in France, also available on PSN and PC. Unfortunately we know nothing about the game sales wise, but it does have a Metacritic rating of 71, with most writers enjoying the presentation but having difficulty with the controls.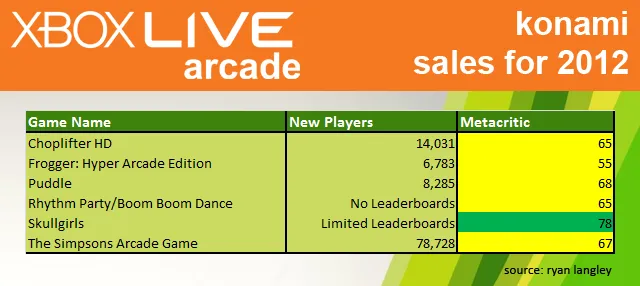 Konami
While 2010 and 2011 were big years for Konami's Intellectual Property revitalization, 2012 was a little bit different. They took a back seat for most of the year.
Their two revitalized games came in the form of Frogger: Hyper Arcade Edition and The Simpsons Arcade game. Hyper Arcade is the third Frogger game on Xbox Live Arcade, but also came out on mobile phones, PSN and WiiWare. For XBLA the game sold quite poorly with only 6,783 players on the Leaderboards. Simpsons Arcade on the other hand has been a long requested game for the digital age, and added over 78,000 players for the year.
The only internal Konami game was a game called Boom Boom Dance, or Rhythm Party in other parts of the world. The game basically went unnoticed by the world after it was released.
Their other published games, Choplifter HD, Puddle, and Skullgirls, seemed to be released by Konami almost by coincidence, as they were published by other companies on other platforms. It seems like Konami had some release "slots" available from Microsoft and weren't planning for much else in the year. Both Choplifter and Puddle didn't see many sales, and we were unable to follow Skullgirls, though it sold over 50,000 copies over its first 10 days across two platforms.



Warner Bros.
In 2011 Warner Bros took their first foray into the XBLA business by publishing Bastion and the Mortal Kombat Arcade Kollection – 2012 they went a bit further with some good, and bad, results.
The first release was Gotham City Imposters, a downloadable multiplayer shooter where people dress up as Batman and Joker and run amok in the streets. It's sold very well, with over 330,000 players currently on the Leaderboards – not bad for an online only game.
Their second push with their IP was Guardians of Middle-earth, a DOTA-style game based on The Hobbit and Lord Of The Rings Universe. Despite similarities in the approach like Gotham City Imposters it seems to have fallen on deaf ears, with few players picking it up.
Warner also did a new collaboration, this time with UK-based Team 17 to publish their latest Worms title. Apparently Microsoft decided not to publish this one like the previous iterations. Unfortunately we've not been able to tell how well the game has sold.



Capcom
Capcom's 2011 output consisted of games like Bionic Commando Rearmed 2 and Street Fighter III: Third Strike. Their 2012 output was a little more on the revival side with two classic fighting games – Jojo's Bizarre Adventure and Marvel Vs. Capcom Origins. Unfortunately we could not follow either game.
Their third release on the other hand is a bit of a head scratcher – publishing World Gone Sour, a game based on Sour Patch Kids candy and developed by Playbrains. This venture didn't seem to pay off, only 15,535 players on the Leaderboards.
Capcom's future on digital isn't quite clear – currently the two items they're set to release are more emulated classics, so whether they're moving to a more mobile-orientated game plan or if they're gearing up for something bigger in 2013 is not reall known.



Square-Enix
The past few years have had Square-Enix pushing all sorts of titles on Xbox Live Arcade, mostly Japanese developed games like Moon Diver and Final Fantasy: Crystal Defenders, but it seems that they've taken a much more mobile approach in 2012. With Chaos Rings, The World Ends With You and Final Fantasy: All The Bravest they've sunk their teeth into the iPhone Market.
So for 2012 the four titles were all made with western developers – including their own internal title Mini Ninja Adventures, which was made by their Eidos side. Quantum Conundrum, which reviewed well didn't really see the sales it was expecting to, Scarygirl, which had almost no mention of its existence before or after release, bombed on the marketplace, and American Mensa Academy just came and went.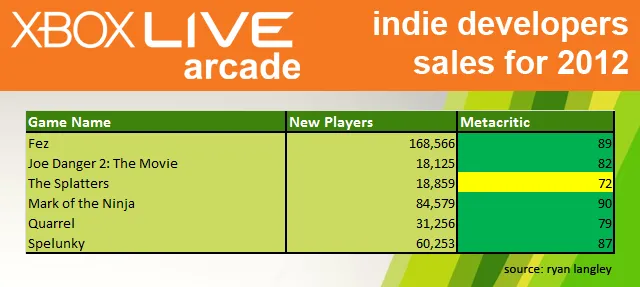 The Indie Games

2012 was an amazing year for indie games – so many great titles released on XBLA as exclusives to Microsoft. So how'd that exclusivity fare?
First we'll look at the big indie games that weren't part of any special promotion. Fez by Polytron, a long awaited game for the platform, came out and sold 168,000 copies on Xbox Live Arcade despite a few issues during the launch period. Spelunky from Moss Mouth didn't see as large of a following, adding 60,253 players for the year. Mark of the Ninja by Klei fared a bit better with 84,579 players. All 3 games received excellent reviews, over between 87 and 91 on Metacritic, so it's good to see them doing okay.
Quarrel was developed by Denki Games and published by UTV Ignition, but is still made by a small team. Despite good reviews the game hasn't sold too well – and at only $5USD it probably hasn't done Denki much good. The iOS version hasn't seen many sales either.
The Splatters was another Xbox exclusive that was picked up from the Independent Game Festival by Microsoft, but its release didn't see a whole lot of movement – only 18,859 players are on the Leaderboards.
While Joe Danger 2 did come to the PlayStation Network, it had a limited exclusivity period on XBLA, but it didn't seem to help very much. Only 18,125 players were on the Leaderboards for the year. It seems that they have found some luck with Joe Danger on iOS, which currently has over 200,000 players after just a few weeks.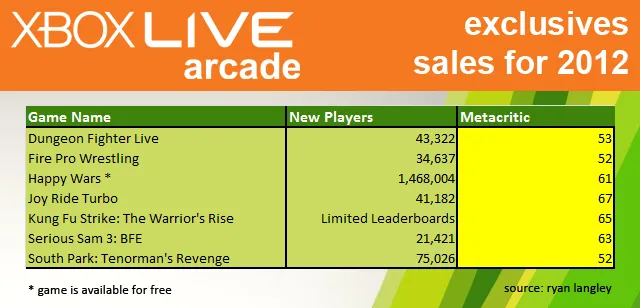 The Exclusives

There were several other exclusive games released on Xbox Live Arcade over 2012, not necessarily Indie but something Microsoft pushed for on the service.
Joy Ride Turbo, the XBLA controller version of the retail Kinect-only version, popped up without much of an announcement back in April. It has added 41,182 players for the year.
Other Microsoft-pushed titles include Fire Pro Wrestling and South Park: Tenorman's Revenge, which both saw quite poor reviews. South Park was able to sell well based on the name.
With Serious Sam 3 being the third iteration that has appeared on the XBLA, the game seems to have also sold poorly. Only 21,421 players are on the Leaderboards – far less interest than the 137,314 and 56,732 players on the first and second encounter titles.
Happy Wars was one of the more unique releases – a freemium title. A game that is available for free with the opportunity to purchase in-app purchase items. All we know is how many players have downloaded and played a round of the game – 1,468,004, which isn't too bad, but without the IAP data it's not very useful.



The House Party
The first promotion for the year was the House Party, which featured one additional exclusive – Alan Wake's American Nightmare by Remedy Entertainment. The game added 88,655 players for the year, which we've heard is less than the actual sales. The numbers are lower due to the long time it takes to get to the point of the number being added to the boards.
Other titles in this promotion were Warp and I Am Alive, which we've spoken about previously, but also Nexiuz – a game by Illfonic and published by the now defunct THQ. That game didn't sell so hot either.

Arcade Next
The newest promotion was a big one – Arcade Next, featuring four more exclusives – Trials Evolution by Redlynx (and now Ubisoft), Bloodforge by Climax, Fable Heroes by Microsoft's own Lionhead Studios, and the ever powerful Minecraft; Xbox 360 Edition.
Trials Evo started off extremely strong with 300,000 players in its first week, to now 1,090,756 players total, which is a huge amount. In the same time frame 2009's Trials HD sold 938,884 copies – meaning Evolution beat the odds and appears to have sold more than its predecessor in the same timeframe, which has proven to be almost impossible to do on the Xbox Live Arcade.
Bloodforge went in the opposite direction. With a Metacritic rating of 42, only 52,747 players were added to the leaderboard, mostly from its initial sales and later price cuts. Fable Heroes also saw poor reviews with a Metacritic rating of 55, but was able to muster 89,309 players for the month. Heroes, along with Fable: The Journey not doing so well, might spell the end of the Fable series once and for all.
But the obvious giant here is Minecraft: Xbox 360 edition. Comissioned by Microsoft and developed by 4J Studios, it has become the bestselling XBLA title of all time with 5,002,370 purchases for the year, a number provided to us by Mojang themselves.
It's an astonishing amount, especially at $20, and might end up changing Microsoft's direction for Xbox Live Arcade, or the Next Xbox itself, particularly when it comes to working with indie developers, even taking the pressure of XBLA versions themselves like 4J Studios did for Mojang.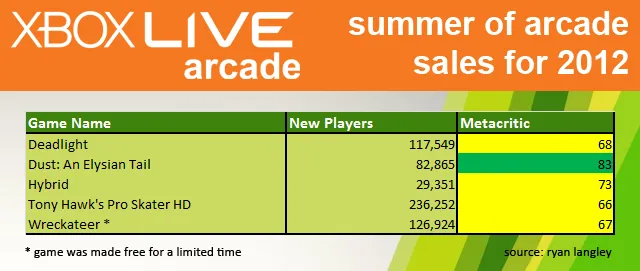 The Summer of Arcade
The Summer of Arcade this year was almost entirely made of exclusives – with Wreckateer by Iron Galaxy, Deadlight by Tequila Works, Dust: An Elysian Tale by Humble Hearts and Hybrid by 5th Cell. The one non-exclusive was Tony Hawk Pro Skater HD.
This year's Summer of Arcade didn't resonate with players like previous years, or reviewers for that matter. Wreckateer was this year's Kinect-enabled title in the line-up, but compared to Fruit Ninja Kinect was a big flop – only 6,629 players were added in the first week. The game now has 126,924 players, but only because they allowed the game to go for free for two days in November.
Hybrid was another game that didn't catch on – to date this unique third person shooter only has 29,351 players on the Leaderboards. Sad to see as 5th Cell, creators of the popular Scribblenauts series gave something different a shot. Hopefully they continue to try to make more unique titles for consoles in service in the future.
Better off sales wise were Deadlight and Dust, with 117,549 and 82,865 players respectively. Deadlight has a Metacritic of 68, so it wasn't seen as a particularly good game, while Dust has a great rating of 82 – not bad for a one-man team.
Tony Hawk HD was only exclusive for a month, but was the best seller of them all, courtesy of nostalgia. The game added 236,252 players for the year which is very good, but also has the worst Metacritic of the lot due to technical issues and a lack of polish.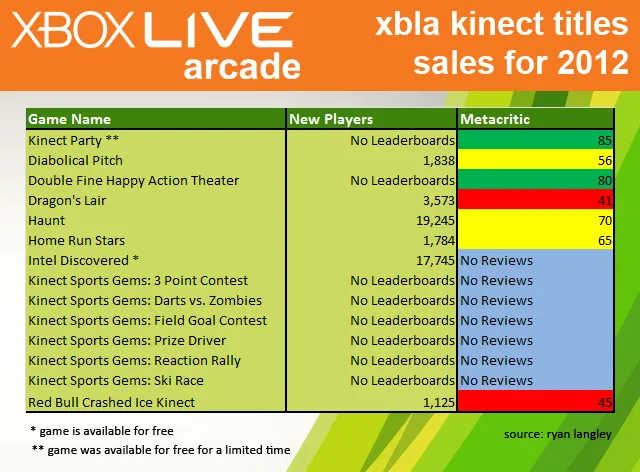 Kinect Titles
One of the larger pushes this year for Xbox Live Arcade was more Kinect titles – after the huge success of Fruit Ninja Kinect we've seen numerous other unique XBLA games come out of the woodwork.
Unfortunately it seems almost none of the games have sold that well – Home Run Stars, Red Bull Crashed Kinect, Dragon's Lair and Diabolical Pitch have all got less than 4,000 players. Intel Discovered was a free game, and yet only has 17,745 players.
The only games this year to get great reviews was Double Fine's double-punch of Happy Action Theatre and Kinect Party – the latter being free for a week before Christmas. Unfortunately we've no idea how well they've sold. We've also no idea how well the Kinect Sports Gems series have done, but it's likely they've not made much of a dent.
It's interesting to look at for future reference, especially if this next Xbox continues to the Kinect camera.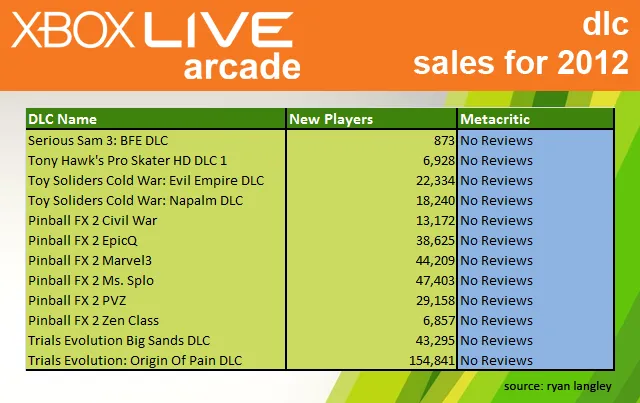 Of all the games released this year we were able to follow we were able to follow 12 pieces of downloadable content.
While last year's Toy Soliders: Cold War has sold over 400,000 copies since its release, the DLC plan was a bit of a failure. Their release was some 8 months after the original game and received little fanfare, adding only 22,334 and 18,240 players since its release.
Pinball FX 2's 6 new packs of tables throughout 2012 have sold okay, but it's clearly slowing down from the 2011 collections. They've said they're working on a third game, so it will be interesting to see how a new game will reinvigorate players to return and purchase items.
Trials Evolution also release two packs of DLC this year along with the main game, both selling quite well at $5 each.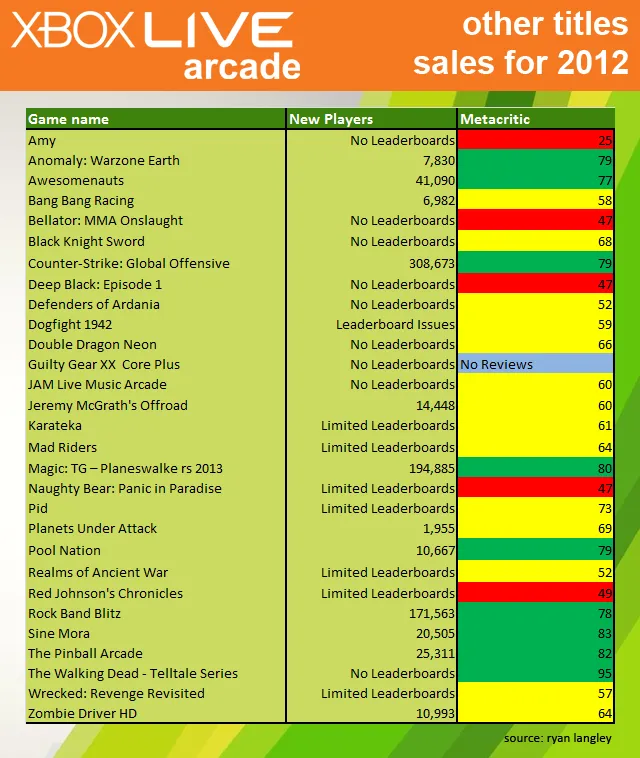 And Everything Else
We've gone through many developers and publishers over this article, now here's the rest of the titles that don't necessarily fit. Just because they don't fit a "theme" doesn't mean they're not going to sell.
Magic: The Gathering 2013 added 194,885 players for the year. While this is less than the 2012 addition, which had 268,921 players by it year end, it's great that the game has continued to keep the player base up with every year. This is in addition to the 83,681 players from MTG 2012 for this year.
Rock Band Blitz was also a big seller with 171,563 players on the Leaderboards which doesn't even include purchases of other song packs from the Rock Band Library. Valve's Counter Strike has also sold very well with over 300,000 players.
One of the games on this list that's sold extraordinarily well is The Walking Dead, which is also the best rated game of the year on Metacritic. We unfortunately have no data on how well it's sold, but it's also a unique item with the game having separately purchased episodes within itself with the whole lot costing $25USD. I'd be really interested to see what the drop off for this game is, especially since it drew in so many people with its storytelling.



A look back even further
Now this giant list is a look back at our list from 2011, taking 196 other games and seeing how they've fared this year.
Let's have a look at some of the oldest titles that are still kicking in 2012 – Castle Crashers continues to sell extremely well with over 500,000 new players, though it should be noted that the player count is quite a lot higher than sales thanks to local multiplayer. The game has cracked over 3 million players total too.
PopCap's Peggle is also continuing to be a monster, adding 270,000 players for 2012 alone and pushed over to a million players. In 2011 the game added 290,000 players, so the dropoff for the game has been extremely minimal.
Microsoft and Krome's Full House Poker has also sold very well with 165,436 new players for the year. With 2013's upcoming World Series of Poker: Full House Pro being freemium we should see this app slow down by a lot.
2011's Summer of Arcade titles continues to sell well in to 2012 with Fruit Ninja Kinect adding 758,953 players for the year (thanks to being bundled with a lot of Kinect hardware), Limbo adding 154,324 players and Bastion adding 93,688. Insanely Twisted Shadow Planet only added 21,128 players this year.
Other previously poplar titles, like Braid, Limbo, Dead Rising Case 0 and Dungeon Defenders are still selling well despite their age, even all of the Sonic The Hedgehog titles from years ago are still doing well. Even Super Meat Boy added another 78,000 players this year, and N+, which has been a fairly forgotten title on XBLA, added an additional 87,000.
Pinball FX 2's various boards are also still selling very well for Zen Studios, selling tens of thousands of each.

The only thing to really say here is that if you made an outstanding product, you were rewarded with a consistantly growing fanbase on Xbox Live Arcade. If you failed the first time, there's little chance it'll work out again.

So Until Next Time?

While at the moment I'm not planning to continue to writing these articles after this one, I might have a few ideas up my sleeve which might work out. We'll have to see.

In the mean time, oh man, this year is going to be so weird! With a sucessor to the Xbox 360 likely to come out, as well as numerous developers moving over to the digital realm of games, to the crazy amount of kickstarter upstarts, this could be a huge year for innovating. 2012 wasn't the best year, but by the end of 2013 we should have a lot to talk about.