As part of Red Fox Insights' research exploring esports gamers, we've tapped into a highly engaged gaming audience to better understand the MOBA genre, and player perception. By segmenting our results, we're able to determine which games are resonating strongest with which audiences, finding hidden trends shining light on gaming audiences.
We began with Epic Games' Unreal 4 powered MOBA Paragon and the mobile MOBA,Vainglory.
Very Different, Very MOBA
MOBA's are a key component of the fuel propelling esports into mainstream culture. This means the genre has seen tremendous growth and fierce competition. As a MOBA, carving a name for yourself in the esports space might mean using that competition to reach new audiences. Below this idea is applied to two very different, but very MOBA titles.
1. Paragon
Epic makes sure players identify Paragon as a MOBA. It's third-person. There are three lanes. It has 14 heroes with persistent progress and matches can last around 40 minutes. One way it separates itself from other games in the space is with its realistic (gorgeous) visuals, contrasting with competitors in the space like League of Legendsand Smite.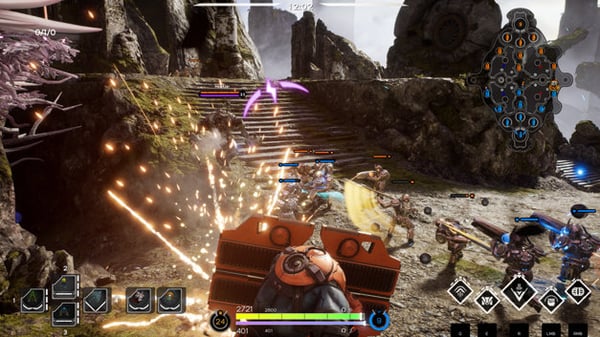 2. Vainglory
Vainglory also makes sure players view it as a MOBA first. It includes a shop, a jungle, a wide lane, synergistic hero selection and loads of strategic depth. One way it separates itself - it's exclusive to Android and iOS, bringing touch controls to the genre.
Audience Cross Sections
Of the gamers who are very excited for Paragon, 20.45% are very likely to try the mobile MOBA, Vainglory. This shows the likeliness of Paragon fans trying Vainglory is10.13% higher than the our sample audience.
Despite Paragon and Vainglory's differences, our results revealed a deep cross section. Over one fifth of Paragon's newly forming audience were very likely to try Vainglory. Understanding this cross section opens opportunities for expanded growth and exposure for both games.
Vainglory, released in 2014, landed a three-year partnership with Twitch and continues establishing itself in NA and EU's esports lineup. With about a year and a half under its belt, Vainglory has built a strong following and made strides in esports, which is "fundamentally part of the product."
According to Tech Times,



"Vainglory has managed to stun even its makers [Super Evil Megacorp] by building up a viewership of 150 million minutes on Twitch, and currently boasts of a sizeable audience comprising both spectators and professional players who participate actively in the tournaments."
Meanwhile, Paragon is in early access for those who purchase the $19.99 Founder's Pack. It will eventually be free-to-play and Epic has revealed the Paragon Essentials Edition that will be available in retail stores June 7th, costing $60.
As Paragon inches towards a full release, it can look to established MOBA's like Vainglory for marketing information, to understand their competitors audience and to build a successful esports structure. For Vainglory, Paragon's launch and the cross section will allow the nearly year and a half old mobile MOBA to align itself with a newly engaged audience.
The Bottom Line
MOBA's are a major part of the industry and esports. Finding success in these areas means creating an engaging game, understanding the landscape and learning from your competition. Learn more at Red Fox Insights.
This research involved 319 completed gamer surveys from the naturally targeted gaming audience of MMOHuts.com.
94.25% of the population were male gamers, with 5.75% being female.
57% of the sample audience were ages 18-24.
29% were ages 25-34, and 14% were 35 years or older.