Didn't break into App Annie's list of the Top 52 highest-earning publishers for 2015? No worries – you're in good company. Most indie mobile developers don't have the capital, the development resources, or the in-house marketing expertise to compete with the likes of a MachineZone or Kabam.
But that doesn't mean that smaller game studios can't turn their love of making freemium games into a sustainable, healthy business. Just ask the collective of Fortafy Games and EyeboxGames, who, along with original creator David Reichelt, are the dream team behind Color Switch.
Color Switch is topping the charts with its simple, addictive gameplay. With close to 30 million downloads across both the App Store and Google Play Store, the team has gotten a taste of triple-A success. And we've been working with them (through our Heyzap team) to power the ads in Color Switch, so I got them to share four tips for indie mobile developers that want to generate real revenue from their free-to-play games.
Test multiple ad formats
You want to experiment with multiple mobile ad formats to see what works best in your game. This may be a hard sell for mobile game developers that are skeptical about integrating ads, but it's really important to find a strategy that delivers the best user experience for your game. Looking at successful apps in your genre can also be a source of inspiration.
Color Switch launched with banners and interstitials, but after a month and a half, EyeboxGames co-founder Marc Lejeune decided to implement rewarded video. Within just two weeks, the new ad unit led to a 40 percent lift in ARPDAU. It's an increase the team says will drive an updated strategy in the coming months: "Our goal is to remove banners in the future, and include more interesting rewards for the players that watch video ads," Lejeune said.
Mediation is essential
But while implementing multiple ad formats and networks is key, ensuring that each one is being optimized manually – across countries and user segments, for example – can be a hassle. There's also the question of handling scale. As a game becomes more popular, developers need to have demand partners in place to monetize those new players. That's where mobile ad network mediation comes in.
The Color Switch team started with just two networks, but the fill rate – or essentially the number of ads served vs. the amount of inventory available – wasn't high enough. "Mediation was mandatory for us because it was very simple to manage," Lejeune said. "We could add new networks, cut others, and have an algorithm automatically choose which ads were going to deliver the most revenue." Mediation made it so the team could "focus on game production and updates," Lejeune said, "Not the ad system."
A plug-and-play partner is key
Small mobile game studios may not have the in-house expertise necessary to to make choices about the best ad networks and in-game placements. Or, as in the case of Color Switch collaborator and Fortafy Games co-founder Zeb Jaffer, the most knowledgeable person may be juggling multiple other responsibilities.
"It's so important to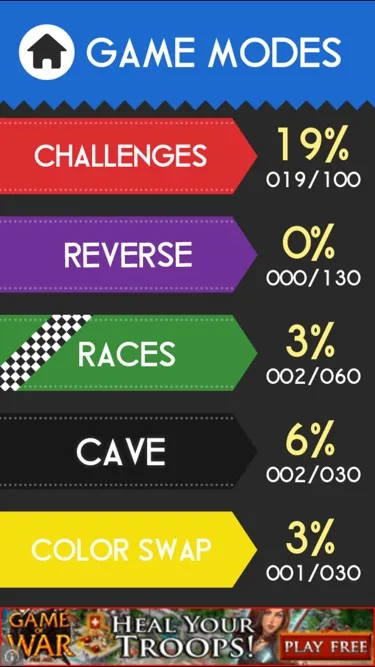 be able to focus on my day-to-day things," Jaffer said. "Ad networks hit me up all the time saying 'I'll give you an x-percent increase on this,' but I'll probably end up spending 20 hours a week doing that, and I won't be able to focus on the things that matter – like business development, game strategy or game updates."
Ultimately, the best strategy for building a business with your free-to-play mobile games is to work with a monetization partner that lets you focus on doing what you do best – making great games. That means a platform with simple integrations and ongoing support.
"Some days I don't even look at the dashboard because I just know [mediation] is just going to be doing its own thing," Jaffer said. "[Heyzap] has been able to provide us with a burden-free environment where we don't have to worry about many things, and I think that's what works well for indie developers and small studios when it comes to monetization."
Narrow your focus -- and don't give up
Lejeune acknowledged that Color Switch was a very simple game, but said that simplicity is key to getting your first piece of IP out there.
"Simple games are better to start with, because you're not spending months or even years on a huge, ambitious project that may not get finished," he said. "Having more realistic objectives and building a game with goals you can attain is important for small teams, because it's almost impossible to reach the top of the App Store with your very first game. You have to keep making new games without losing hope."
You can dig deeper into how studios behind games like Color Switch use a combination of mediation and rewarded video in this case study from Social Point, and as always, through posts on the Fyber blog.