This past weekend, I attended one of my first major conferences as an indie developer. I went up to EGX Rezzed in London with the Brighton Game Collective and next-door neighbor independent dev KnifeySpoonie to help them exhibit their match-3 fighting game (not only am I serious about that, it's awesome), Pro Puzzle Wrestling.
It was a fantastic experience, and almost all of it was a new territory. Over the last few years, I've been lucky enough to attend a number of events, including GDC and BitSummit in Japan—but I have always done so as part of a AAA publisher. Experiencing an event as a small exhibitor was a nice change of pace and provided some interesting insights, written up below.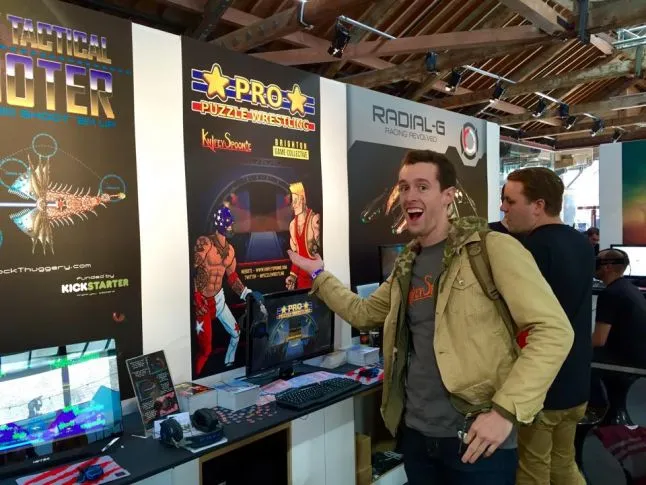 Getting ready for the big event
In AAA, People Are Excited to See You(r Company)
There's no shortage of people to meet if you attend a conference as part of a AAA developer/publisher. In this sense, a number of things are taken care of for you. The name of the company means people will seek you out and make time for you.
For weeks beforehand, my LinkedIn inbox would start to overflow with meeting requests and inquiries. At the conference, exhibitors would be excited if we came over to check out their stuff. Our cups ranneth over with free coffee and beer—which, during a weeklong conference, might actually constitute a health hazard.
(Occasional) Hollow Courtesy:
There are a number of advantages that come with having a AAA logo on your business card: people respond (more) promptly to emails, rearrange their schedules for meetings, and focus more intently on what you have to say. It grants access to the latest-and-greatest unreleased sizzle reels, and the supply of branded notepads and pens is limitless. Sure, it might not be as friendly and down-to-earth as indie, but I had people's attention.
And yet, I work in this industry because I love it, and I remember how frustrating it was to be nothing more than a dropbox for a sales pitch. There are so many interesting projects to see, people to meet, and discussions to have, that being the face of the company and not a person could be frustrating. While I understand it and still enjoyed the work, I don't find it as emotionally satisfying.
Switching gears to Rezzed, it was a breath of fresh air - an immensely challenging, physically exhausting marathon of a breath, but refreshing nonetheless.
Knife at a Gun Show: it can work.
In the past, I would jump between meetings and seek out projects to report back on, but at Rezzed, we could barely get away from our booth - we spoke until our voices were raw, we only got off our feet for lunch (pro tip: Converse are not a great exhibitor shoe), and we had to improvise our entire floor strategy on the fly. It was exhilarating and tiring, but we kept a stream of people lined up for the game, and the player response was phenomenal.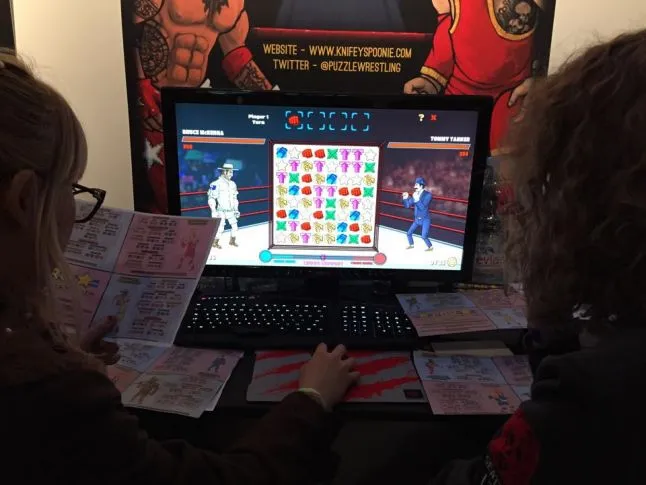 The AI is about to get thrashed.
Pulling this off was extremely rewarding. Positioned in a row with several other developers from Brighton (Tammeka Games' Radial-G and Sock Thuggery's Mighty Tactical Shooter), we were competing for attention in a room full of incredibly talented people and entertaining titles, and that entire room was competing with the likes of Guild Wars 2, ID@Xbox, Devolver Digital, and several other areas featuring darlings of the indie world. We were on our own, acting as the marketing team, the PR team, and the promotional materials all rolled into a tiny cluster of people with one PC and a banner. We did the best with could with the resources we had: bodies, buttons, and a mountain of flyers.
You Are (Not) Alone
One of the best things we did was meet other developers and work together to promote each others' titles, a thing that would never fly with the big developers. We put together "indie game flyer packs" and handed them out to anyone who walked near any of our booths. We ran spiels about every game in the pack and pointed out where to go, and the uptake from players was fantastic: we were providing a convenient filter for an abundance of choice.
While these strategies may not be new to veteran small developers, it was a complete 180 from the experience of being with a publisher. We all found time to play each others' games, and ideas flowed along with the pints after the show to comfort our feet.
It was the sense of camaraderie and direct responsibility that most differentiated the independent developer experience from the AAA experience. We were all in it together, supporting each other and working to make sure everyone got noticed, rather than jumping around trying to find business opportunities. Instead of business and networking over drinks a swanky bar, we banded together with new friends to recount the day and plan for the next (still a form of networking!).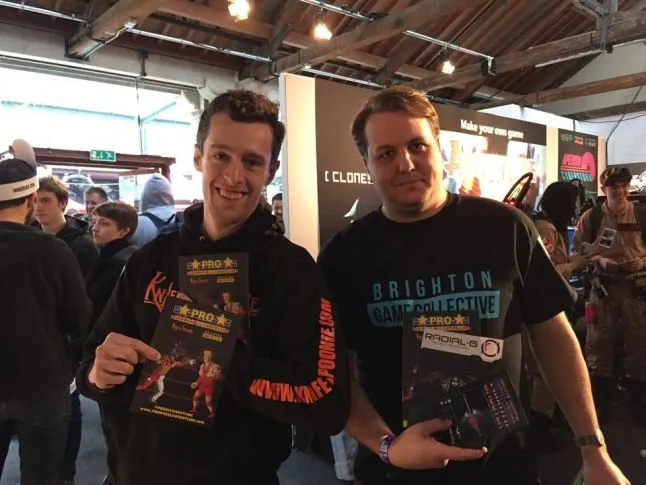 Marketing and PR, all rolled into one
I enjoyed my time in AAA and met some incredible people. However, I also appreciate the emotional reward and heaps of experience from running a tiny booth with friends and collaboratively taking on the challenge of standing out in a crowd. The results felt more real and the successes more earned.
Which is Right for You?
I wouldn't trade my experiences in AAA, from awesome games to awesome coworkers, for anything. For all that, having done both AAA and small development now, I know I will be sticking with friends, sore feet, and a cracking voice in order to get direct contact with players and to have responsibility for our failures and successes.
On the other hand, I'll definitely take a free drink, if you're offering.
[Reblogged from the Abyssal Arts website. Want to buy me a drink? Tell me @Shibusuke]