I've been making games for going on more than 30 years now. When I was sixteen, I created an arcade game called Boulder Dash. Maybe you played it on the Atari 8-bit or Commodore 64. It was an exhilarating time where there was no concept of a videogame "industry" and it was fueled by an idea, passion and willingness to learn how to create.
The runaway success of Boulder Dash as my first game experience set the stage for this new career path I am now taking with TapStar Games. After spending the last decade working for big publishers, I've spent a lot of time reflecting on the differences between my initial start as a small developer and my last ten years at a large publisher, as well as the advantages and opportunities that the little guys can have if they play their cards right. That is, if they are smart, innovative and recognize their weaknesses as well as their strengths, there is no reason they can't succeed!
Which leads me to a talk I gave at Casual Connect about Davids vs Goliaths.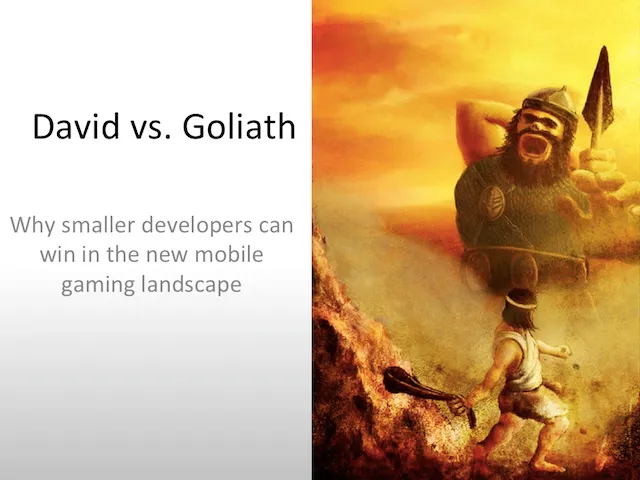 First a little history--
In the Biblical story of David and Goliath, David put on a coat of chains and a brass helmet and readied himself with a sword: he prepared to wage a conventional battle of swords against Goliath. But then he stopped.
"I cannot walk in these, for I am unused to it," he said, and picked up those five smooth stones.
We all know what happened next, David won!
David's victory over Goliath is held to be an anomaly, but it was not – in fact, Davids win all the time.

You can't compete directly with Goliaths if you're a David.
A political scientist named Ivan Arreguín-Toft looked at every war fought in the past two hundred years between strong and weak combatants. He found that when the underdogs acknowledged their weakness and chose an unconventional strategy, the "David's" won in 63.6 percent of the cases.
So, when underdogs choose not to play by Goliath's rules, they win, even when everything we think we know about power says they shouldn't.
The message here is -- you can't compete directly with Goliaths if you're a David. Rather you need to adapt your strategy and focus on your strengths to develop and publish mobile games.
How Davids Play in Mobile Gaming
Don't try to be the next EA, or Zynga, or even Kabam. Here's four smaller developers who are great examples of the Davids of Mobile Gaming, and if you take a lesson from their playbook, you might just be able to replicate that success yourself!
Supercell – Aesthetics are Everything

According to a recent article in Forbes, Supercell has 8.5 million daily players generating $2.4 million every day, sometimes more. Supercell is already at a run-rate of more than $800 million for 2013, having earned $179 million before expenses in the first quarter alone. Here's the kicker – they only have two games on the market right now, only available on iOS: the social farming experience, Hay Day, and the tower defense game, Clash of Clans. Supercell has 90 employees so they are a larger David, but an underdog nonetheless.

Supercell focused on small details that lead players deeper into the game, such as the charming aesthetics of game characters like sheep that overflow with wool when it's time to sheer them or pigs that become so fat they cannot walk, indicating it's time to harvest their meat.

According to Timur Haussila, a product lead and one of the brains behind Hay Day, the aesthetics are a big deal and, in fact, the visuals of the animals on Hay Day came first. "It has a huge impact," he said. "It's the first thing that you see."

Then there is the social aspect of mobile gaming as a draw. In Hay Day, not only can you visit other players, but you can help them, and you can both produce and sell goods to other players with in-game money. You can use real money to buy yourself game resources and power-ups.

Mojang (Minecraft) – Keeping it Fun for the Community

Swedish developer Mojang enjoyed $237 million in revenue last year (>90M in profit) thanks to its hit game Minecraft, which sells for about $20 and has been purchased over 20 million times across all platforms. Minecraft was first released for the PC/Mac in 2009 as an experimental game, and only after its runaway success did they bring it to the mobile platforms Android and iOS; and then partnered with 4J Studios to release it on Xbox 360 and XBLA.

With just 25 employees, the company still retains its indie spirit, focusing on making games that are fun over making a profit. Creator Marcus Persson's advice to other "garage" developers: "just make games for yourself and try to have a critical eye to what you do. If you genuinely like the game there will be other people who like it as well."

One of the strengths that Mojang focused on was building a community and incorporating gameplay mechanics that allowed players to create and share their own hard work. The community's word of mouth was a key component in the game's success -- not a huge marketing budget.

Persson spoke with Gamasutra back in 2011 about his plan to add achievements to the game, which has turned out pretty well for them!

Imangi (Temple Run) – Programmers at Heart who are Keeping it Small

Temple Run's creators, Keith Shepherd and Natalia Luckyanova, have turned the mobile gaming boom into a million-dollar business for the three-person company (artist Kiril Tchangov rounds out the husband and wife team). Temple Run for iOS drew over 20 million downloads in its first week on the App Store and has been downloaded over 170 million times across both iOS and Android.

In the beginning, Temple Run cost 99 cents to download, and while it received overwhelmingly positive reviews immediately after launch, the number of new users began to taper off after two weeks. A month after its debut, Shepherd switched to a freemium pricing model, allowing users to download a basic version for free with the option to pay for virtual coins that can be redeemed for in-game upgrades, including invisibility. The game quickly rose to No. 2 on the App Store list of free apps and was downloaded about 200,000 times a day at its height, making it one of the highest-grossing games in the App Store in January, according to Apple.

A sequel, Temple Run 2, was released in January and in the first two weeks of launching on the App Store, Google Play, and the Amazon Marketplace, the app was downloaded more than fifty million times, the fastest downloaded mobile game in history.
The freemium model has clearly been a win for Imangi.

The team took a risk with the visual aspect of the game, using dark colors and a more ominous theme, while most popular mobile games tend to have bright colors and a cheerful theme. In the game, a red-haired thief has stolen an idol from a temple and is being chased by a hungry pack of animals.
And while Imangi took another risk in partnering with Disney on two of its follow-up games, the duo maintains their strength lies in their small size.

Temple Run: Brave, which combined the first Temple Run game with Pixar's Brave, remains a major paid download for partner Disney, and Temple Run Oz, which is a mashup of the Temple Run game with Sam Raimi's upcoming Oz: The Great and Powerful movie, explores stunning environments inspired by the film.
As a David in a sea of Goliaths, I believe Imangi's risks have worked to their advantage.

Plague Inc. – Spreading Virally by Word of Mouth

Plague, Inc., an iOS and Android strategy game developed by one-man developer, Ndemic Creations' James Vaughan and a team of three freelancers, has been downloaded over 10 million times and was the 15th most downloaded paid iPhone game of 2012 in the U.S. The game has players killing as many people as possible as they try to infect the world with a deadly plague.

Gamasutra's Leigh Alexander covered its success back in March in which Vaughan reveals the games' success began with a completely-silent launch: he was on vacation, and Apple released the game sooner than it expected. "That meant it was already facing a pretty significant uphill battle," he said. But in the four hours that followed its surprise launch, it had been downloaded 500 times. With no Apple featuring, no user acquisition and no marketing, it's been able to spread to fans of the niche slowly by word of mouth.

Ndemic's secret "David" sauce was two fold: Vaughan loved strategy games on the PC and felt that there weren't enough high quality strategy games on mobile. In addition to being very polished, Plague, Inc is challenging and thought provoking, and treats the players as intelligent human beings.

The other detail he paid attention to was community-building. Fans enjoy talking about it with each other, which has helped Plague, Inc. spread virally. Its even become a popular topic on Reddit which only makes the community stronger. This isn't something you can put marketing dollars behind - you need a great game that people want to play and share.

5 Ways Davids Can Break All the Rules and Beat Goliaths

Davids have a lot going for them in the mobile gaming market. Here's my top five pieces of advice to all the Davids out there:

Take creative risks and be faster and more creative than the Goliaths. Be the agile speed-boat (David) not the lumbering super tanker (Goliath). Focus on quality, fast development and rapid iteration - fail quickly and cheaply and often; fix it as you go or move on. Most of all, be passionate and be original.

Take advantage of all the disruptive business models and emerging technologies available. You don't need VCs or a lot of working capital to be in the business.

Small is the new beautiful. Small overhead and small, nimble teams = larger ROI. You don't need to scale up to be huge so don't worry about empire building. Being big also means being slow and risk-adverse. Remember, directors and small production teams won out over large integrated film studios of the 1930's "golden age".

Build a 1-1 relationship with your audience. Have a compelling story and connect with your audience.

Relentlessly engage in social media, PR (earned media) and guerrilla marketing. Indy developers do this well. A review or recommendation is more valuable than any banner ad or "acquired customer".

You can beat the Goliaths as long as you don't try to act like a Goliath

Anyone can compete successfully against much larger developer/publishers as long as you know your weaknesses and play to your strengths. Through perseverance, hard work, being open to new strategies and exploiting all the available technologies & media formats today you can make it happen.
Tell us about your favorite Davids of Mobile Gaming in the comments below.