As CEO of Reliance Entertainment Digital, I am often asked about our mobile titles, particularly our best-seller to date, Real Steel. I wanted to take this opportunity to address a few of these questions and share some insights with my colleagues in the industry. Before that, we have compiled player data in this infographic: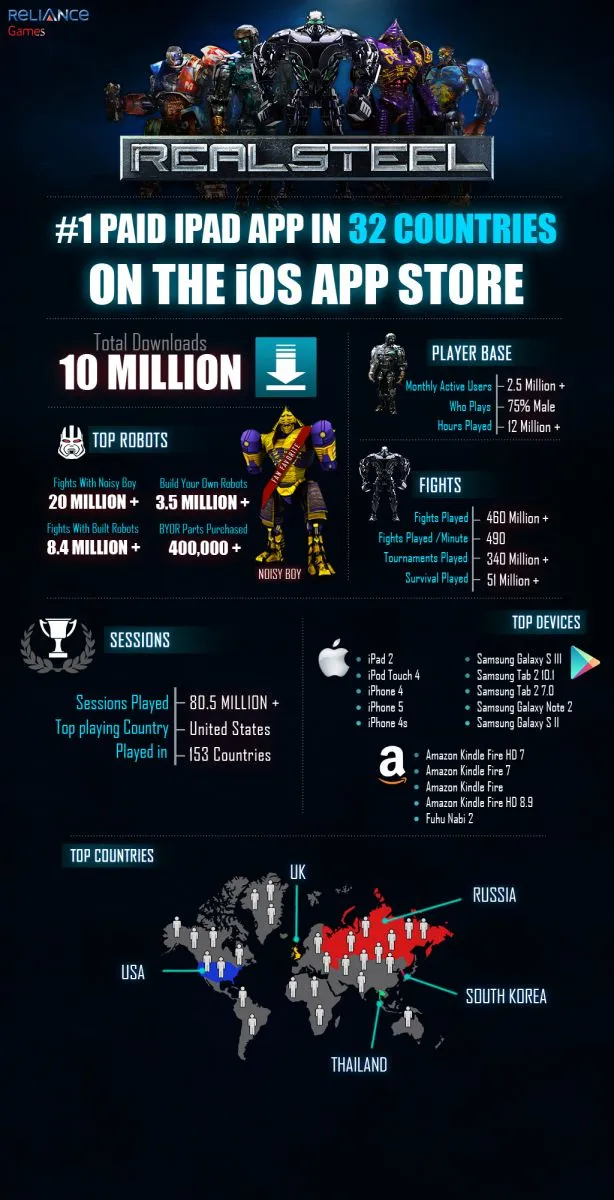 How do you take on the task of translating a film onto mobile devices?
At the outset, our game production and design teams read and analyze the script alongside the film's writers and Executive Producer to understand their creative vision for the project. The film production house shares a range of assets including the script, design documents, unedited "scratch" footage, storyboards and more.
For Pacific Rim, the team spent considerable time with director Guillermo del Toro to understand his vision. Based on all this input, a concept document is created for the game and presented to the film's key stakeholders for edits, discussion and final approval.
How much are you required to stay to the "script"? How much flexibility do you have with design elements? What are you given before you begin designing? Has the development team seen the film?
The game can be built anywhere around the universe of the IP, and elements from the script are blended with new ideas. For example, in After Earth, the game's storyline was set in the After Earth universe but didn't overlap much with the movie's plot. Pacific Rim follows the original script much more closely. Case by case, it's a joint decision between the filmmakers and the game developers.
Was Real Steel a success at launch? How many downloads in the first week? How did you see download numbers grow after the film was released?
The Real Steel game was released two weeks prior to the movie. Partially due to being a paid app, the users were sparse, with only a few thousand downloads in the initial days. The real success was built around the DVD launch when users started searching actively on the iTunes store; seeking the movie, they also discovered the game. A content update synched with the DVD release lead to a huge spike in our userbase, adding a couple hundred thousand users in a week. Later, when we made the game free around Christmas, we added over a million users in just three days. This sent a clear message: players were eager to invest their time in the game once it was available free.
Over time, the game has been downloaded by over 10 Million players.
What changes have you made to the game in the two years since launch?
There have been 21 updates to the game in the two years since launch, nearly achieving our goal of one new update each month. Changes can be categorized in the following three areas: 1) content updates like new robots and arenas, 2) new game features like Build Your Own Robot, Survival mode, the Tier-based tournament mode, and 3) fixes that address customer issues like loading times, smoother controls, UI flow, and bug fixes.
Why have you made those changes? How were they received by players?
Game updates provide players with new content; increasing the product lifecycle boost retention and engagement, leading to better monetization. We have some fairly engaged users, with an average session time of 168.7 seconds versus our benchmark of 117 seconds. Over time, our players have started to expect regular updates and keep asking for more features in the game. For example, the option to Build Your Own Robot was the most requested update, and when we added it, it became the top-selling feature in the game. Similarly, Multiplayer was requested so frequently that we decided to create a whole new multiplayer game called Real Steel Friends. The beta was released on Google Play in July and is performing well. There are over 23,000 challenges being sent every day and it is growing at a rate of 20% week over week.
How do you adjust for player feedback? How long does it take to design a new update?
We continuously study player behavior through our in-house analytics platform. This gives us important insights like churn rate, points of drop offs, time spent, money spent and more. These data points are used to find issues in the game, and then designers and product mangers come up with ways to counter them. A typical update design and release cycle is three to four weeks.
Our userbase is quite engaged and provides us with the bulk of our feedback. Also, we are continuously monitoring player patterns such as session times, drop-off, and the performance of new features. User feedback is one of the most important criteria for the success of our games; we're not satisfied until our players are happy and the latest feature has improved the overall gameplay experience.
Keep an eye out for Real Steel: World Robot Boxing, the upcoming sequel to Real Steel, hitting the iOS and Android app stores October 17th!