I hope it will help and/or inspire other indie game developers.
After an unsuccessful crowdfunding in 2013, where we only raised 22'000 of the 75'000 USD we set as goal on Kickstarter, we had a successful one in 2015. We crowdfunded 300'000 USD on the 200'000 USD we aimed.
I won't go into details on how to make a successful crowdfunding because there are plenty of documentations on internet and it's generally universally true. Like, for example, build a community and a good communication prior to the crowdfunding and not only during the funding phase. This was true for us and is usually true for everybody.
Instead I will focus on the choices we made to make it differ from mainstream crowdfundings and, sometimes, the counterintuitive decisions it takes.
Those decisions were:
Not appealing to our loyal fan base from our previous game
Not using any crowdfunding platform
Our material production value was low comparing to the pledge value (vidéo quality, guest stars, etc.)
We didn't communicate much into the game community
The game is a "pure" free to play (yes, we did that!)
I hope you get some advice that will inspire you.

History
First, quick story of our studio. We released Moonga (http://www.moonga.com) in December 2009 and this was the first ever trading card game on iOS. It was also one of the first free to play game before the in app purchase ability was implemented on iOS mid 2010. Having a free game at that time was great because it kept the marketing cost very low as it is much easier to convince people to download a free game among all premium titles available, while still generating revenue from the card sales.
We managed to trigger good revenue and to sustain the studio, we also raised some funds from angel investors to create a growth.

Even our KPI (key performance indicators) were really good, among the best in the industry in term of ARPU (average revenue per user) and ARPPU (Average revenue per paying user). We didn't manage to scale, probably due to a lack of solid partners to finance more important user acquisition. But this is another story, I guess an article in the future might be good.
As of today, we are still maintaining Moonga and we have a community of diehard fans of the game. The community is too small to sustain us but they are very dedicated and committed. Today's landscape is over-competitive. With games like Hearthstone and other free-to-play card games, it's close to impossible, as an indie studio, to keep up the competition without a strong and real differentiator.

Studio positioning
Innovation is part of our DNA. It's the way we stand out of the competition.
Making a trading card game in 2009 on mobile was innovative at that time. Making content sales when in-app purchase was not implemented was innovative too. It has now become the basics. For our next title we wanted to explore a future business model with a market that is not yet in place but will massively be in the next years. This time, we won't be left behind as we not only want to release a new game, we also want to build in advance the tools that big studios will need later to embrace the new market moves!

Building a vision
Selling a product is good, but the reason why we are selling it is far more important. We are not just selling Spells of Genesis, we are selling a vision. Apple, for example, first states the Why, then the How then the What.
With everything we do, we aim to challenge the status quo. We aim to think differently. Our products are user friendly, beautifully designed, and easy to use. We just happen to make great computers. Want to buy one?"
source : http://blog.hubspot.com/customers/3-takeaways-from-start-with-why

We decided to focus on the vision and the why
We believe in a new free-to-play game economy. A fairer economy where people own the product they purchase. We want to offer the ability not only to own the game they purchase but a slice of the game itself. We believe that giving ownership of the product empowers the community. Together we can do something bigger.

How (the technical approach)
This vision is possible because the technology now enables it. The Blockchain technology gives ownership over digital assets. Bitcoin is a decentralised currency, meaning it's not stored on a unique database controlled by one entity but is instead a ledger duplicated in a network of computers. To make it short: no one except you has access to your bitcoins. This also means your digital possession of bitcoins cannot be altered and no one can refrain you from giving them to anyone.

The approach is pretty similar than a physical trading card game. When you purchase a physical card, you own it. You are free to do whatever you want with it: either give, trade or sell it. Even if the game ceases to exist, you still own the cards you purchased. On the digital world, if the game developer chooses to stop the game, they shut the database down and the users don't own anything anymore. Also, games studios refrain players from trading cards among them in hopes of not losing revenue.
Physical cards games make 70% more revenue than digital cards games, but 2/3 of card games players are playing digital card games. Why are people spending more on physical games? You guess it, because when you purchase something physical, you own it. The card might even gain value and if you want to stop playing you can still sell or give your collection to someone.
We decided to make a crowdfunding where everyone feels involved and if the game is successful, everyone wins.
[
(Spells of Genesis' blockchain cards)

Finding our market
Back in 2013, we made a Kickstarter campaign. It was about a printed version of our card game Moonga with cards having a unique NFC chip inside. The aim was to bridge the gap between the physical and digital worlds by allowing players to connect their physical cards to their digital versions. The campaign was targeting mostly our dedicated user base and also tried to get new players used to more traditional physical games. We targeted 75'000 USD and we only managed to get 22'000 USD so the campaign was not funded. It's hard to define exactly the reasons for that failure...
For Spells of Genesis, in 2015, instead of focusing on our previous game's fan base (Moonga), we decided to aim our communication towards a very specific group: people who can understand and embrace our vision. This is why we decided to target «Bitcoiners», people who are comfortable with the blockchain technology and who could easily understand the potential of our vision. Thus, we decided to heavily promote SoG and it's vision to bitcoin and blockchain communication channels.
Since no platform like Kickstarter was able to manage "blockchain digital assets", we did the crowdfunding on our own website (http://bitcrystals.github.io/).

We created a digital asset called BitCrystals (BCY), we issued 100'000'000 units and no more can ever be created. BitCrystals is the premium currency of the game. In a sense, everything that is purchasable in the game will require BCY. To simplify, if someone owns 100% of the BitCrystals, he owns everything purchasable in the game meaning he owns the game.

On these 100 mio BCY, we kept 15 mio for the development team, and 15 mio for us to distribute at events or to give to the community. The 75 mio left were put on sale for the Token Sale and we destroyed all unsold BCY.
Once the BitCrystals were sold, we've started selling Spells of Genesis cards for BCY. Once a month, we burn (destroy) half of all the BitCrystals we receive from sales. The other half is kept by us to be resold as our operational revenue. Once someone purchases a card, he has full ownership of it meaning he is free to give it to anyone or sell it to anyone without paying a fee, just like physical cards. The cards will become more valuable as the demand for the game increases.

Build trust
Since we are not working with a platform, trust is crucial. People who participated to the sale need to have a guaranty that we are going to deliver the game we promised, allowing people to use the game assets they purchased. To build this trust, we have two renowned people from the bitcoin community and one of our partners to be judges. We defined 4 milestones, that we have to deliver at previously defined dates, to release 1/4 of the total crowdfunded money for each of them. The bitcoin raised are held in a multi-signature wallet. Meaning no funds can be moved without a signature from at least 3 parties: EverdreamSoft and 2 of the 3 judges.
Outcome
We managed to raise 934 Bitcoin, worth around 361,000 USD at current market price. That's a lot for a small indie studio and probably much more than what we could get from a Kickstarter campaign.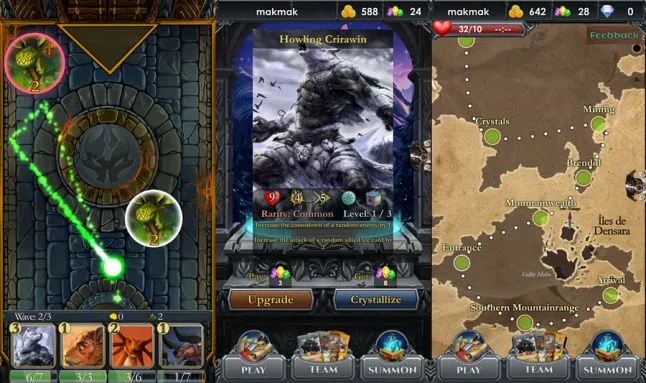 That's it. I hope these information are any useful for you. Let me know if you have any questions
Links
Download Spells of Genesis beta (apk) android : http://spellsofgenesis.com/play/last.php
Test SOG web version : http://spellsofgenesis.com/play: Webversion
Crowdfunding page : http://bitcrystals.github.io/ Crowdfunding
BitCrystals market http://coinmarketcap.com/assets/bitcrystals/] : CoinMarketcap[/url]
Touch Arcade article : http://toucharcade.com/2015/02/17/upcoming-spells-of-genesis-is-the-first-game-to-use-bitcoin-blockchain-for-its-in-game-economy/
Register to the game to make your to get all important information :
http://www.spellsofgenesis.com?ref=GAsU
Follow us on twitter to have an instant overview of what's happening
https://twitter.com/SpellsofGenesis?ref_src=http://gamasutra.com/
Like on facebook to get about what's happening in our office in Geneva
https://www.facebook.com/spellsofgenesis/?ref=ga