Since day one at NAD school, I've been ready for some serious challenges and night crunches over academic projects. By making my schedule day by day, I got a clearer view of my smaller goals creating a whole. However, those three years are closed and my bachelor degree obtained; ready for a fresh start, a ideas' boiling mind.
But here is the deal... even if everyone prepares you to an obvious and long job seeking quest, something else is substancial to an "healthy body and mind". Something new needs to keep me going. And so it must for those of you in the same position.
As a newcomer to the game's industry, I find myself in an ocean of talents, surrounded by senior developers and other talentuous junior job seekers. I am realising those people ARE my ressource. From confining into cubicles to defining ourselves on the job's market, we need one another to build up projects, get ambitious and start new concepts.
SwoOop!
This is where SwoOop! comes to life.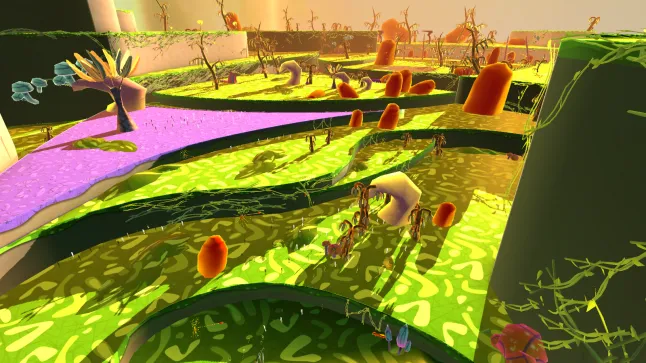 SwoOop! is this game about a solitary and microscopic creature named Korrasso meeting a new entity of his life, completely terraforming and perturbating his stable environment. The hero must overcome anything... but his own inability to work it alone.
The game itself is forever in motion. The soundscape affects the gameplay affects the visual environment. The beat follows the visual and the visual follows the beat. The gameplay stands on the beat and the sound composition stands on the main game mechanics.
It is another type of video game as properly said. I want it to be an exploration of an uncommon ground.
I will present a prototype in the month to come and I am glad since the experience of cooperating with a programmer, another 3D Artist (as I formerly am) and a sound designer opened my horizon over video games' different perspectives. I intend to get reviews from valiant game developers such as you are.
This is what keeps me going today.
In short, game development, partnerships and constant motion keep me going while I am swimming this industry's ocean. And you, what keeps you going?