Whether you've been making art for games since the 1970s or you are picking up your first digital paintbrush today, asset production for games does not need to be wallet-shattering. We're following up with our best free art tools resource with a few additional low-cost options for your practice or project.
I picked a somewhat arbitrary price of $50 USD as the limit, and have prioritized tools that appear to have good documentation, support, and/or community resources to help new users get up to speed making art. Unless otherwise noted, all prices are approximate, accurate at time of writing, and listed in US dollars (USD.)
I've also decided against featuring software that is only available via subscription: everything featured on this list has a one-time fee structure. It's worth noting that there are multiple well-regarded art tools with an "indie" or personal license for a relatively low monthly fee: for example, the 3D modeling packages Vectary at $15 USD monthly, and ZbrushCore around $10 USD monthly. As they'd add up to over $50 over a year of use, they went over my (gut instinct) limit. I'll let those options sit here as honorable mentions for interested parties.
Be sure to check out our overall list for the best game development software right here for all of our free and low cost resources!
Table of contents:
Aseprite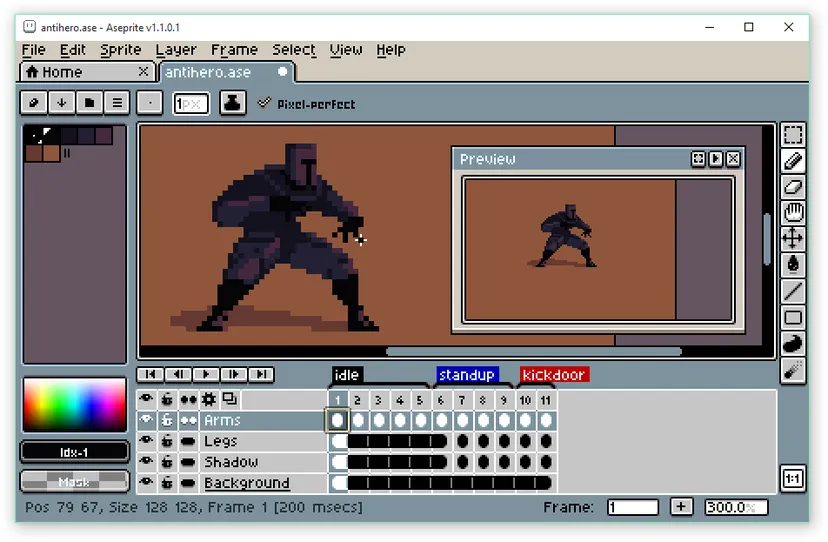 Aseprite is, in the opinion of your humble list-writer, one of the best toolsets for its particular use case on the planet. The suite is used widely for pixel art (think 8, 16, or 32-bit 2D assets, though that's really just the beginning) and animation, and works on PC, Mac, and Linux machines.
Aseprite runs around $20, and features a strong community (with plenty of scripts for extending the tool and adding functionality), and a great deal of tutorial resources. As of the latest stable update, Aseprite has specific tileset functionality built in (especially useful in creating game assets for many types of 2D games), and robust options for animating your artwork (though animation goes beyond the scope of this list!) You can export your artwork in many formats, especially high-quality .PNG (recommended for pixel art), and brought into your game engine of choice (for example, Unity, Unreal, Godot, etc.)
PicoCad
PicoCad is a "A tiny modeler for tiny models" and offers a simple (but powerful) solution for making very low-poly 3D models. Though it works on Pico-8 technology, it's a completely standalone program, and it has especially robust documentation and tutorial resources for a package that runs about $5 USD, including a full Notion wiki. There's also a strong community of users, via Discord (and evidenced by PicoCad "modeling jam" submissions here on itch.io ).
It's a very particular type of tool (meant specifically for low-poly models with a pixel art flair, reminiscent of 32-bit games of the 90s). But if you are looking to recreate this type of aesthetic in your project, PicoCad does export to the .OBJ file format that plays nicely with many 3D game engines, including Unity, Unreal Engine, and Godot.
Pyxel Edit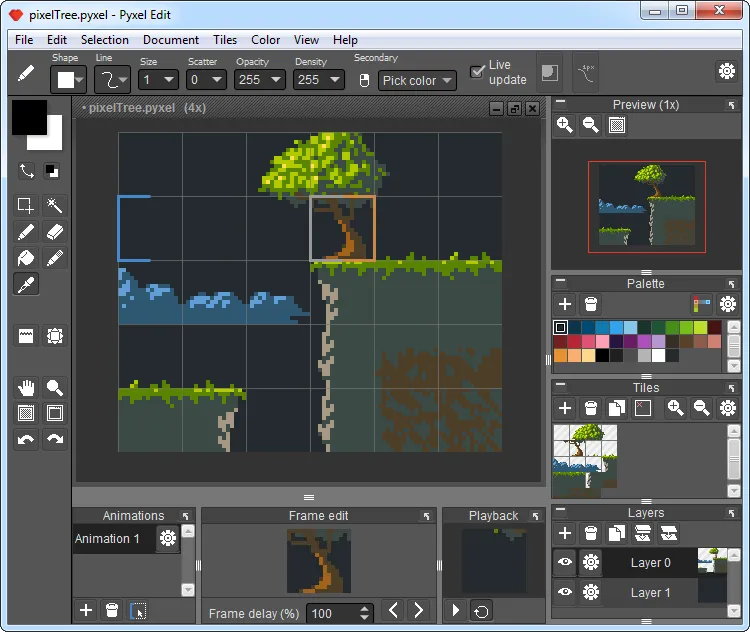 PyxelEdit is a 2D pixel art application with a special emphasis on working with tiles and tilesets, which means it's especially suited (though not limited to!) to making art for games with 8, 16, or 32-bit aesthetics. There is a free version of the app (though it doesn't offer new features, the developer makes a free download of the old version available), but the full version runs around $9 USD, and the emphasis on tileset importing and tilemap exporting makes it a strong choice for this particular workflow and use case.
Pyxel Edit runs on Windows or Mac machines. There are tutorial resources and community links available on the tool's site. Assets export to a number of formats, including high-quality .PNGs recommended to import into your game engine of choice.
Pro Motion NG
Pro Motion NG is a one-stop shop program for pixel art, encompassing static sprites, animation, tilesets and more. There are a number of especially robust features available, including some very fun dithering options and the suite is particularly well regarded for its animation capabilities (though this list is more focused on asset creation rather than animation pipelines: it's an important point to consider).
There is a free version available, though the full studio runs approximately $40, with all of the features unlocked. Pro Motion NG primarily works on Windows machines, though there is a resource page for interested Mac and Linux users.
Procreate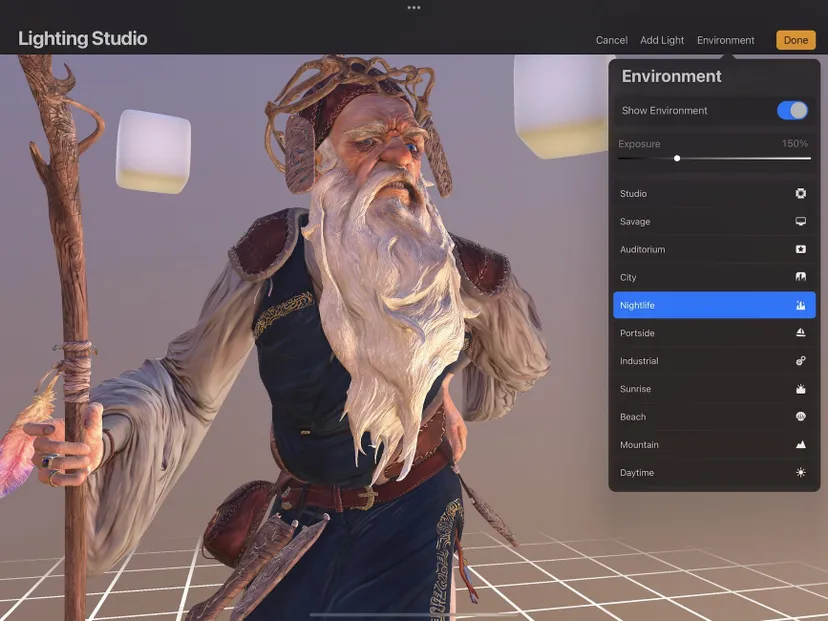 Procreate is a mobile app for creating digital art of all sorts. It features a particularly slick tutorial section, complete with a professional and beginner-friendly course on all the basics and it can be used to create assets in just about any style you can imagine.
Procreate runs around $13 and runs exclusively on iPad.
Affinity Designer
The iPad version of Affinity Designer retails for $18.49 and offers a very slick interface and Adobe Creative Suite-like functionality (particularly Illustrator) for a much more affordable price (and sans the subscription fee). There's a slick learning portal on the official site, and you can export assets to most standard file formats you'd use for high-quality 2D art (and bring them into your engine of choice), like .PNG or .SVG files.
Pixquare
One of the newest pixel art programs on this list, Pixquare just came out of beta and offers much of the functionality (and similar interface vibes) of Aseprite, on iPad. There is a free version available with some limitations, and the full suite runs $9.99. The software exports easily to high quality .PNGs, standard for making crisp pixel art and bringing assets into your engine of choice. The tool is new, but boasts a robust roadmap for updates and a community Discord.
FAQ: What to consider when choosing game art tools?
What type of game are you making?
As we mentioned in our piece on the best free art tools, you'll want to consider the type of game you are making assets for when you think about your tools and workflow. Think about what you'll need. Will you be animating your assets? Will you be working with multiple artists? What process or system are you looking into for digital asset management?
Art assets for game engines
As with the two aforementioned considerations, it'll be helpful to know what the rest of your production pipeline will look like. What engine will you use? Godot? Unity? Unreal? Decker? Narrat? Research what you'll need before picking your art tools.
Quality of art
One great thing about all of the low cost art tools on this list is that they can produce very high-quality artwork: but it all (of course) depends on the artist.
Variety of art styles
You can work in just about any style you'd like with these tools: want to make 2D sprites that look like a trippier version of Super Mario World? Pick any 2D tool on the list and get to pixel-ing. Want to make creepy PS1-inspired 3D models? Glide on over to any of the 3D tools or a 3D tool from this resource's sister list. The digital canvas is yours to dance upon.
What types of graphics can you create with free tools for game art?
Much like our answer to this question in the free tools for game art piece, the answer is: just about anything! The tools on this list will allow you to export your assets into a game engine or other toolset of your choice (just pay attention to file formats and your engine of choice's own specifications).
What platforms are supported by low cost tools for game art?
Many of the tools on this list run on desktop machines, in the usual Windows/Mac/Linux flavors (though Pro Motion NG is primarily a Windows tool). Several of our picks here are actually optimized for iPad, and work nicely with Apple Pencil devices.
What kind of tutorials are available for low cost tools for game art?
We picked most of the options on this list for having good tutorial or community-based learning resources, so simply check the link in each entry for more information.
What is the best way to get started with game art development?
The best way to get started is to research the tools available (with a resource like the one you are currently reading), download a tool and gather some tutorials, and follow those instructions to begin making art. Note that several options on this list offer a free or trial version of the software, in case you are wary of losing money when you aren't sure which is best for you.
Many artists and art teachers advise that beginners start small: making limited pieces, perhaps working on a small canvas/window (or within a small 3D space) and/or with a limited palette until you get the hang of your new tool. Be sure to join an online community for feedback and further resources, and practice your new skills as often as you are able to.
Community
As with our other resources, we'd love this to be a living document, so if you are an artist/developer with a favorite lower-cost art tool in mind, please feel free to tweet at us or send a message to our Cohost with your suggestions!