Asset creation is one of the most important and skilled labor-intensive parts of the game development process, but it doesn't have to come along with a huge price tag. We've compiled a list of some of the best free resources for creating visual art for games: both 2D and 3D assets. Please note that the 3D and 2D descriptors are used here for general ease of use, but many tools are capable of both (and many games use both 2D and 3D assets).
This piece is very much intended as a companion to our Best free game making tools list, and aimed at beginners, hobbyists, and anyone who wants to know more about creating art assets for use in game development without breaking the bank.
You can look out for more free (and low-cost) resources in the future here on Game Developer!
Table of contents:
The best free 2D tools
Gimp
Tried and trusted for years, GIMP (Gnu Image Manipulation Program) is a free and open source solution for creating visual assets. GIMP boasts a wide array of tutorial materials on it's resource page.
GIMP also comes along with an honorable mention for Inkscape, an open-source vector graphics package linked right on the tool's home page.
Artwork in GIMP can be exported to many formats, and the tool even has a handy pros and cons sheet for working in and exporting to various file formats.
Sketchbook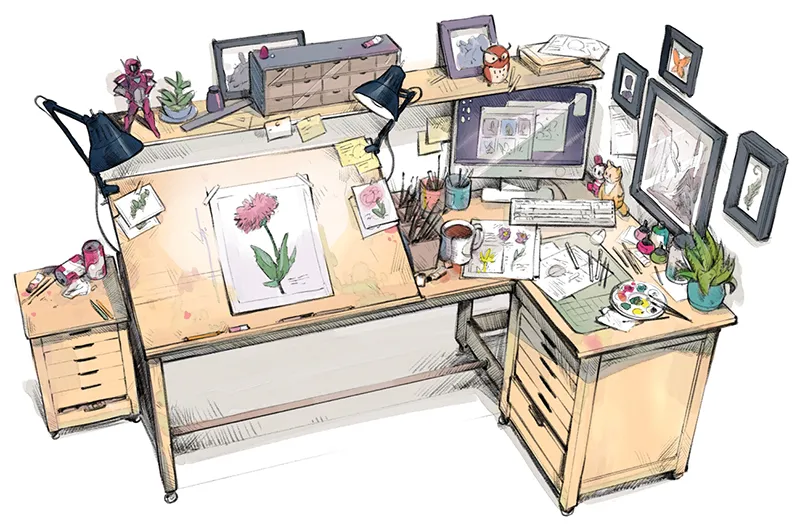 The free/basic version of Sketchbook is a useful tool for drawing (particularly using a touch interface), and it supports a robust array of export options. This is especially useful for concept art, 2D art (particularly in a hand-drawn style), and more. The app's basic version is free on the iOS store and Google Play store.
Krita
Krita is a free, open-source digital painting tool that works on Windows, Linux, and PC.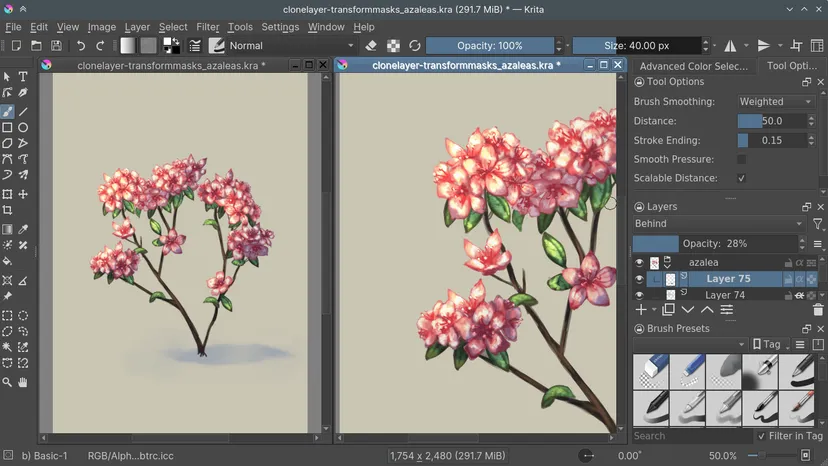 The foundation has a robust vision for its tool:
"Krita is a free and open source cross-platform application that offers an end-to-end solution for creating digital art files from scratch. Krita is optimized for frequent, prolonged and focused use. Explicitly supported fields of painting are illustrations, concept art, matte painting, textures, comics and animations. Developed together with users, Krita is an application that supports their actual needs and workflow. Krita supports open standards and interoperates with other applications.
The official site has excellent documentation, including a detailed user manual to get you started making digital art.
Krita saves and exports to a number of different file formats so you can create your art in the package, then bring it in to your engine of choice: as a high-quality .PNG for example.
Piskel
Piskel is a free, open-source pixel art program that works in browser, though you can also grab a download version for Windows, Mac, and Linux if that's more your speed. Piskel sports a clean, intuitive interface and simple toolset, making it ideal for simple projects (though you may want a more robust tool for complex animation support.). You can export your artwork into high-quality .PNGs or GIFs, ideal for spritework.
The best free 3D tools
Blender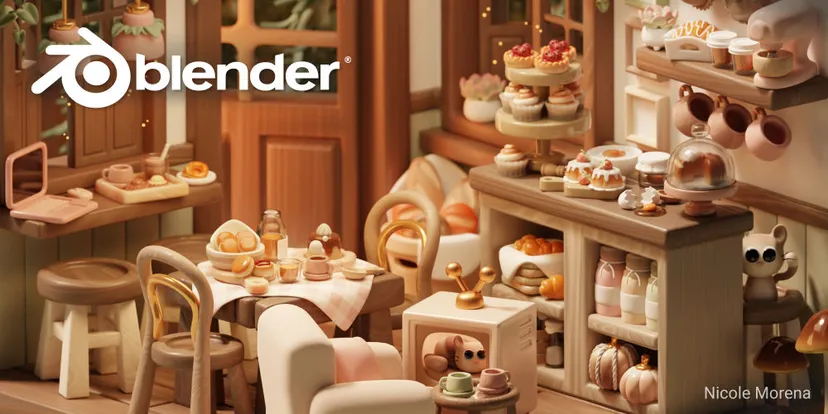 A free and open source tool for modeling and animating 3D assets, Blender is a beloved tool for anyone working in 3D. Blender is easily one of the most robust and popular packages on this list, as artists and animators have been swearing by it since the early 2000s, when the software went open source.
There are myriad tutorial resources for learning Blender, including a tab on the tool's official site (with links to its official Youtube playlists). Blender also offers support and tools for 2D artists, so it's a very complete package for many game artists looking to start creating assets.
BforArtists is a fork that's especially optimized for modelers and animators, if you prefer that route, but the files are interchangeable. Blender can export to many file formats to import into your game engine of choice, including OBJ, FBX and much more.
Tinkercad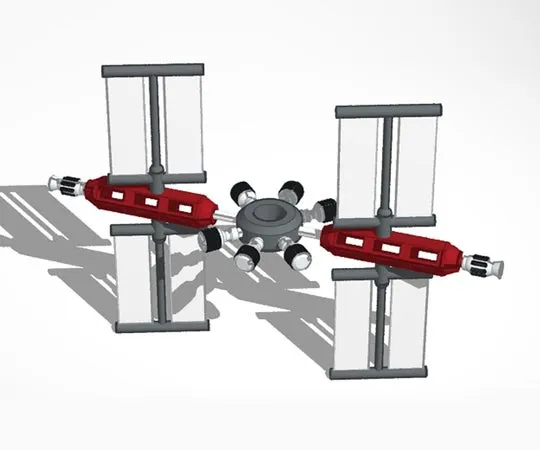 An Autodesk product, Tinkercad is completely free—and educationally-focused in its framing—but you don't need to be a student or teacher to create an account and get designing. The tool is browser-based, but there's also an iPad app for simple 3D design on the go. There are plenty of file options: "Tinkercad export options include: STL, OBJ, GLTF, USDZ (iPad app only), and SVG," and while the tool is fairly simple (think: education framing), you can get some strong results. The toolset is ideal for beginners, with an excellent tutorial section on its site.
MagicaVoxel
MagicaVoxel is a free 3D modeling and path tracing renderer by ephtracy. The software has a very permissive license for use, and works on both PC and Mac. The tool's site has a resource section with tutorials, models, palettes and shaders, and there are a number of YouTube users, like ArtChanny who have robust tutorial series (and routinely updated playlists with new work). Models can be exported into a game engine using the .OBJ file format.
SculptGL
A super lightweight browser-based tool, SculptGL is relatively simple: but powerful enough for users to make 3D models (and export them to engine-friendly formats like .OBJ. ). It's a matter of heading to the site and tinkering with the options to get modeling, making it an ideal tool for beginners looking to start making shapes and chucking them into a game engine.
Figuro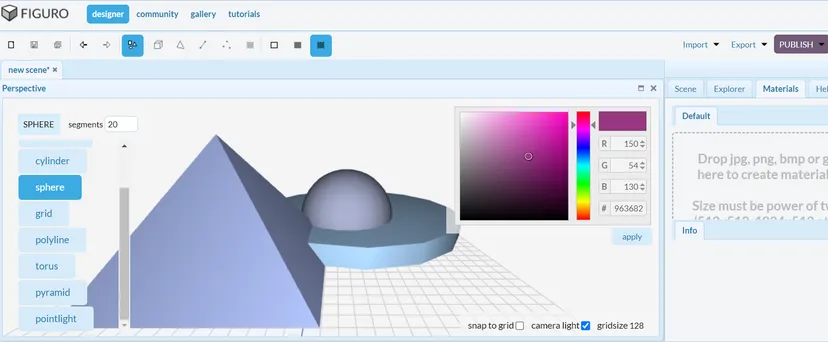 Figuro is another free online tool for 3D modeling, and it boasts a particularly robust tutorials section on its site. Users can go in and get moving with simple 3D shapes in seconds, with a few great starter ideas right on the top line of that tutorials page (like a medieval sword and hatchet). 3D models can be exported from the package directly into a game engine like Unity or Godot in the .OBJ file format.
Community Suggestions
As with our free game making tools piece, we opened up the question to community members and got a number of fantastic suggestions for art tools. One especially robust resource is Cohost user Everest's impressive list of hundreds of small digital tools.
What to consider when choosing game art tools?
What type of game are you making?
As we mentioned in our piece on the best free game making tools, you'll want to consider the type of game you are making assets for when you think about your tools and workflow. The most obvious first question is whether you are making a game in 2D or 3D (but you'll often have some 2D assets even for 3D games, think about your UI considerations), but there are many more layers to think about. Will you be animating your assets? Will you be working with multiple artists? What process or system are you looking into for digital asset management?
Exports and file formats
You'll need to think about what types of files you'll generate on export. Are you creating a tileset for a 2D game? You may want to export your sprites to a high-quality .PNG. Perhaps you have 3D assets from Blender in an .OBJ format. Think about what your game will need, and about what game engine you'll bring them into.
Art assets for game engines
As with the two aforementioned considerations, it'll be helpful to know what the rest of your production pipeline will look like. What engine will you use? Godot? Unity? Unreal? Decker? Research what you'll need before picking your art tools.
Level of expertise
You'll want to choose a tool that suits your own art skills: if you are learning to make art, or working in 2D or 3D for the first time, think about how accessible a tool might be for you. There are plenty of options on this list that are suitable for beginners: in fact, many if not most of these free tools are a great starting place. For the most powerful and complex tools, definitely spend time with tutorial resources, linked in each tool's entry.
Ease of use
This item ties into the previous one: especially if you are used to certain workflows or interfaces. Some art tools have powerful (but complex) user interface elements, while others are "pick up and play" easy. Take a look at what your workflow requires and pick a tool that allows you to do your best work.
Collaboration
Unless you are working on a game by yourself, you'll have team members you'll need to collaborate with. Perhaps you are the sole artist on a project: in that case, you'll want a clean and easy way to share work-in-progress pieces with other team members. If you are working with other artists and animators, you'll need straightforward ways to share resources and collaborate on pieces.
Quality of art
One great thing about the free art tools on this list is that they can produce very high-quality artwork: but it all (of course) depends on the artist.
Variety of art styles
You can work in just about any style you'd like with these tools: want to make 2D sprites that look like a darker version of The Legend of Zelda: A Link to the Past? Pick any 2D tool on the list and get to pixel-ing. Want to make wild vaporwave 3D models? Glide on over to any of the 3D tools. The digital canvas is yours to dance upon.
FAQ
What types of graphics can you create with free tools for game art?
The easy (and wonderful) answer is: just about anything! You can create 2D sprites, UI assets, illustrations, and much more, as well as 3D models of just about anything you can imagine. The the tools on this list will allow you to export your assets into a game engine or other toolset of your choice (just pay attention to file formats and your engine of choice's own specifications).
What are some of the features of free tools for game art?
Whether web-based or not, most of the tools on this list will allow you to create your artwork in a window, export the assets, and bring them into your game engine of choice. Some engines actually have built-in art tools (such as GB Studio from this list), so check with your toolset!
What platforms are supported by free tools for game art?
Many of the tools on this list run on a Windows machine, some are for Mac/Linus/Windows, and some are supported on mobile devices. Some, like Piskel, are actually browser-based. Check each tool to see what the system requirements entail.
How easy is it to learn how to use free tools for game art?
This is a complex question, because there are two elements here: if you are already an experienced artist, you may find some of the tools on this list immediately intuitive. If you are learning to create art and use a new tool at the same time, the learning curve may be steeper.
But don't fret. Most of the tools on this list have extensive resources for tutorials or other reference to help you learn the tool itself. And there are fantastic, free communities and tutorials for learning art online: for example, the tutorial section of the popular pixel art community Lospec.
What kind of tutorials are available for free tools for game art?
Continuing from the last point, there are incredible resource tutorials available: for folks looking to get their hands on specific tools, and also for learning the fundamentals of art.
What types of artwork can be created with free tools for game art?
See the first answer as well, but the short answer is: just about anything! You can create tilesets for 2D platformers, character portraits, health bars, entire adventure game scenes, 3D cities, rooms, and fully-rigged characters: really, anything you can picture, you can probably draw or model it in a free game art tool.
How do free tools for game art compare to commercial software?
In several cases, the free tools on this list compare very well to the feature set and support of higher cost commercial software. In others, the free tool can be thought of as a more "bare bones" experience compared to a toolset like Adobe's Photoshop (which typically runs about $50 USD per month for a subscription). There are also intermediate options: keep an eye peeled for a list of low-cost tools here on Game Developer in the near future.
What is the best way to get started with game art development?
The best way to get started is to research the tools available (with a resource like the one you are currently reading), download a tool and gather some tutorials, and follow those instructions to begin making art. Many artists and art teachers advise beginners to start small: making limited pieces, perhaps working on a small canvas/window (or within a small 3D space) with a limited palette until you get the hang of your new tool. Be sure to join an online community for feedback and further resources, and practice your new skills as often as you are able to.
What are some of the limitations of free tools for game art?
As with all tools, there are limitations and drawbacks to free tools, and some software packages are better for some use cases than others. Think about what your art pipeline will look like, what your game engine will require, and what you (or your team) needs when considering any tool (vs. any other tool), and be sure to check (and double check!) any file or export requirements before you make your choices.