Ubisoft is taking its first crack at the Star Wars universe, and its debut game is going in a noticeably different direction than the usual games set in a galaxy far, far away. As an open-world action-adventure game focusing on a space-traveling scoundrel looking for their next big score, Star Wars Outlaws sets its sights on the seedy underbelly of the sprawling sci-fi universe, away from force-wielding Jedi and Sith and more on the common folk and cutthroats lurking on the fridges of the Galactic Civil War.
Coming from developer Massive Entertainment, who previously worked on The Division series, Star Wars Outlaws features a protagonist that seems right out of the pages of the 1990s expanded universe novels but within the framework of an open-world action-adventure game – one that Ubisoft states is the first actual open-world Star Wars game.
Following an extended showcase at Ubisoft Forward, Star Wars Outlaws game director Mathias Karlson and narrative director Navid Khavari spoke with Game Developer about making a new type of Star Wars game that focuses on the often underutilized areas of the massive universe.
Once upon a time in the Galactic Empire
"The other Star Wars stories tend to focus on the conflict between the Empire and Rebellion, which is already well established," said narrative director Navid Khavari. "What we're doing with this game, and what we want to get across overall, is to look at what the folks on the ground level are doing during this conflict that's happening around them, particularly for Kay Vess – how are they getting by, and what sort of characters will they meet when they explore a cantina or venture off to remote planets in their journey in the criminal underworld of the galaxy?"
Set in the Original Trilogy era, between the events of The Empire Strikes Back and Return of the Jedi, Star Wars Outlaws focuses on new protagonist Kay Vess, a scoundrel and outlaw on the run from criminal gangs and, of course, the Galactic Empire itself. While taking on jobs and gaining new connections, she'll explore distant worlds, engage in gun battles with other rogues, and fight off enemy ships in space.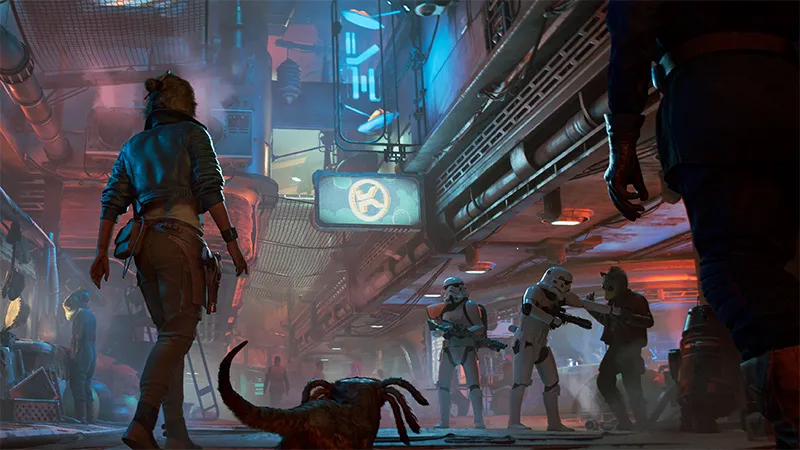 What makes Star Wars Outlaws so much of a departure from other games is that it largely moves away from the iconic imagery that people associate with Star Wars – which are the lightsabers, the Force, and other mystical elements of the franchise. It's a grounded yet still pulpy take on Star Wars, borrowing elements from the now-defunct Expanded Universe sub-series such as Shadows of the Empire. It also looks to follow a similar thread to the recent Star Wars: Andor, which the developers of Outlaws admired as it focused on a more mature and character-driven take on a traditional Star Wars adventure story.
According to Outlaws' narrative director, building the game's story was about bringing that sense of adventure to life but grounding it with believable characters that you can relate to from such an iconic universe.
"Star Wars is a generational story, and one of the first things you want to do when working on an open-world narrative is to find the different storytelling opportunities to pull from," said Khavari. "From almost right out the gate, it felt like we had a wealth of opportunities, and that's on top of the particular Star Wars era it's in, which is a writer's dream."
"Once we had those moments of excitement where we're like, "ok, this is Star Wars, this is awesome," we put those feelings on the shelf and focused back on the character of Kay and her story as a scoundrel in this universe, and where that took us on a narrative level. It led to perfect and organic growth from our initial idea for the game."
Star Wars Outlaws is bigger than Star Wars Jedi: Survivor
The central conceit of Star Wars Outlaws is that it's "a scoundrel's story" but told within the framework of an open-world game. While games like Dark Forces and Shadows of the Empire have been about characters on the galaxy's fringes, Outlaws goes for a much grander scale, going even further than the recent Star Wars Jedi: Survivor. In addition to on-the-ground exploration and combat, Outlaws also features ship combat, where you pilot your starship and get into battles, and even jump into hyperspace.
While the devs weren't ready to share just how expansive the game is during our chat, game director Mathias Karlson stated that the framework of the game all ties to the experience of being a Han Solo-type smuggler, who can freely move about the galaxy, rub shoulders with unsavory individuals, and get into trouble.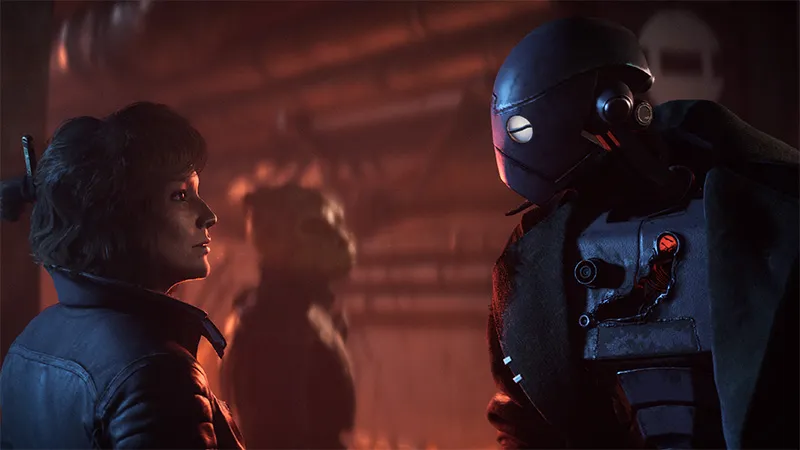 "[Outlaws] is designed as an open experience, and you have that freedom to explore such a vast galaxy – it's really the type of Star Wars game we've wanted to play ourselves," said Karlson. "When it came to finding this story and building this setting, we found a lot of common ground working with LucasFilm from day one; things fell into place very quickly with the type of game we wanted to make."
"It's the scoundrel fantasy, with Kay Vess and her companions, and that is such a fantastic vessel for a game. You get a large spectrum of the Star Wars experience, having full access to your ship, riding a speeder on the ground, sitting in the cantina."
Outlaws is an intriguing take on a Star Wars game that steps away from the large-scale battles and fantasy elements ingrained with the franchise. It's especially interesting to see it come from Ubisoft, which is a developer that has gotten its particular brand of open-world game down to a science, and that could make for a compelling and dense package for a game that taps into such a vibrant and expansive universe to explore.