This interview is part of our Road to the IGF series. You can find the rest by clicking here.
FAR: Lone Sails take the player on a journey through a desolate wasteland, one they can only survive through the constant maintenance of their heavy vehicle. While unique histories and hidden places may await in the dry world, the player will also have to wrestle with the needs of the machine that carries them, bonding with it over their shared survival.
This connection between humans and the machines we need for surival earned FAR: Lone Sails a nomination for Best Student Game at the Independent Games Festival. To learn more about the creation of this bond, and the natural draw that pulls players into exploring wastes for secrets and stories, Gamasutra spoke to its lead developer, Don Schmocker.
What's your background in making games?
I studied game design at the Zurich University of the Arts (ZHdK). FAR: Lone Sails started out as a Bachelor's project there. I am currently continuing my studies to get a master's degree while working on the game with my team of fellow ZHdK students at the same time. I've also been involved in other project of our game dev cooperative Mr. Whale's Game Service (http://www.misterwhale.ch/), mostly taking care of the artwork as this is my focus area.
How did you come up with the concept?
I wanted to take a different approach to the idea and use of vehicles in games. I found inspiration for FAR: Lone Sails in a lot of different media and genres. For the style and the atmosphere, Theo Jansen's Strandbeests was a major source of inspiration. I also drew from the book Stephen Biesty's Incredible Cross-Sections, which I used to read a lot when I was a child, and from movies like The Straight Story by David Lynch. Certain elements of games like Journey or Little Big Planet really appealed to me, too.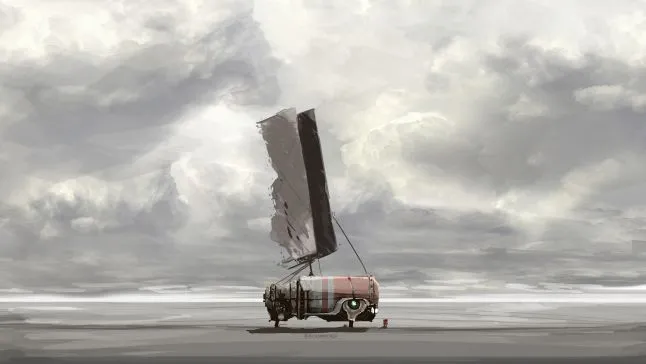 Many games that focus on exploration use 3D, yet yours is a sidescroller. What made you decide to do this? Did it create any interesting limitations for you, as an artist?
This choice is closely linked to my vision of making a game that takes a different approach to the use of vehicles and creates a special atmosphere and sense of dependence on your vessel. A journey as the one you go on in FAR: Lone Sails has a certain monotony to it which is very well represented by a sidescroller. Even more so, as the vehicle in this case is a hybrid land/naval vessel that is pretty much impossible to steer freely due to its sheer mass – you could say that it's more like a train, in this regard.
As the machine is our hero's only companion and her only chance to follow the receded water, it is of vital importance not to stroll too far away from it or even leave it behind – you never know what could happen to it, if you do! So, even though there are parts of the game when she leaves the machine, it follows an inner logic that she does not go on extensive expeditions on her own.
The ship and its maintenance is a large part of FAR: Lone Sails. What thoughts went into its creation? In creating a connection between the player and the vessel that lets them travel?
FAR: Lone Sails is not so much about speed at which you travel, or even the destination you're trying to reach, but about the journey as such. You are not the vehicle, but you need to work with it and care for it. This almost automatically creates an emotional attachment to your vessel and I really liked the idea of this human-machine-bonding.
In our game world, the machine was once built as a hybrid land/naval vessel, and has since been modified numerous times by its owner. It's a very personal object for our hero and the only reliable shelter on this journey. The vehicle is the key asset, but it's far from self-sufficient. Think of it as 19th century tech with a few modern twists. It needs to be propelled through combustion and/or windpower, for example. While the somewhat robust frame may compensate collisions, even at higher speeds, the various modifications make an overall fickle mechanical beast that requires near-constant attention and maintenance. Treat it well, though, and it will serve you reliably in dire times.
What do you feel draws players to these journeys of exploration? What pulls them to find places unknown and tell their own stories within them?
FAR: Lone Sails is supposed to combine the mechanics and fun of controlling and improving your own vehicle with an adventurous journey through an unknown world for you to explore. I wanted to create a feeling of loneliness and wonder to spark an inherent urge to explore this world. That is also why I like to keep most of the background story vague: curiosity and the longing for company are strong motivators that the players are meant to fully experience while they play the game.
I would describe it as different levels of solitude and a sense of wonder. There are passages where you would want to be in a warm, secure place with other people, but sometimes you enjoy being alone without the need to hurry. Someone said, it feels like the long moment before a thunderstorm, from when the weather slowly changes until the first lightning discharges. I like that thought.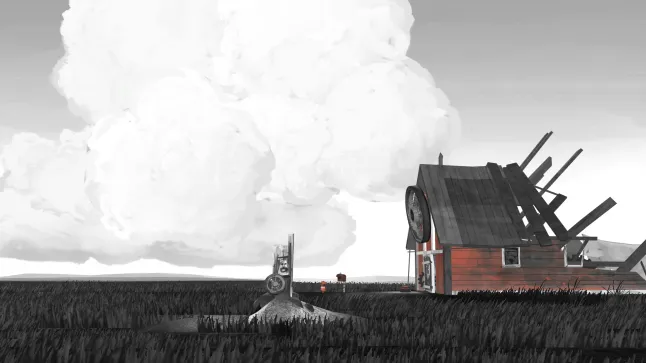 What development tools were used to build your game?
We use Unity as we learned to develop with this engine during our studies and came to find that Unity offers certain advantages for our project. In addition, we create the 3D models in Blender and the 2D graphics in Adobe Photoshop.
How much time have you spent working on the game?
I've been working on this project since fall 2015, so it's been quite a while now and we're still right in the middle of development. We hope to release FAR: Lone Sails in the second half of 2017.
Have you played any of the other IGF finalists? Any games you've particularly enjoyed?
I played Inside from Playdead and most of the team did, too. We played it not only for fun, but also to look at how they handled the same problems that we are facing right now. It has a lot of similarities in how they build up the atmosphere and the levels and tell an implicit story. Besides that, it was a great and immersive experience from the start to the ending.
What do you think are the biggest hurdles (and opportunities) for indie devs today?
One of the biggest hurdles is (and has probably always been) economic precariousness. In Switzerland, we are lucky to have institutions that support cultural contributions in all types of media and a very closely connected indie dev community – both helps a lot, especially when you are a newcomer like we are.
Easy access to (online) stores is both a blessing and a curse: While having lots of opportunities to sell your game nowadays, it is also very hard to stand out in the masses of high-quality games that are out in the market, to find your audience, and convince them of the qualities of your game.
On the plus side, you do have the creative freedom to build exactly the game that you'd want to buy and play – and if you succeed in that, I am sure you will find an audience that shares your taste in games and is willing to spend a couple of bucks on it.