No one makes games that look like those of the small Czech studio Amanita Design. Their richly detailed hand-drawn worlds have a unique aesthetic and atmosphere.
Their latest release, due out next week, is more detailed, ambitous and complex than any of their previous games. But the studio still hews to its unique style and method of development.
Amanita Design burst onto the scene in 2003 with the free browser-based Flash point-and-click adventure Samorost. It was a student project of Amanita founder Jakub Dvorský, and its wordless and fairly straightforward tale of a gnome-like character navigating a strange world was surprisingly beguiling.
Amanita's followup Samorost 2 was more elaborate, and their next game Machinarium was more elaborate still. Fans have been waiting for a new title from Amanita since 2011, when they released the acclaimed Botanicula.
Amanita's next game will be the third installment in the saga of the gnome. "Samorost 3 is our biggest and most polished project so far," promises Dvorský. "The level of detail is far greater than in any of our previous games."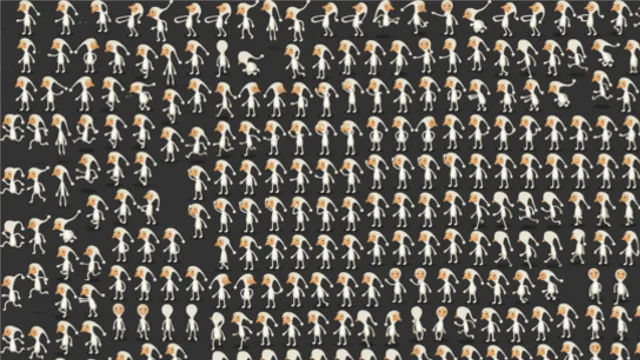 Various sprites of the protagonist of Samorost 3
But the team developing the game is still the same size it's been in the past -- just a half dozen people. "It took us 5 years to make it this time...and we worked really hard," he says."The whole process of creation was similar to our previous games but it has developed further in every direction."
Walking animation of a Samorost 3 character called "half dragon"
"We still use Flash for animations, but the technology is much more advanced and complicated," Dvorský adds. "The Flash animations are modified for external processing using simple JSFL scripting and our own external tools. The result is a custom binary format for animations, which is used with modified Starling Framework."
Concept [above] and final animation [below] of a Samorost 3 character called the Guardian.
Dvorský says the gameplay is also more thought-out than in previous entries. "The interactivity scripting is made separately from animations, and it's label driven," he says. People who've seen early builds of the game report that the level of interactivity in the world is dense, and full of surprises.
Dvorský says that Amanita's goal was not to simply create a point-and-click game that has no novelty once you've solved the puzzles once and seen the story through. "We also want to create a living world which is fun to visit anytime," he says.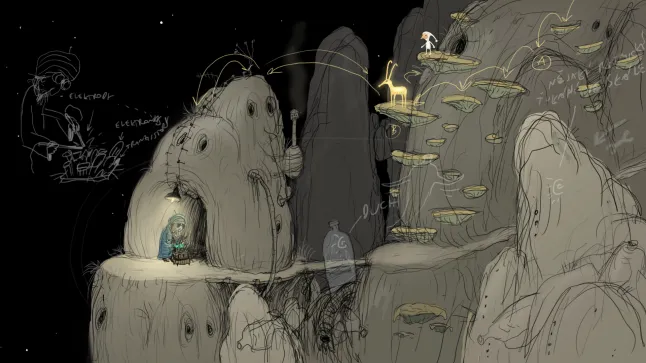 "I think about it as like a musical album," he says. "The first time you buy a record, you listen to it from the beginning to the end. Then later you come back and listen to it again from the start or sometimes just a few selected favorite tracks. And that's exactly what you should be able to do with the game if you like it."
"Once you finish the game, it will be easy to travel to all the planets and places you visited earlier and interact with various creatures there, try to find hidden achievements or just soak to the atmosphere of that place."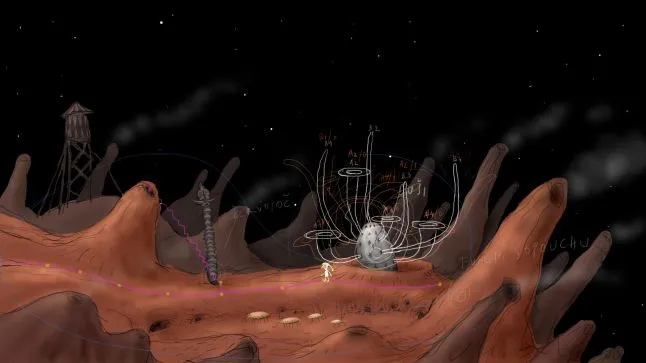 The mood and aesthetic of Amanita's gameworlds is fairly unique in the world of games, but it bears a clear resemblances to many of the masterworks of Eastern European animation
"I grew up watching all kinds of Czech and Russian animated films, and it certainly formed my artistic perception and style," says Dvorský. "My heroes are Czech film makers Karel Zeman, Jan Svankmajer, Jiří Šalamoun, Bretislav Pojar and Russian animator Yuri Norstein. Their many beautiful films are a constant source of inspiration."
Dvorský stuided animated film at the Academy of Arts in Prague in a studio led by another legendary animator, Jiri Barta. "Czech animators have never been afraid of experimenting with mixing various techniques -- that's what I like about it," he says. "They used cut out animation, puppet animation, pixilation, cartoon and classical moving picture all together with unifying artistic vision."
Clip from Jiri Barta's film Pied Piper of Hamlin shows wooden puppet characters haggling without using any actual words. Amanita founder Jakub Dvorský studied animation under Barta.
These Czech and Russian animators generally worked the way that Amanita does--small teams toiling for long periods of time on intimate and moody works.
Capturing subtle moods is something Amanita takes very seriously. "We work intuitively on this sensitive emotional level, and it's all about subtle feelings we share in our small team," he says. "Sometimes we must change a scene or situation in a game because somebody realizes it's too far in one direction or another."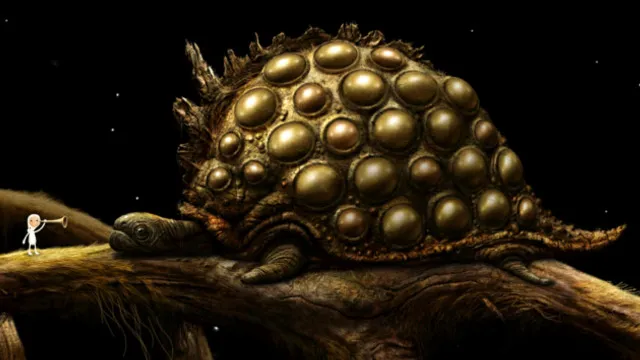 The deliberately spareness of the audio design is another characteristic of Amanita gamescapes. "The music has to be abstract, quiet, almost non existent most of the time so it doesn't disturb other sound effects and doesn't irritate the player," says Dvorský. "On the other hand, it has to be distinctive and expressive at some moments to make the proper strong impact, e.g. when you enter a new beautiful location, when you accomplish something, or when something dramatic happens."
"There are also several places where music plays the central role in certain mini games and playful puzzles," he promises.
"Of course, the sound design has to fit perfectly with the visual style and the whole atmosphere," says the Amanita founder. "It has to be detailed and believable, yet stylized in the right way--not in a simple cartoony way."