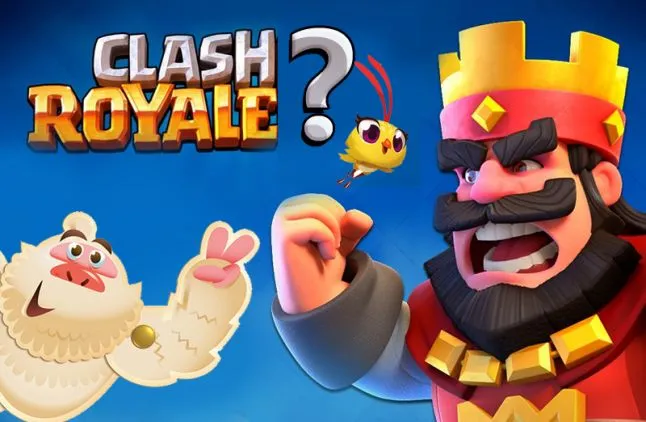 In 2012 if you were planning to develop a mobile game, life was simple just choose from 3 genres Casual, Mid-Core or Hard-Core, come 2016 it seems this is no longer the case.



You may wonder, really? What's the need of newer genres?

What's wrong with the existing textbook trinity?
Before we go any further down the road with the statement above let's try to see what evolving circumstances, consumer patterns and market forces might be leading to disruption of the existing order.
Sizing up mobile gaming Titans
There are many top Devs. in mobile gaming, but when it comes to titans there are only 3, Machine Zone, Supercell, King.com, Let's see how are they faring
Machine Zone : continues to dominate and grow with release of it's second title 'Mobile Strike' clone of GoW in a modern setting, pulling on all it's strings from aggressive user acquisition to super bowl advertising campaign.



MachineZone's ultra aggressive UA strategy, monetisation tech. and deep player analytics seems to be constantly eluding other developers who fail to breed a stallion that can compete with MZ in the Hard Core gaming space
There were many cloned attempts by other devs. to parallel GoW, in 2015, but MZ is still holding the fort...at least for now.
Supercell: With it's hat trick of 3 top grossing established hits ( CoC, BB, Hayday) and constant soft launch testing is sitting tightly on the mid-core throne, and with Clash Royale it seems future is going to be even brighter.
King.Com Has delivered an array of graphically impressive match 3 puzzle games,tried to repeat the success of Candy crush saga with Candy crush soda saga, gone public and undergone acquisition at whopping 5+ BillionUSD evaluation...
...But the fact remains it has shown marks of slowing down marginal fall in revenue, and shrinking player base, King has been under scrutiny by the pundits, for past 2 years as being unable to find a new successor to CCS and sustain it's growth rate, it's new games have met some success, but nothing matching the original franchise



King is hard at work finding a worthy successor to it's flagship Candy Crush Saga genre & arrest year on year shrinking casual player base.
Even though the marginal fall in revenue and player base is not a major bump for King at the moment, but a top dev. like King knows being proactive is the best way to stay at the top. Zynga's debacle has taught Devs. to be wary.



Obvious Solution? KING is looking at diversifying and enter the lucrative Mid-core market.
But why mid-core and not hard-core? King's experience historically has been with casual games, so is it better to naturally progress towards mid-core, rather than hard-core, right?
The other strong compelling reason is many Devs. are now wary of competing in Hard-Core space with MachineZone even Kabam whose hard-core games originally brought the gameplay on mobile which GoW & Mobile Strike are built on, recently let go off the reigns of it's Hard-Core franchise ( kingdom of Camelot, Hobbit etc.) and is solely focussing on games like Marvel Contest of champions or what can be called Casualized Mid-core.
Over past two years King has repeatedly stated:



"The sequential and year over year decreases in MAUs and DAUs were due to decreased activity, primarily in Candy Crush Saga as well as in our other mature games."
(Reads an excerpt of the company's earnings report.)
Nothing new there, King knows the problem, Zynga faced this too.
But are we sure that is the CRUX of what is happening? what if we rephrase the statement.



"The sequential and year over year decreases in MAUs and DAUs are due to decreased activity primarily in Candy Crush Saga due to maturing CASUAL PLAYER BASE?"
The former blames the aging (maturing) games, the latter aging (maturing) audience.



What we are then proposing is, that decline is not solely a function of King games to engage casual players, but to engage maturing & progressively demanding engagement curve of casual players.
Shifting the blame (in part) from maturing games to maturing target audience should not come as a surprise, King partly understands the shift (having reached the critical mass), just probably not very vocal about stating it
Casualised Mid-core- What is it?
Masses of Casual game players have come a long way, since the early days of mobile matching candies. For over 4 years now smart phone users who have been new to games have come to terms with learning and playing the same old mechanics.

Needless to say a majority of Player who started with the infamous 'Fart Button' app (early days of Mobile games) moved on to discovering more engaging and immersive adventures. Something similar is happening to current crop of casual players in the market, As human beings we are quick to learn and get over obstacles, craving progressively increasing challenges and newer experiences.



Surely you are still not playing the same games? (bar exceptions) watching the same movies? you were watching 4 years back (no matter how much you enjoyed them). You have evolved and matured as an player.
What lead to such maturity in casual gaming space?
Greater increasing choice in terms of gaming content released and genre on Appstore today, not to mention easy substitutes via insane cloning.
Evolving player maturity curve and mastery of banal mechanics. 4+ years of matching candies, jelly, cakes and what not!
King milking the same match 3 cow with small twists.
King & other match 3 developers have been trying to keep their maturing players engaged by adding more intricate features, boss battles, finishing order queues etc.



A counter argument might be, even if existing player base has matured,

what about finding new users (Which is also on decline btw.)
New user acquisition is a strong KPI, There is still one problem... the player maturity curve itself will become shorter with passing time, if it took older base of players 4 years to get over the curve the newer base will do it much faster as they have been exposed to smart phones much before the current generation, thanks to extensive smart phone penetration & increasing usage over the past 4 years, casual player starting today do not start with 'fart App' they have more choice and challenge to devour plus the fact they have been longer exposed to mobile ecosystem.



The important bit is...We are sitting on a huge mass of casual players,

ripe for the picking ... Who want to cross over!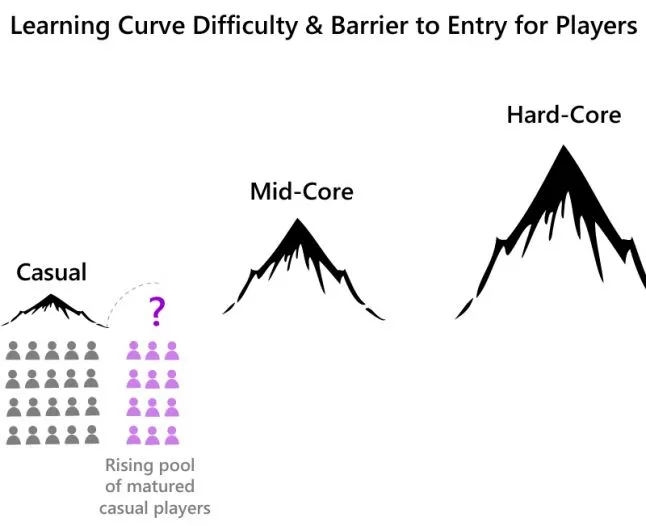 In between traditional genres now exists a massive pool of matured veteran casual player base!
This mass wants to make a transition to more intricate gameplay but are wary of high entry barriers, grinding, wait timers, base building, troop training , managing economies, social pressure of clans, cognitive load of making strategy that conventional mid-core games need. All of which casual players hate. there is a gap to be filled.
These players find the climb of casual games too SHALLOW, but mid-core too STEEP!



Question is not only, how to fill such a gap? but how do you Intentionally mature players from casual to mid-core?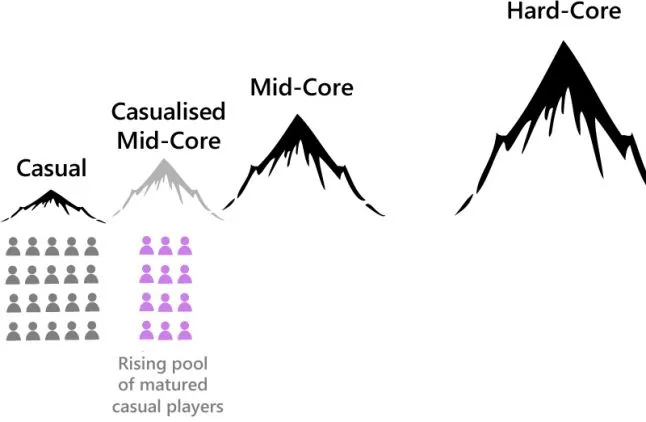 Enter: Supercell with Clash Royale



Why is Supercell tinkering with making a game which is so much easier to pick up, high on rich engagement and is not kit-bashing it's existing game mechanics?
Several reasons:
1) Like King Supercell is also reaching it's critical mass of players, existing user base is maturing. Why create more conventional Mid-Core games and cannibalize your own existing games.
2) There is increased threat from competitors, top devs. eyeing the lucrative mid-core market, with King & Activison alliance being the latest.



Games like Clash Royale are lowering the barrier of entry for masses of maturing casual players by casualising mid-core genre itself.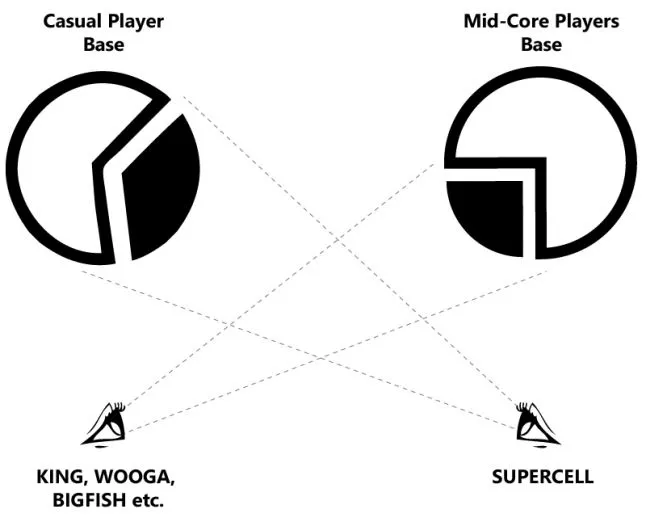 So while King & other competitors might be eyeing the lucrative mid-core pie , supercell might just have turned the tables by appealing to maturing casual players and creating a genre that can cross over and MATURE players from casual to mid-core experience.
While it's early to say , the proof lies in the pudding, I have written earlier too as to how , some developers are tearing down the conventional mid-core game design in an article where I (ironically) compared CoC against Rival kingdoms, surfacing how Rival Kingdoms eased and erased base building, troop training, on boarding , grinding all in favour of battle first approach over base building, lowering the banal barriers to entry.
Clash Royale seems to have ticked all those boxes and more.



Who knows, next stage of game evolution will not just be about catering to player preferences alone ,but MATURING existing player base (via lowering barriers & slow introduction of advanced mechanics)
Conclusion
Mobile gamers and gaming is no longer in it's nascent stage, and the next gen. of mobile gamers (4 to 8 years old, are already guzzling down infinite runners and match making puzzlers day by day) They will have a a shorter maturity curve, then their predecessors
In coming future while the problem of expensive User Acquisition(UA) will keep staring developers in the face. I think solving the problem of User Maturity (UM) will be an equally worthy challenge and the developers who crack it, will be able to capture a significant portion of lucrative mobile gaming pie.
If you liked this post, you can check out my other Game UX Deconstructs . Feel free to connect with me for my future articles.