Autobiography can be incredibly restrictive for game designers. If the intended goal of a project is to represent events exactly as they happened to the author, then the player can get bogged down by a linear narrative experience and lack of interactivity.
Memoir En Code, an autobiographical video game by Italian designer Alex Camilleri, is a project that addresses these problems head on. It's a compilation of eight distinctive minigames, each representing key moments from the author's life.
"When you think about autobiography you immediately think that you cannot let the player express their decisions, because otherwise it kind of feels like it's not autobiographical," says Camilleri. "This is something that I worked on and thought about for a long time."
Camilleri, an admirer of works like dys4ia by Anna Anthropy and the.domestic by Sophie Houlden, set out to create a game about his own daily life and relationships. Throughout he also tackles the richer, more difficult themes, such as anxiety, heartache, and isolation, handling them with a sensitivity that's truly commendable.
Camilleri found a way to use the passage of time and differing outcomes to give the player the agency they crave, without sacrificing its accurate portrayal of his personal life.
I got a moment with the ambitious developer ahead of the debut of the game on Steam, and asked him about how he balanced the requirements of his audience with his own vision for the project.
Allowing player agency
In the section of the game called "Øresund" that focuses on his long, distance relationship with an ex-girlfriend, you can clearly see the effort that went into resolving this problem. During the chapter, the player is required to say goodbye to a woman standing on a train platform to advance, with dialogue options deciding the manner in which they part ways. By selecting these separate pieces of conversation, the user will also then be transported through time to a corresponding point in Camilleri's relationship.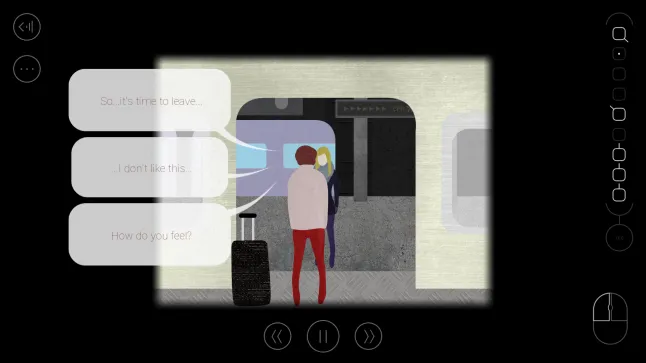 "Basically, I compressed all these different ways of saying goodbye: there were times when we were sad, there were times when we were intense, and there were times when we were happy," he says. "I compressed them into one game and let the player flow through them. This was a way of saying that you can actually let the player explore content in a non-linear way but still keeping the content completely autobiographical."
Another section of the game that balances both autobiography and open-ended gameplay is "Laurana." Recounting Camilleri's experience in his family home, it's a difficult mini game that requires the user to move from room to room to find some peace and quiet in order to study. This task is complicated, however, by frequent interruptions from his family as they watch TV, listen to the radio, and move about the house.
Here, the mechanics and the difficulty act as a great metaphor for the quotidian challenges he faced while making the game, but they also to offer plenty of room for interactivity. In stark contrast to many autobiographical games, "Laurana" has multiple outcomes, which are wholly dependent on the player's skill level and persistence.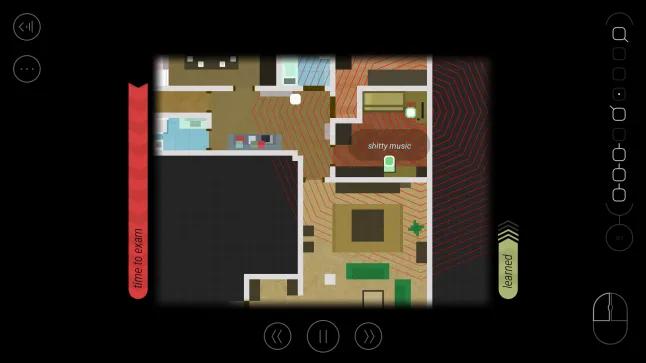 "There are different ways of playing it and there are different dialogues that appear depending on where you are that give context about the time where the events happen and what I was thinking at that time," he says.
Offering incentives
This idea is juxtaposed in the pacing of the game and the order of its chapters. Though the game provides some freedom in how you play it, Memoir En Code's layout is very carefully orchestrated with the chronological order of events arranged specifically to benefit the core experience.
In this respect, Camilleri took inspiration directly from the album format predominant within the music industry, which seeks to guide listeners through a very specific mindset from track to track.
"At the time, I was feeling kind of jealous of the music medium," he confesses. "I can put on an album at my grandma's house and my grandma is just going to experience the album. It's short and you don't have to put so much effort into experiencing it. And the more you play it the more you actually understand the layers of some tracks, and you get to like a track that at the beginning your ear didn't really like immediately."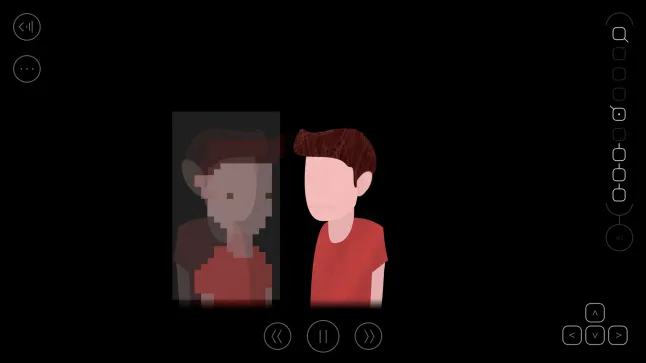 By emulating this very swift and controlled experience, his hope was that it would entice players to revisit each part and take their time to better understand it. This intention is something that's communicated to the player by the opening, which reads, "The more you play the more you know me." Of course, traditional achievements are also on hand.
Being respectful
Other important considerations that weighed heavily on Camilleri's mind were how he represented dramatic events and the people in his life, as well as whether he could justify the inclusion of certain situations.
To overcome these problems, he sought the express approval of the persons involved, clearly explaining to them his intentions for each segment and how it would fit into the context of the story. In some cases, this dialogue resulted in a scenario's inclusion in the finished game, as was the case with the messages in the final chapter that were taken directly from conversations with his ex-girlfriend. But elsewhere it led to some ideas being scrapped for reasons of sensitivity.
Memoir En Code shows that autobiography needn't be an entirely linear practice. By injecting interactivity and incentives into his game, Camilleri allows the player some room to breathe within the heavily orchestrated experience.