In today's big-money gaming space, it can sometimes seem like there are enough A.I. companions looming on the hilltops to fill a whole army of second bananas, with The Last of Us's Ellie rubbing shoulders with the likes of Elizabeth and even a certain two-tailed fox.
But while a robust companion like God of War's bow-toting boy wonder Atreus can fill out a playspace and engage even the most laconic of players during dips in the action, building out such a scintillating sidekick can take an almighty amount of time, money, and patience.
Just ask Cory Barlog, the director of Santa Monica Studio's raucously-acclaimed reboot, who describes Atreus as one of the game's most controversial features - to the point where his harrowed producers kept pestering him to rethink his ambitious conception of the character, up to and including canning the youngster entirely.
"I was told multiple times, 'scale it back, change it so he's simpler," says Barlog.
Kicking the addiction to revenge stories
"They wanted him to hit marks in the world and just talk, to get it done quicker, so we could ship this thing. At one point, I was even told to consider cutting him out of the game, and I laughed and said, 'okay.' But they replied, no, 'very seriously consider this, we don't have the production bandwidth for this.' And I had to entertain what the game would be like without him. I had a very, very passive-aggressive pitch for that one, that, clearly, didn't go over very well. Subtlety isn't my thing. It's like saying, 'can we make Butch Cassidy and the Sundance Kid, but without Sundance? I managed to convince them that he was necessary."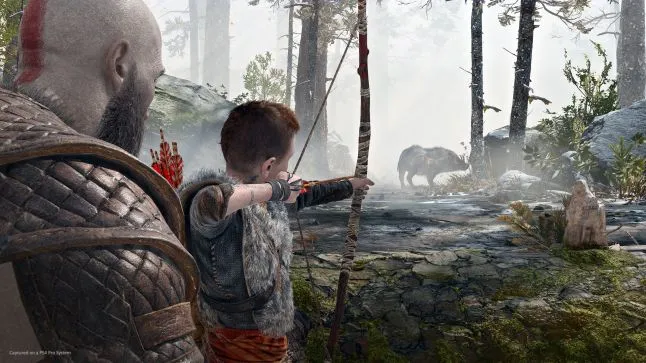 "I was even told to consider cutting him out of the game, and I laughed and said, 'okay.' But they replied, no, 'very seriously consider this, we don't have the production bandwidth for this.'"
As Barlog recalls, from the very beginning of God of War's sprawling five-year development cycle, he knew that following the slightly muted reception of the 2013 interquel Ascension, that Santa Monica Studio couldn't stitch together another tale of Kratos slicing and dicing his way through another pantheon, fueled by nothing but his searing well of vengeance. He describes the franchise's habitual overuse of forced betrayals and endless quests for revenge as an "addiction," one that they planned to use Atreus as a springboard to overcome.
"We couldn't just make another 'angry Kratos' game," says Barlog. "We wanted a character who could reject Kratos's orders, who could prod and provide a foil for Kratos to actually talk and communicate, not just during cinematics, but through gameplay as well."
Early on, some on the design team balked at the concept of granting the famously-misanthropic Kratos another child, knowing full-well the sheer amount of grunt-work that the fresh face would bring to the project, both in terms of narrative and technical execution.
The team visited their fellow Sony studio Naughty Dog to talk to their AI programmers, and it was only at that point that Barlog fully understood the morass of issues that Santa Monica would have to trudge their way through to make Atreus a reality - one bugfix at a time.
For example, initially, Barlog wanted to allow players to swim through the shimmering waters of the reboot's Lake of Nine, but his lead gameplay programmer shut down that fancy before it even got off the drawing board.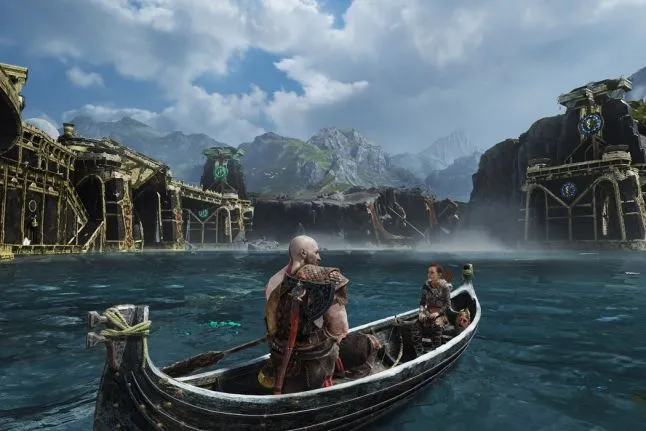 "He said 2D navigation was gonna be hard enough - if we incorporate 3D navigation, it just becomes ridiculous," Barlog says. "We could do it, of course, but we'd have to get rid of so much stuff to justify that dev time. And that's how we ended up with the boat, which was one of the game's least popular features internally, until we finally implemented the storytime [conversations between Kratos and Atreus] less than nine months from the finish line."
Barlog describes the process of creating a lifelike companion like Atreus as a tremendous amount of legwork, with the boy's humanity slowly trickling in as features were implemented - he went from not speaking at all to only speaking in combat barks, for example. In Barlog's words, the process is essentially just endless layering, almost like an ostentatious birthday cake that you have to wait five years to finally wolf down.
"It's coming up with systems and their conditions," he says. "If an enemy is coming to the right, he says this, if the enemy is the last in the grouping of enemies, he says that, if the enemy is approaching from behind - it just becomes massive, and exhaustive. And that's just combat, never mind the climbing, or exploration. It's never going to be limited by the space on the disk, or anything like that. It's all about the time you invest, how many different behaviors and reactions you can put in for him. That was a big part of the 'boy button,' which was first suggested by [designer] Eric Williams. When you have a context-specific button like that, it has to do a lot of work, since you don't have squad commands. Instead, you press the kid button, and the kid does something. Well, obviously, we have to allow for all that. Just more layering."
"We couldn't just make another 'angry Kratos' game."
Throughout all this, however, Barlog points to one thing as the lynchpin keeping the wheels on the cart, what he refers to as the project's "secret sauce" - the simple fact of God of War's five-year dev cycle, which he says allowed for a level of handcrafted charm that truly allowed Atreus to shine.
"I think several developers who look at what we're doing think we're a little crazy," says Barlog. "That we could do things an easier way, or just automate, but because we have the incredible amount of support from Sony, we can afford to do something that takes five years to do like this."
He describes the development process as "an ever-shrinking box" that producers and creatives alike have to maneuver in, even as the calendar on the wall flips away and the walls close in around you. "It's the sweat equity of having one person focus on one problem for years," he says. "For most people, that's a luxury you don't have."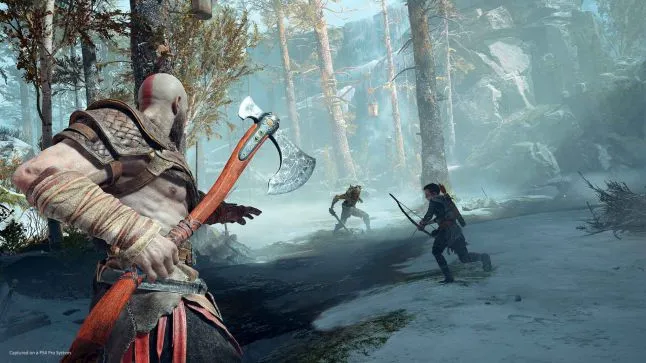 Still, for those who don't have a deep-pocketed platform holder to fund their impossibly-ambitious mass market dreams, Barlog has some familiar advice: keep it simple. He points to indie darling Brothers: A Tale of Two Sons as an example of a smaller studio offering a novel solution to a long-held problem - and soaking up a deluge of revenue in the process.
To those who would emulate Atreus, he gestures to one of his own inspirations, perhaps the most lauded companion of all, the ethereal princess Yorda from Fumito Ueda's landmark Ico, which he describes as "the perfect fusion of narrative and mechanics.
"If it's not an infinite time, infinite money situation - if you're not Gabe Newell," he jokes, "I would ask 'why do you want it? What are you going to do with it? What do you want to say?' And then stand on the shoulders of those who came before you."
More than anything, Barlog says that creating Atreus was a labor of love, made possible by raw technological prowess and massive, massive amounts of work. And, as he recalls, some had interesting ways of showing their dedication.
"Hayato Yoshidome, the technical designer who basically handled the son from the beginning, has a tiny little portrait of Atreus at his desk. It's bedazzled, and it's always looking at Hayato, and it's almost like he's saying, 'do me right, Dad,'" Barlog says.
"Even late in development, we had to keep that up, because there'd be so many times with Atreus would glitch out. In the most emotionally-tense scene of the entire game, when Atreus is laying down, in a really vulnerable state, all of the sudden his combat banters trigger, and his face twitches, and he says, 'sure are a lot of Draugr around here!' It's the most arresting thing, because you're getting into the scene, and it's really working, and then he starts to talk. And we would laugh, because that's just the process."