As game distribution platforms and development tools grow ever more approachable, large-scale studios must be concerned about losing ground to small, creative teams.
What must it be like, I wonder, to be leading hundreds of people who spend years making one game? In a market where a handful of developers can potentially find success spending 3 months making something like Crossy Road, or half a year on an Early Access hit like Ark, big-budget game companies surely feel pressured to adapt.
Ubisoft has already begun experimenting on this front, releasing modest games from the likes of Ubisoft Montreal (Child of Light, Valiant Hearts) and Ubisoft Reflections (Grow Home) with a fraction of the fanfare it reserves for tentpole franchises like Far Cry and Assassin's Creed.
But Ubisoft Montreal is going one step further, and fellow game makers may be able to learn something from the attempt. During a recent Skype chat, Child of Light creative director Patrick Plourde told me he's been trying to "kind of reboot the casual division" since 2012 to create a sort of skunkworks department to foster creativity within the studio.
He calls it the Fun House, and pitches the nascent division as a way for "anyone at the studio" to make their dream game.
Game design in a box
"I wanted to make smaller games, more personal games," says Plourde. "That's where the name Fun House came from -- we didn't want this program to be about just casual games, or just hardcore games. We wanted it to be a place where people could come and make fun stuff."
It's not a new concept: Double Fine does something very similar with its Amnesia Fortnights, and plenty of small-scale studios are flexible enough to chase great ideas from anyone on the team.
But Ubisoft Montreal's new program is intriguing because the studio is so huge. Plourde says working there means you need to be comfortable navigating office politics and convincing people to buy into your ideas if you want to get a game made, and that's something he'd like to change.
Here's how it's meant to work: Anyone working at Ubisoft Montreal can (presumably after securing their supervisor's approval) bring their game idea to the Fun House division. They pick up a "Fun Box" -- an actual, physical box of stuff -- and use the brainstorming materials therein to flesh out their idea and figure out how to sell it to their fellow developers and the public at large.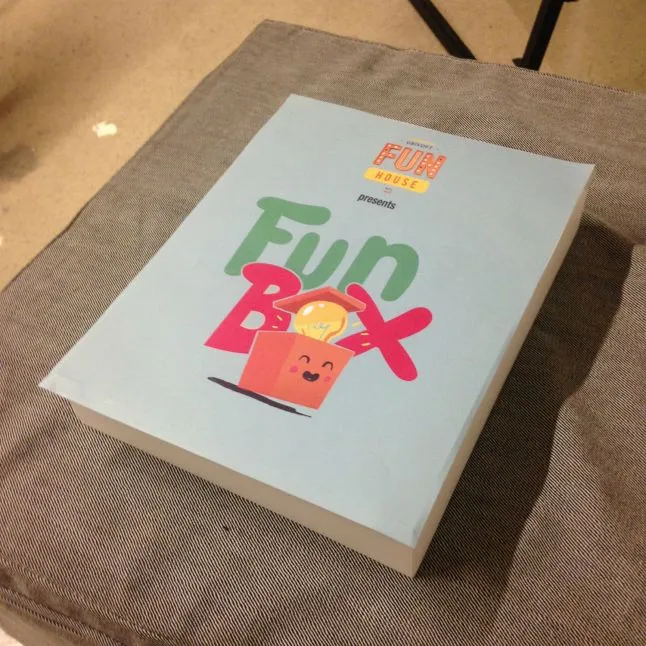 A prototype of the actual Fun Box
"My goal is to use everyone who works at the studio to come up with great ideas and pitch them," says Plourde. "Valiant Hearts and Child of Light, they were done by people with development experience; me and the guys in Montpellier, we have a lot of experience making games and so it was easy for us to get buy-in from management and easy for us to get our ideas greenlit."
Plourde acknowledges that Child of Light was, in a sense, the prototypical Fun House project, but it's not what really drove him to create the program. That drive came from his experience having a follow-up project cancelled, and his belief that getting small projects greenlit at Ubisoft Montreal is almost impossible for all but senior development staff.
"What we're trying with Fun House is, what if a programmer, or an accountant, or an illustrator, could pitch a game? We're creating a process for helping them build and sell their ideas," says Plourde. "If someone has a dream, the Fun Box is a step-by-step guide to help them formulate their idea as a game, figure out who it's for, then try to get others to buy in on it."
"What we're trying with Fun House is, what if a programmer, or an accountant, or an illustrator, could pitch a game?"
Note how words like "buy" and "sell" crop up in his comments. Plourde pitches Fun House as an institutional release valve: a skunkworks where developers who are tired of working on big games can blow off some steam and get their creative juices flowing again by working with a small team on a project that's important to them.
That's probably on point, but it's also a division well-suited to producing small-scale games relatively cheaply and getting them out in the marketplace to succeed, fail -- or blow up big, becoming another tentpole franchise.
"We have a perfect example of this at Ubisoft: Just Dance," says Plourde. "Just Dance came from an audio director saying 'You know what, we have this minigame, and I think we can make a whole game out of it. A game about dance, and choreography.' He did it with a small team, and it became a huge Ubisoft franchise."
Now the Fun House division has five projects in development, from teams as small as two people or as large as twelve. These projects were pitched by people ("we call them 'champions'") from across the studio: one comes from a programmer, another from an illustrator, a third from a Ubisoft Montreal marketing director.
These are the first formal Fun House projects, and as such they're effectively a "test run" as the new division continues to staff up and tweak its procedures (including the Fun Box itself) in response to employee feedback. As it stands, there's a core "Funhouse team" that provides support to every project -- managing budget allotments, organizing who works on what, and coordinating the division's monthly meeting where everyone gets together and talks about what's working -- and what isn't.
"We all have to do that, even the Fun House management," says Plourde. "We're trying to build a candid, open culture so that people won't be afraid when things go wrong. Because it's normal for things to go wrong, and by being open, hopefully we will expose issues that other people can help with."
Plourde foresees one big issue looming on the horizon: money. The core Funhouse team still needs "a business suit," he says, someone who can ensure the program's survival by devoting their time to thinking up ways to sell its products.
"I want to get someone that is thinking just completely about the money; it's really counter-productive for creatives to worry about that," he tells me. "We haven't found that person yet, but we want them to help, and to let the people working on the projects themselves focus on just making the games."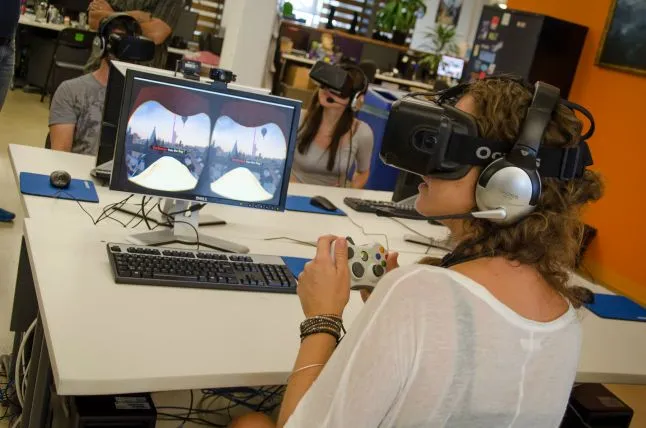 One of the five Fun House projects is Eagle's Flight, a multiplayer aerial combat VR game
Developers outside of Ubisoft may appreciate Plourde's plan for staffing and operating the division, which seem borne out of careful study of both Ubisoft's small-scale projects and the independent games scene at large over the past few years. Fun House encompasses roughly 60 Ubisoft Montreal employees right now, and Plourde doesn't ever want it to grow beyond 100.
"Beyond that you change the nature, the structure, of the beast," he reasons. "The way people communicate, the way they exchange ideas, changes when you grow too large."
Sometimes you have no new ideas for another Assassin's Creed
Plourde is speaking from experience; Ubisoft Montreal is perhaps the largest game studio in the world, with over 2,700 employees. Some of them are better-suited to small projects than others, and Plourde isn't sure that everyone will flock to the Fun House or thrive within it.
"Not everyone necessarily wants this, or is equipped to do this," he tells me. "Especially if you've spent too many years on a single project where you're working on like, normal maps; then you're an expert on that, and that's great, but….on a smaller project, you don't have the same administrative support. You don't have the same group dynamic, the same amount of people looking over your work."
That's fair, I suppose, but isn't part of the appeal of something like Fun House the fact that it offers people who have begun to burn out -- who have spent years of their professional lives intensely focused on crafting say, normal maps -- an opportunity to escape and try something new, without literally escaping the company?
"Maybe," concedes Plourde. "I can only talk about me personally, but...it's true, I've been bouncing from brand to brand at Ubisoft because I get tired of them."
His ideas get exhausted, he says, and his freedom to flip between projects at a big studio is something he wants to expand and formalize with Fun House.
"I was on Rainbox Six, and after three Rainbox Sixes, I had no new ideas for Rainbow Six, Then I was on Assassin's Creed and after three Assassin's Creed games, I had no new ideas for Assassin's Creed," says Plourde, starting to chuckle. "It's like, you know, sometimes you say 'last year, we did everything we could! If I had any better ideas, I would have put them in last year's game!" But by bouncing from game to game and brand to brand, I'm able to get excited about new stuff and create exciting stuff."
"If other people are like me, then yes, hopefully being able to move within the studio between big projects and small projects will make them feel happier and more creative."
And if those small projects prove successful enough to merit a sequel, Ubisoft Montreal will turn them into a franchise -- and take them out of the Fun House.
The whole plan is well in line with the diversification strategy that has served Ubisoft's global patchwork of studios well in recent years, but Plourde cleaves to his vision of the Fun House as a creative outlet that props up the company's culture.
"I think a lot of people join Ubisoft Montreal because they want a chance to work on a big project with big exposure and a big budget, he tells me. "That's great; I just want to create a parallel track where, in addition to Assassin's Creed and Far Cry and Watch Dogs, Ubisoft Montreal is also making more games like Child of Light."