Datapoint of the Week is a recurring Game Developer series made possible by our sibling company and global research leader Omdia.
VR content revenue in 2020 stood at just $1.1bn – for comparison, despite the shift towards digital and online media, total linear TV revenue – including pay-TV subscriptions, pay-TV VOD, and linear TV advertising – stood at $359bn in the same year.
Furthermore, 39% of this linear TV and video revenue – or $140bn – came from advertising. Outside of a few specific contexts, such as YouTube viewing on VR headsets, advertising is a largely untapped – and unexplored – prospect within the VR ecosystem. As can be seen from other media segments, advertising can add a significant amount of revenue into the content ecosystem, while also expanding addressable audiences by making media more affordable.
In the long term, if VR is to reach its potential and evolve into a genuine multimedia metaverse – complete with its own economy – it is almost impossible to believe that this will not involve advertising. However, crucially, this advertising will need to be tailored to VR worlds and contexts in the same manner as the content it will support if it is to become an effective channel for publishers, developers, advertisers, and – most importantly – consumers.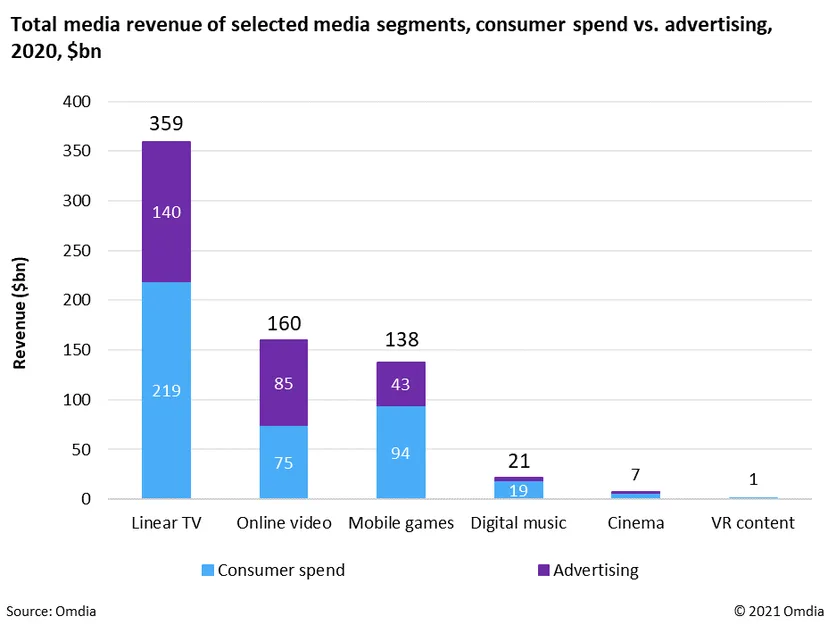 For more data on revenue in virtual reality, you can read Omdia's full report here.