There have now been more games released on Steam in the first 20 weeks of 2014 alone, than during the entirety of 2013, spelling out the real need for indie developers to properly market their games. 2014 has seen a huge influx of new titles released on the popular PC games platform, thanks in part to the hundreds of games that have been recently accepted onto the platform via the Greenlight process. As a result, the number of games released each month via Steam has increased each month during 2014, and judging by daily release figures during May, this trend is set to continue. What this means is that, while in 2013 your new release might have shown up on the front page of Steam for a few days, you're likely to see your game drop off the front page within 24 hours of you releasing it. (And notably, the front page of Steam now automatically defaults to "Top Sellers" instead of "New Releases.")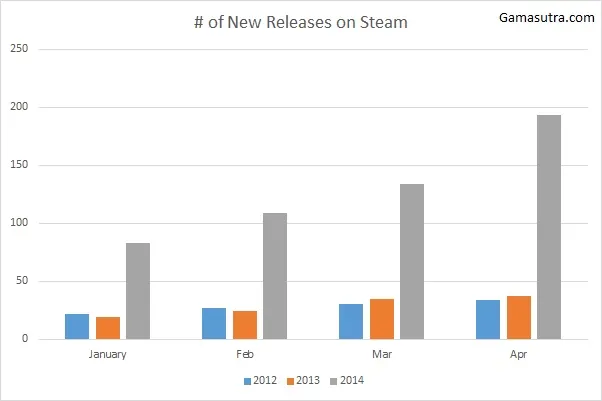 Of course, Valve has said that it plans to get rid of Greenlight entirely, and instead
convert Steam into an open platform
where any developer can publish their games, with Steam users acting as the curators, empowered with the ability to make their own web-based Steam storefronts. Whatever form Valve ends up implementing, there will certainly be increased competition for those people releasing games on the platform, and even less potential front-page promotion for your game.
Gamasutra talked to numerous affected parties about the influx of new titles
releasing for Steam this year, to find out just how heavily developers are being affected.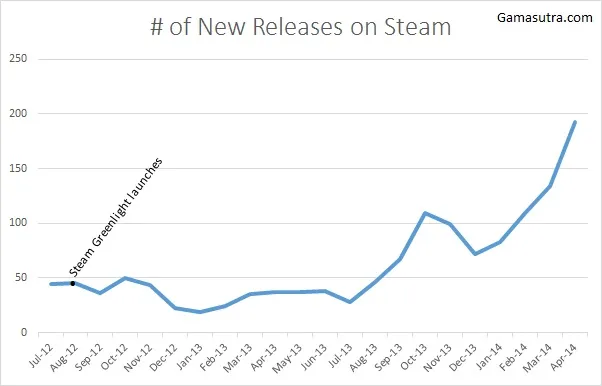 Data for the graphs above was collected from steampowered.com's "new releases" section.