CD Projekt posted its financial report for the first half of 2023, which shows a small decrease in the studio's overall sales revenue and net profit.
Regarding the former, the Polish studio saw 325.2 million PLN (or $79.49 million) from January 1 to June 30, 2023. During that same six-month timeframe in 2022, the studio earned 377.9 million PLN, making this a decrease of about 14 percent.
Likewise, net profit for the first six months of the year was 91.3 million PLN, down 19.7 percent from the 113.7 million PLN made in 2022's first half.
Despite those downturns, the developer was in positive spirits, touting the strong reception to the upcoming Phantom Liberty expansion for Cyberpunk 2077. CFO Piotr Nielubowicz spent much of CDP's financials video talking about Phantom Liberty and the 2.0 update that will be released alongside it.
Similarly, Nielubowicz used the video as a reminder that The Witcher 3 has topped 50 million units sold as of this past spring. As in other financial reports, that and Cyberpunk have been driving the developer's continued revenue success.
There was a brief mention of CDP's future output. As of late June, it's spent over 160 million PLN combined on projects for both its franchises, which include a wholly new Witcher game (and a remake of the original) and a Cyberpunk sequel.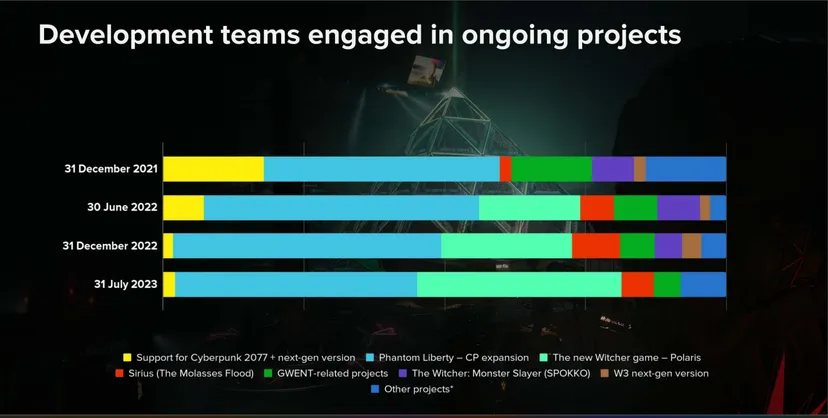 As seen above, a graphic from the report shows that as of July 31, development teams have gradually shifted focus from Phantom Liberty over to the next Witcher entry compared to December 2022. Similarly, that focus has grown regarding "other projects," which presumably mainly concerns said Cyberpunk sequel.
Interestingly, priority has diminished slightly for The Molasses Flood's unannounced multiplayer Witcher title. Back in May, over half its staff was laid off by CD Projekt Red after the multiplayer game (dubbed Project Sirius) was said to have undergone "a new framework."