The Witcher 3 has now sold over 50 million copies worldwide since launching in May 2015.
CD Projekt shared the news alongside its financial results for the first quarter ended March 31, 2023, and said the milestone means the entire The Witcher franchise has now eclipsed 75 million sales.
The Polish company's latest fiscal report showed that sales revenue for the quarter dropped by 19 percent year-on-year to PLN 174.7 million ($41.3 million), while net profit increased by 1 percent to PLN 69.6 million ($16.4 million).
CD Projekt said that downturn in sales revenue was "partly due" to the next-generation launch of Cyberpunk 2077, which rolled out in February 2022 and is described as achieving "the best first quarter sales-wise" in the company's history.
"A decline in revenue with the CD Projekt Red segment's steady portfolio of games and the lack of major sales-boosting events is a natural trend," adds the report.
Millions of Witchers
Looking towards the future, CD Projekt shared an interesting graphic that shows where its various development teams are currently focusing their attention.
As the graph below shows, the studio is funneling personnel towards its upcoming Cyperpunk 2077 expansion, Phantom Liberty, and the next mainline entry in The Witcher series, codenamed 'Project Polaris.'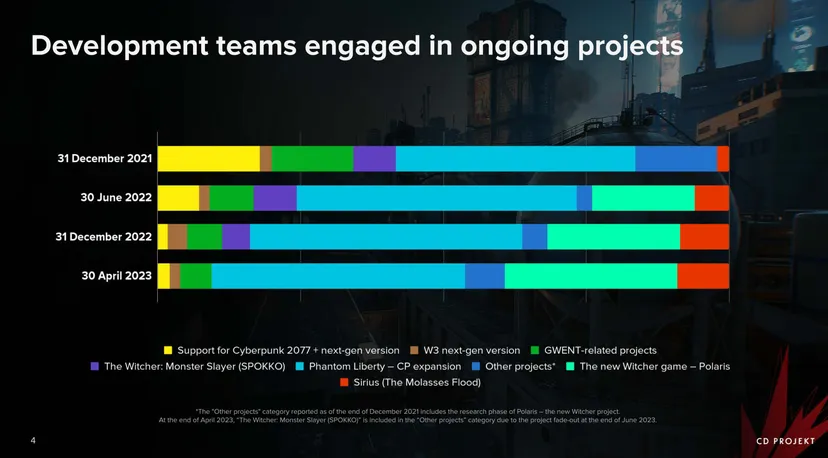 Smaller groups of developers are supporting Cyberpunk 2077 (including next-gen versions of the title), working on various "Gwent-related projects", and assisting subsidiary The Molasses Flood on The Witcher spin-off codenamed 'Project Sirius.'
CD Projekt recently laid off members of The Molasses Flood as it sought to define a "new framework" for Project Sirius. "Because the project changed, so has the composition of the team that's working on it–mainly on The Molasses Flood's side," said the studio in a statement handed to Kotaku.
Despite those setbacks, CD Projekt is clearly ramping up development on both Project Sirius and Polaris, which will no doubt please fans of The Witcher series.
Project Polaris is being billed as a the beginning of a new The Witcher trilogy that CD Projekt hopes to deliver within a six-year period following the release of the first installment.