Some data from a recent Game Developers Conference State of the Industry survey has got me thinking about trends in self-publishing.
The survey, which polled 2,000 North American GDC 2014 attendees, showed declines in the percentage of developers who self-published their games, and a rise in developers who used a publisher.
Comparing 2014 to 2013 results, there was a 6-point year-on-year hike (29 percent vs. 23 percent) in the percentage of developers who said they worked with a publisher (and didn't actually work at a game publisher) on their last game project.
Meanwhile, there was a more modest 3-point year-on-year rise (31 percent vs. 28 percent) in the percentage of developers who said they planned on working with a publisher on their next project.
While this is in no way concrete evidence of some kind of trend, as there is just not enough time measured, and there are all kinds of caveats to this data, it does once again bring into question the evolving role -- and perceived importance -- of a game publisher.
In the year between GDC surveys, the game market has flooded. As we reported last year, more games had released between January and May 2014 than in all of 2013. Meanwhile, mobile app stores continue to become intensely crowded, and a maturing, digital distribution-focused next-gen console market is heading in the same direction.
Developers have realized that they don't necessarily need anyone to launch a game for them. But so many developers have realized that, that the market has become inundated with games.
Enter (re-enter?) the publisher.
Veteran game publisher Mike Wilson, whose company Devolver Digital has published indie games such as Hotline Miami, Luftrausers, and The Talos Principle, said game publishers have always been important -- it's just now they don't have all the business leverage like in the old days.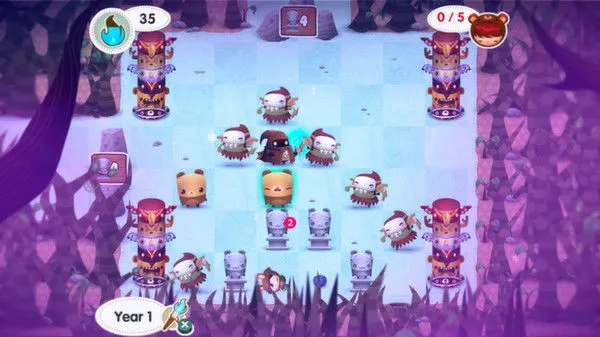 Road Not Taken
"Publishers have almost always brought value; the problem has always been that they were grossly overcharging and/or exerting control for that value," said Wilson. "Most of the developers we work with know they don't need a publisher... But when you have a fair and balanced business relationship based on mutual respect and trust, it makes sense."
Devolver categorizes itself as an indie publisher, not just because it publishes games from indie developers, but because it operates with the same kind of low overhead as a small indie studio. It doesn't have to sell millions upon millions of copies of every game to be successful.
"It's simply impossible to make sense of the model with a large, bloated company to feed on the publisher side, and the old world business idea that 'he who has the gold makes the rules,'" Wilson said.
Cliff Harris, a veteran game developer and independent game publisher, is founder of one-man operation Positech. He's developed and released his own games, including Democracy and Gratuitous Space Battles, but recently turned some of his time toward publishing indie games, starting with Tiniest Shark's Redshirt.
Anecdotally, he said he's seen an uptick in interest in Positech as a publisher, partly because he actively promotes his services. But in general, he said, "I do definitely see more developers considering going to an indie publisher than used to be the case a few years ago."
Harris noted that the role of a publisher like himself has evolved as the market has become so crowded. "I think discoverability has become much more of a concern for indies. Whereas previously it was more a matter of funding and business advice, now the primary concern seems to be how someone gets their game noticed and gets it to stand out," he said.
"Most starting developers have very little PR and marketing experience, and they are reading a lot of (true) horror stories about peoples' games being released and then totally ignored by gamers."
Rami Ismail's studio Vlambeer self-published games such as Ridiculous Fishing, but also worked with Devolver to publish games including Luftrausers.
Ismail, a particularly business-savvy indie developer, said while there are more publisher options these days, he's not convinced publishers are a necessity.
"Discoverability is an issue simply because there are more games being made than before," he said. Getting a publisher doesn't "magically" shrink the vast pool of competing games. "While a publisher can mitigate for that, they effectively operate in the pretty much the same space we operate in as developers."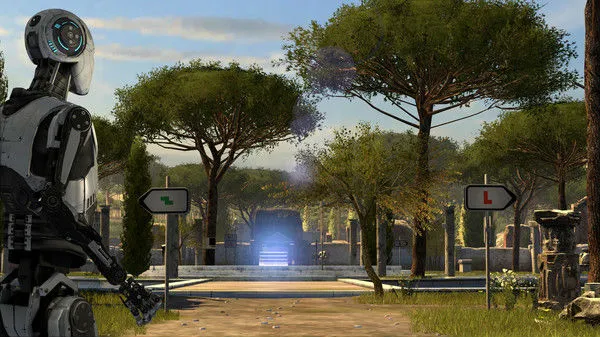 The Talos Principle
Going it alone or teaming up with a publisher ultimately boils down to what services a developer really needs to make a game successful in the marketplace. Weigh those needs with the publisher's services, and determine if that's worth sharing your revenue.
"I still believe that if you're making something really unique and of high quality, doing marketing yourself is the best way of doing it," said Ismail.
But all this said, there's no absolute "yes" or "no" answer to the question, "do I need a publisher?"
"I think it's reasonable to say that it is more difficult self-publishing today than it was two years ago (and even more difficult than it was four years ago)," said David Edery, a seasoned game industry businessman and CEO of Road Not Taken developer Spry Fox. His studio has self-published, and also worked with a publisher.
"That said, whether you need a publisher or not is still a very context-sensitive question," he added. "For example: despite how competitive mobile has become, if you're making something small, original and polished, if your financial expectations aren't enormous, and if you have a decent relationship with Apple and Google, you may very well be just fine without a publisher."
For Edery, the need for a publisher is closely tied to the amount of risk associated with a project. "If we're working on a project that feels high risk / high reward, a publisher seems like a good partner. They can help us mitigate the risk by helping with project funding, development advice and analytics, and maximize the reward by helping with user acquisition. If we're working on a low risk / low reward project, a publisher doesn't seem to make much sense."