[
As part of his monthly analysis of NPD results, Gamasutra analyst Matt Matthews looks into the what price points the current market will bear for the Xbox 360 and PlayStation 3.
] Using robust sales as a metric, the system which currently best exemplifies a balance of features and price is Microsoft's Xbox 360, especially with its Kinect peripheral. Broadly speaking, Microsoft offers the Xbox 360 at three prices: $200 for the entry-level model, $300 for a top-level model or entry-level with Kinect, and $400 for a top-level model with Kinect. According to the NPD Group, the average price for Xbox 360 systems sold in July 2011 was $280. That's up from the $268 average price in May, but down from the $306 in January. The current ASP suggests that approximately half of Xbox 360 consumers are choosing the least-expensive model while the rest are spending $300 or $400 on their system. When asked for elaboration, NPD Group analyst Liam Callahan added that the "Xbox 360 hardware ASP is up 13% YTD, driven by the higher priced Kinect bundles." And as to how the sales of the more expensive Kinect bundles compare to non-Kinect bundles, he added that they "represent 52% of Xbox 360 hardware unit sales since they were introduced in November 2010." That figure, 52% of systems sold since November 2010, is astonishing. It would appear that nearly 3 million Kinect-bundled Xbox 360 systems have been sold in just nine months. (Without additional information on the Kinect as an accessory, data which is typically closely held by the NPD Group, we cannot know how many additional Xbox 360 systems may have Kinect sensors.) For a sense of scale, during the period in which nearly 3 million Kinect bundles have been sold, the PlayStation 3 has sold just under 3.6 million systems.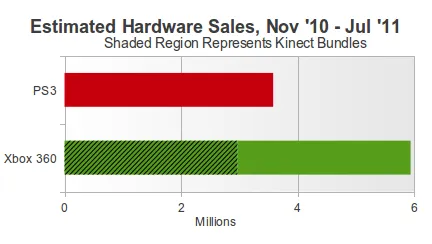 [Editor's Note: This was written shortly before
Sony announced a worldwide price drop yesterday
.] Globally, Sony has estimated that it will ship as many PlayStation 3 systems this fiscal year (ending on 31 March 2012) as it did during the last fiscal year. Because a system's price must traditionally be decreased to maintain sales, and the last price drop was two years ago in August 2009 with the introduction of the PS3 Slim model, we believe that the company has been preparing for a price drop before Christmas of this year. For us the questions are not so much whether Sony will drop the price, but rather when and by how much. Speaking just about the U.S., the average price for the PlayStation 3 currently sits at around $312, according to official NPD Group figures for July 2011. That means that the system sells for $32 more than the Xbox 360, on average. Were the ASP to translate directly with any price drop, a $50 price cut to the PS3 would put its below the Xbox 360's current ASP. Such a cut would also fit with Sony's view of the PS3 as a long-term, profitable platform. Even with recent tweaks to the PS3 internals, we believe that a $100 cut would incur a loss for each system sold. As for the timing, we favor a cut sooner rather than later, and Gamescom this coming week would be an ideal platform for that announcement, two years after the last cut and major hardware revision. However, Sony has shown tremendous patience this entire generation, enduring endless calls for price cuts as it has trimmed the $600 launch system down to the leaner $300 system it is hawking today. It held its ground on pricing from November 2007 until August 2009, and it could potentially hold out much longer this time. In speaking with Wedbush Securities analyst Michael Pachter on the issue of PS3 pricing, he said that "Sony most likely [will wait] for Microsoft to cut before they react." Were a new, reduced-cost model waiting for launch, however, he believes they might cut the PS3 price first. Prior to the introduction of the PS3 Slim, there were numerous unsubstantiated rumors and even photographs of the new model. There appear to be no such leaks about a new model this year, even though this is merely suggestive rather than dispositive.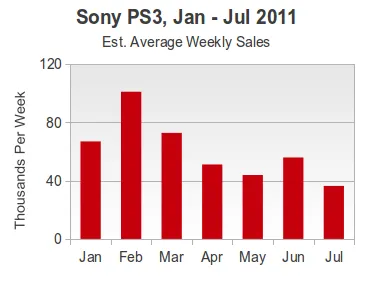 Even if Sony does not announce a price cut in the coming week, we believe it will do so by the end of the year. With all the effort Sony has put into its system, pushing exclusives like
Killzone 3
and
InFamous 2
, the system did not break 150,000 units in July, by our estimates. (The above figure shows weekly rate estimates for the year.) Should sales continue at that rate through August and into September, Sony will probably feel pressured into cutting the price prior to the end of October, just as holiday sales are beginning. Unfortunately, the effect of a $50 price cut may be quite modest. If consumers are continuing to purchase Microsoft's Xbox 360 because of Kinect or for Xbox Live or for system exclusives like
Halo
or
Gears of War
, then it will take more than just a $250 entry-level price to get them to consider the Sony's machine.